Mr. Bulletfeeder by Double-Alpha - Pistol and Rifle
Mr. Bulletfeeder by Double-Alpha - Pistol and Rifle
Reviews:
(Current Reviews:

50

)
Mr. Bulletfeeder ® (Bullet Feeder) by Double-Alpha

DAA has been the proud European distributor of Mr. Bulletfeeder® since 2006, and we have never had an unhappy customer! Anyone and everyone who invested in a Bullet Feeder absolutely loves it. You wonder how you ever reloaded without one...

If you reload a lot, you quickly appreciate the efficiency and reliability of this ingenious patented system.

However, Mr. Bullet Feeder has always been a little "rough" in appearance and finish. It was made from existing materials and parts, and as such never had the sleek look and feel of a refined "production" article. Also, since the bullet feeders have always been hand made, in moderate quantities, production costs have been high, and demand always exceeded availability.

Now, all this has changed! We are proud to introduce the new Mr. Bulletfeeder® by DAA. DAA and RAK Systems have teamed up and have retooled and redesigned the Mr. Bulletfeeder®, which is now manufactured by Double-Alpha Academy. The new system, manufactured under license by RAK Systems, is lighter in weight and more compact than the previous models. It is easier to install and set up, and has a more professional "production" look and feel.

An entirely new US Patent Pending dropper system allows the new model to function better and longer than before. The new dropper design eliminates the need for any spring or small plastic parts in the dropper head, and works entirely powered by gravity and an ingenious geometric design.

And to top it all off - we can now offer the new system at a far more affordable price.
If you have never tried a bullet feeder on your progressive reloader - what are you waiting for?! It cuts the time and effort involved in reloading practically in half! A must-have item for any serious shooter.

the expanding powder funnel supplied is for the Dillon reloading machines only. Not compatible with other brands. To use with the LnL press, you will need to purchase their expanding powder funnel separately.

The new Mr.Bulletfeeder is available in 9/38, 40SW/10 mm, .45. Rifle calibers .223, .308. and 6.5x55mm

Pistol: Please note: Mr.Bullet feeders and Mini Mr.BF are usually shipped with our Dillon Powder funnel. If you wish us to swap that out for a Hornady funnel when shipping – we can do so for you. request that at time of ordering. Or, separately purchase your
Rifle: No expanding powder funnel is included with this system, because throating the rifle brass in the powder funnel is not possible. That would lead to too small a powder through hole. Flaring the brass must be done as a prep stage or using a modified M-die on the 1050.
Hornday expanding powder funnel here
Click here for user instructions for this and other products.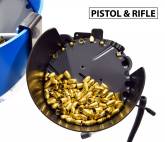 Norah Josephsen
Date Added: Friday 20 July, 2012
I just love mr. bulletfeeder. I was not sure what to expect, but it has made making ammunition so much faster and controlled since you now can watch other things in the process then your left hand and still keep a good pace. Mr. bulletfeeder was easy to set up using the instructional video on the website and as usually the order shipped out fast. The only minus is the powersupply, it does not seem robust and our first stopped working shortly after installing, and in the new we got the electricalcord is not fitted correct sometimes resulting in loosing power to the bulletfeeder.... but this is minor problems compared to how well mr.bulletfeeder function :-D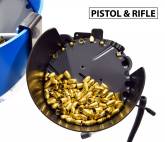 Alex Bogorad
Date Added: Thursday 03 May, 2012
Excellent transaction: smooth purchase, fast shipment, great support and the product itself is everything I expected and more. Extremely satisfied.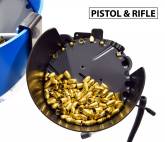 Joerg
Date Added: Friday 17 February, 2012
Montiert auf einer 650 in 9mm Major. Die anderen Kommentare stimmen. Nach nur ca 45 min. nach Auspacken läuft das System komplett und reibungslos. Mengendurchsatz ist wirklich auf ca. 1000 Patronen die Stunde gestiegen und das Laden macht noch mehr Spaß:-))) Habe noch einen GSI auf meiner 1050 in .38 SA und der Unterschied spricht für mich klar, sowohl in der Erstmontage, als auch im Betrieb, für den Mr. Bulletfeeder !!!!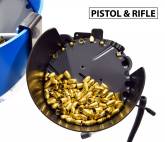 Matheos Parasidis
Date Added: Thursday 16 February, 2012
This works Great and its totaly worth the money !!! Shipping was superfast and when i came home from work i had a big box waiting for me at my kitchen table !! Thanks again for good service !!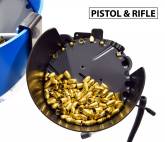 Heikki K
Date Added: Thursday 10 November, 2011
Mr bulletfeeder works fine but badly you must have to buy separate EURO-adapter for elecrtrical converter.
Mr. Bulletfeeder by Double-Alpha - Pistol and Rifle
Double-Alpha Academy BV
Elzenweg 33b, 5144MB, Waalwijk
The Netherlands
Phone: +31 (0)416 660 464
Fax: +31 (0)416 392 040
E-mail: daa(at)doublealpha.biz