Mini Mr.Bulletfeeder by DAA - Pistol
Mini Mr.Bulletfeeder by DAA - Pistol
Reviews:
(Current Reviews:

46

)
The Mini Mr.Bulletfeeder by DAA uses a 6-tube magazine system which holds roughly 100 bullets. It feeds into the same brilliantly reliable dropper die assembly as used on the Mr.Bulletfeeder.

Using a Mr.Bulletfeeder while reloading is a real pleasure. It makes the reloading process faster and much easier. If you have never used one, you are missing out on one of the greatest reloading assists out there! A Bulletfeeder also improves safety, by preventing the need to insert your fingers under the tool head to place your bullets on the brass. Everyone should use one!

The problem of course, is cost. Shooting is expensive, and reloading ammo, while usually cheaper than shooting factory, is not as cheap as it once was…
You need to buy a press, other reloading accessories, not to mention ammo components. For many, by the time all that is purchased, they have stretched their budget about as far as it will go. And the Bulletfeeder gets passed on, for lack of funds.

This was our motivation when setting out to develop a less expensive version of the Mr.Bulletfeeder, and it lead to the new Mini Mr.Bulletfeeder.

Each magazine of bullet tubes needs to be filled by hand before reloading, much in the same way you would fill your primer tubes before starting your reloading session. With a little practice, it will take you about 2 minutes to fill the tube assembly. And this can be done in advance while watching TV in the comfort of your living room. Additional tube assemblies can be purchases separately (or as a bundle), thus allowing you to pre-load 300, 400 or more bullets before starting your reloading session.

While reloading, you will see the bullets drop down in the transparent tube, as they feed into the dropper-die assembly. Once a tube is empty, you simply rotate and click the next tube into place and keep reloading. Transition to the next tube takes just a second or two. Once the entire 6-tube magazine is empty, either reload it by hand, or drop your 2nd assembly into place to continue without delay.

The Mini Mr.Bulletfeeder can be used on any progressive reloading machine which uses the same size dies as Dillon, however please note that the powder funnel we supply with the unit is designed to be used only in the Dillon powder drop! If you wish to use the Mini Mr.Bulletfeeder with another press, you may need to get another powder funnel to expand the brass.
Be aware that the bullet feeder does require a station in your tool head, directly after the powder dropper.

We have found it is difficult to use the Mini Mr.Bulletfeeder on a 1050 when a powder check is being used in the following station. This has to do with the angle in which the powder dropper sits, forcing the bullet dropper to rotate further away, over the next station. This is an issue only on a 1050.

Your Mini Mr.Bulletfeeder by DAA includes:
1 x 6-Tube Bullet Magazine Assembly
1 x Dropper Die Assembly
1 x Expanding powder funnel (Dillon compatible)
3 x Spare Steel Ball-Bearings for Dropper
1 x User Instruction Sheet

Please note: Mr.Bullet feeders and Mini Mr.BF are usually shipped with our Dillon Powder funnel. If you wish us to swap that out for a Hornady funnel when shipping – we can do so for you. request that at time of ordering. Or, separately purchase your Hornday expanding powder funnel here
Click here for user instructions for this and other products.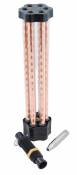 Don B
Date Added: Thursday 14 March, 2019
Absolutely the most practical, easy to setup and use feeder I have found. What a pleasure. Can't say enough about this product. It would sure be nice if you guys could come up with a primer feeder that works as well. Wouldn't that be nice?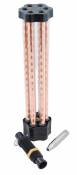 John D Lincoln
Date Added: Monday 18 February, 2019
The Mr. Bullet feeder works great on my Hornady L&L. Very easy setup. The only issue is you that really either need two and someone else to load one once it gets empty to really speed up the loading process. With just one, the time spent loading it negates the time saved WHILE loading! If I had a choice of either my 3-D printed case feeder or the bullet feeder, I would take the case feeder every time! I need to order a couple more bullet magazines I guess.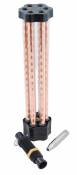 Robert Reese
Date Added: Friday 18 January, 2019
I received two of the mini bullet feeders (45acp and 40S&W) for Christmas. One of the tube assemblies would not slide onto the feeder die. I contacted customer service and was told to take fine grit emery cloth and sand it down until it fit. They did say that if I broke anything, they would replace it. It took a couple hours, but I finally got it to mostly fit (not as good as the 2nd feeder tube did). Then, the bullets in some of the tubes wouldn't drop. I took it apart again and found that the adhesive used to secure the tubes to the housing had squeezed out into the tube. I used a knife to remove the excess adhesive and now it works fairly well. The bullets still hang up occasionally and you need to twist the assembly a little to get the tube lined up with the die. The holes in the advance mechanism should have been tapered a little to eliminate this issue. I think quality control on these assemblies is extremely poor. All you would have to do is see if the assembly fit on the bullet drop die and drop a bullet down each tube. I really like the mini bullet feeder. With a few tweeks and some quality control it would be awsome!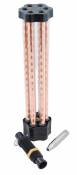 Michael Hansen
Date Added: Thursday 15 November, 2018
Min første bullit feder gør mit arbejde maget nemmere at udføre.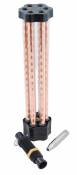 Claudio
Date Added: Monday 17 September, 2018
This was my second one very easy to install and easy to set up its a must on ur press awesome product highly reccomended
Mini Mr.Bulletfeeder by DAA - Pistol
Double-Alpha Academy BV
Elzenweg 33b, 5144MB, Waalwijk
The Netherlands
Phone: +31 (0)416 660 464
Fax: +31 (0)416 392 040
E-mail: daa(at)doublealpha.biz
General questions
Q: Will the mini Mr. Bullet Feeder work with lead cast, polymer coated bullets? Specifically .40 cal. (.401 diameter)?
Yes, as long as they are not full wadcutters.
Q: I would like to know if your mini feeder will work in a Hornady LNL press using SNS coated bullets? I have tried using the Hornady bullet feeder die for coated bullets and it will not work consistenly at all, only with jacketed. Only saw use of the Dillon press...