Combo: 1050 Machine Bundle 3
Combo: 1050 Machine Bundle 3
Reviews:
(Current Reviews:

75

)
Save 55Euro with this great Dillon 1050 reloading machine, Mr.Bulletfeeder by Double-Alpha, 1050 Cover, Powder Check System, Low Powder Sensor, DAA 2-in-1 seat and crimp die and 1050 Maintenance Kit & Spare parts.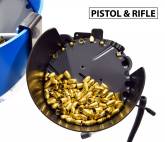 Mr. Bulletfeeder by Double-Alpha - Pistol and Rifle
Jack Whelan
Date Added: Tuesday 19 March, 2019
As I load a good 20k 45 a year, I really wanted to like it. Tried to get it to work for over a year. Was back and forth with customer service dozens of times, but regardless of what they say, this just does not work with a lot of lswc profile bullets. I, and a number of other bullseye shooters I have spoken with, have never been able to get it to work even though I was assured it would work before ordering it. I was forced to sell it. In the end I lost over 100$ and a ton of time on this. Not happy.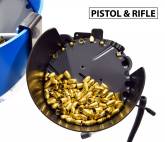 Mr. Bulletfeeder by Double-Alpha - Pistol and Rifle
Peter Ronnberg
Date Added: Monday 11 February, 2019
Struggling with the powder funnel/case opener provided. It was quite rough and causes the machine to shake when pulling it out of the case. I honed it with 1200grit paper and it got better but still sticky causing powder to spill. Will just have to load a couple of thousand and see if it gets smoother.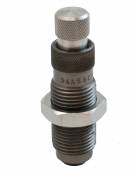 DAA 2-in-1 Seating and Crimping Die
Larry
Date Added: Thursday 31 January, 2019
Quality product. As others, I wanted to use the XL650 powder check system and Mr bullet feeder so this was a great option.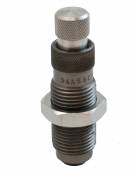 DAA 2-in-1 Seating and Crimping Die
Doin
Date Added: Friday 09 November, 2018
The two and one die was easy to install and works like a champ. It is the solution that works well with the Dillon 6540XL when you use a powder check system. I definitely am glad I bought this for my system...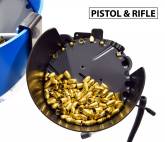 Mr. Bulletfeeder by Double-Alpha - Pistol and Rifle
JOHN HELMS
Date Added: Saturday 20 October, 2018
Mr BulletFeeder is GREAT! I just recently added another Dillon 1050 to my bench, and I have Mr. BulletFeeder on my other pistol setups so I had already planned to do the same to the new loader. Really does a great job, and allows me to concentrate on other functions rather than place individual bullets. Therefore, I believe that while the bullet feeder is not a total necessity, it certainly helps me to make more consistent ammo with less issues during a reloading session. And, the MR BF certainly speeds up the operation by a sizeable margin. Nice work DAA and MR BF! Keep it up.
Combo: 1050 Machine Bundle 3
Double-Alpha Academy BV
Elzenweg 33b, 5144MB, Waalwijk
The Netherlands
Phone: +31 (0)416 660 464
Fax: +31 (0)416 392 040
E-mail: daa(at)doublealpha.biz