Contact Us
Prices shown in USD | All items shipped from PA, USA
Combo: Mr.Bulletfeeder (Pistol) and Conversion Kit
Reviews:
(Current Reviews:

60

)
Mr. Bulletfeeder ® (Bullet Feeder) by Double-Alpha

DAA has been the proud European distributor of Mr. Bulletfeeder® since 2006, and we have never had an unhappy customer! Anyone and everyone who invested in a Bullet Feeder absolutely loves it. You wonder how you ever reloaded without one...

If you reload a lot, you quickly appreciate the efficiency and reliability of this ingenious patented system.

However, Mr. Bullet Feeder has always been a little "rough" in appearance and finish. It was made from existing materials and parts, and as such never had the sleek look and feel of a refined "production" article. Also, since the bullet feeders have always been hand made, in moderate quantities, production costs have been high, and demand always exceeded availability.

Now, all this has changed! We are proud to introduce the new Mr. Bulletfeeder® by DAA. DAA and RAK Systems have teamed up and have retooled and redesigned the Mr. Bulletfeeder®, which is now manufactured by Double-Alpha Academy. The new system, manufactured under license by RAK Systems, is lighter in weight and more compact than the previous models. It is easier to install and set up, and has a more professional "production" look and feel.

An entirely new US Paten Pending dropper system allows the new model to function better and longer than before. The new dropper design eliminates the need for any spring or small plastic parts in the dropper head, and works entirely powered by gravity and an ingenious geometric design.

And to top it all off - we can now offer the new system at a far more affordable price.
If you have never tried a bullet feeder on your progressive reloader - what are you waiting for?! It cuts the time and effort involved in reloading practically in half! A must-have item for any serious shooter.

the expanding powder funnel supplied is for the Dillon reloading machines only. Not compatible with other brands. To use with the LnL press, you will need to purchase their expanding powder funnel separately.

The new Mr.Bulletfeeder is available in 9/38, 40SW/10 mm, .45. Rifle calibers .223 and .308.

Please note: Mr.Bullet feeders and Mini Mr.BF are usually shipped with our Dillon Powder funnel. If you wish us to swap that out for a Hornady funnel when shipping – we can do so for you. request that at time of ordering. Or, separately purchase your Hornday expanding powder funnel here
Conversion Kit
Conversion kits are available allowing you to use your Mr. Bulletfeeder by Double-Alpha for more than just one caliber. Many reloaders have a second complete tool head for their 2nd caliber of choice, voiding the need to reset the dies.

To make the transition easy, the Mr. Bulletfeeder by Double-Alpha conversion kits includes a complete dropper assembly, a custom powder funnel (for pistol calibers) and a new collator plate for the caliber of choice. This will allow you to switch your bullet feeder from one caliber to the next in a matter of minutes.

The spring output tube securely attaches to the top of the dropper by means of the Spring Adaptor Cap, which attaches and disconnects easily from the top of the dropper. The inner threading grips the coils of the spring firmly, preventing any chance of it coming loose during operation, and allowes a quick transition from one dropper to the next.

Please note: All pistol calibers use the same output tube, lead spring and spring adaptor cap. So this assembly is not included in the conversion kit –as you will not need a second one when changing pistol calibers.

The rifle calibers too share the same output assembly, and so when converting from 223 to 308, the same output assembly is used.

However – if you intend to buy a conversion kit to convert a rifle unit to a pistol caliber, you must purchase the output assembly required, in addition to the conversion kit

The expanding powder funnel supplied is for the Dillon reloading machines only. Not compatible with other brands. To use with the LnL press, you will need to purchase their expanding powder funnel separately.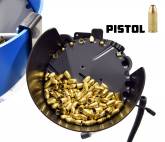 Mr. Bulletfeeder by Double-Alpha - Pistol Calibers
Jeff Kulbis
Date Added: Thursday 09 August, 2018
Have a Dillon 650 and wanted to keep the powder check station so I bought the DAA 9mm crimp/seater die. I only taper crimp which the die did well, Once set up no problems at all, happy with the purchase.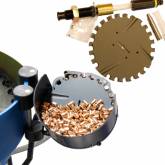 Combo: Mr.Bulletfeeder (Pistol) and Conversion Kit
Larry Skinner
Date Added: Monday 06 August, 2018
Purchased Mr. Bullet for 40SW and 9mm quick change kit for my XL650. Install, setup, adjustment, and tuning were a breeze following the manual. Awesome machine, don't know why I didn't purchase long ago. Big increase in my loading rate with timed average of 19rds per minute without pushing. I do occasionally get an upside down bullet due to vibration during loading with the bullet feeder attached to my case feeder. Solution would be a wall mount isolating the bullet feeder from the press vibrations. Mr. Bullet is a total THUMBS UP! Only issue was the micro switch terminals on the bullet droppers (both 40SW & 9MM) were bent during shipping. Suggest they be padded for shipping to prevent. Also I wish a wall mount system was available. All in all if you shoot much you must have....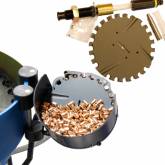 Combo: Mr.Bulletfeeder (Pistol) and Conversion Kit
Matthew Connor
Date Added: Friday 18 May, 2018
Little difficult to set up for this rookie. Lots of adjustments. Still getting a double feed about every 20 or so round. That said, it smokes. I can't out run it. Should have gotten the bigger hopper for the 45 bullets. Can't do without this machine and as time goes I'm sure I'll get dialed in perfect.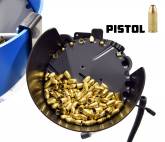 Mr. Bulletfeeder by Double-Alpha - Pistol Calibers
MARTIN G SCHANER
Date Added: Monday 07 May, 2018
I OWN TWO DILLON 650'S ONE FOR 9MM AND ONE FOR 45ACP. I PURCHASED THE MR. BULLET FEEDER FOR THE NEW 45 PRESS AND I MUST SAY IT IS THE GREATEST THING SINCE SLICED BREAD. I HAVE ANOTHER BRAND BULLET FEEDER ON THE 9MM PRESS WHICH DOES NOT PERFORM ANYWHERE NEAR THE MR. BULLET FEEDER. I MAY SOON BE REPLACING THE 9MM BULLET FEEDER WITH A NEW MR. BULLET FEEDER AND JUST JUNKING THE OTHER UNIT.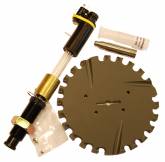 Mr. Bulletfeeder by Double-Alpha Conversion Kit
Blake
Date Added: Tuesday 17 April, 2018
Excellent service from CEDHK. Mr. Bullet feeder also works great.
Combo: Mr.Bulletfeeder (Pistol) and Conversion Kit
Alpha Dynamics USA
2908 Betz Court, Orefield, PA 18069

Phone: (888) 628-3233 or (610) 366-9752
Fax: (610) 366-9680
E-mail: sales(at)doublealpha.biz