Contact Us
Prices shown in USD | All items shipped from PA, USA
Combo: Mini Mr.Bulletfeeder and 2-in-1 Seating and Crimping Die
Reviews:
(Current Reviews:

51

)
Mini Mr.Bulletfeeder
The Mini Mr.Bulletfeeder by DAA uses a 6-tube magazine system which holds roughly 100 bullets. It feeds into the same brilliantly reliable dropper die assembly as used on the Mr.Bulletfeeder.

Using a Mr.Bulletfeeder while reloading is a real pleasure. It makes the reloading process faster and much easier. If you have never used one, you are missing out on one of the greatest reloading assists out there! A Bulletfeeder also improves safety, by preventing the need to insert your fingers under the tool head to place your bullets on the brass. Everyone should use one!

The problem of course, is cost. Shooting is expensive, and reloading ammo, while usually cheaper than shooting factory, is not as cheap as it once was…
You need to buy a press, other reloading accessories, not to mention ammo components. For many, by the time all that is purchased, they have stretched their budget about as far as it will go. And the Bulletfeeder gets passed on, for lack of funds.

This was our motivation when setting out to develop a less expensive version of the Mr.Bulletfeeder, and it lead to the new Mini Mr.Bulletfeeder.

Each magazine of bullet tubes needs to be filled by hand before reloading, much in the same way you would fill your primer tubes before starting your reloading session. With a little practice, it will take you about 2 minutes to fill the tube assembly. And this can be done in advance while watching TV in the comfort of your living room. Additional tube assemblies can be purchases separately (or as a bundle), thus allowing you to pre-load 300, 400 or more bullets before starting your reloading session.

While reloading, you will see the bullets drop down in the transparent tube, as they feed into the dropper-die assembly. Once a tube is empty, you simply rotate and click the next tube into place and keep reloading. Transition to the next tube takes just a second or two. Once the entire 6-tube magazine is empty, either reload it by hand, or drop your 2nd assembly into place to continue without delay.

The Mini Mr.Bulletfeeder can be used on any progressive reloading machine which uses the same size dies as Dillon, however please note that the powder funnel we supply with the unit is designed to be used only in the Dillon powder drop! If you wish to use the Mini Mr.Bulletfeeder with another press, you may need to get another powder funnel to expand the brass.
Be aware that the bullet feeder does require a station in your tool head, directly after the powder dropper.

We have found it is difficult to use the Mini Mr.Bulletfeeder on a 1050 when a powder check is being used in the following station. This has to do with the angle in which the powder dropper sits, forcing the bullet dropper to rotate further away, over the next station. This is an issue only on a 1050.

Your Mini Mr.Bulletfeeder by DAA includes:
1 x 6-Tube Bullet Magazine Assembly
1 x Dropper Die Assembly
1 x Expanding powder funnel (Dillon compatible)
3 x Spare Steel Ball-Bearings for Dropper
1 x User Instruction Sheet

Please note: Mr.Bullet feeders and Mini Mr.BF are usually shipped with our Dillon Powder funnel. If you wish us to swap that out for a Hornady funnel when shipping – we can do so for you. request that at time of ordering. Or, separately purchase your Hornday expanding powder funnel here
2-in1 Seating and Crimping Die
A common request we hear is "Can I used the Bullet Feeder on my 550?" Or "can I use the Bullet Feeder and still continue to use my powder check on my 650?".
The answer to both questions is, YES, provided you combine your Seating and Crimping operations into one station, to free up the station your Bullet Feeder will need.
Such Seating and Crimping dies are available, and so we decided it was timer we made them directly available to our customers as well. We teamed up with one of the best Die manufacturers, LEE Precision, and are now pleased to offer you our DAA 2-in-1 Seating and crimping dies.
These quality stainless steel dies, enable you to Seat and Crimp in one station, without compromising the quality of your ammo. It may take a little longer to get the adjustments just right, but once calibrated correctly, this die will produce consistent and precise quality ammunition.
These dies include an O-ring lock machined into the nut, which allows you to hand tighten only – and the die stays put! They include a finger adjustable floating bullet Seater, are heat treated to ideal hardness and polished to the smoothest finish.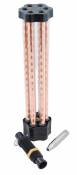 DAA Mini Mr. Bulletfeeder - Pistol
Steve Watkins
Date Added: Sunday 06 May, 2018
It is very simply the best bullit feeder I have ever used.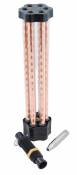 DAA Mini Mr. Bulletfeeder - Pistol
Bill H
Date Added: Monday 26 March, 2018
The mini Mr bulletfeeder is a simple but ingenious why to feed bullets, into your cases. The only problem I had was it emptied quick. Good product. Well worth the money.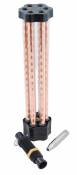 DAA Mini Mr. Bulletfeeder - Pistol
Martijn Lamers
Date Added: Tuesday 20 March, 2018
Great product. Exceeds expectations. Simple and fast setup with clear instructions. It really speeds up reloading.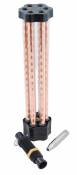 DAA Mini Mr. Bulletfeeder - Pistol
Mike
Date Added: Friday 16 March, 2018
By far, the best manual bullet feeder on the market today. I switched from a Hornady and have been completely happy I did. This system doesn't just flare the case, it puts a small bell that accepts the bullet without flaw. 9MM or 45 ACP, there is no difference in efficiency. You will not be disappointed.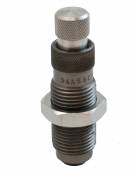 DAA 2-in-1 Seating and Crimping Die
Steve Cresswell
Date Added: Monday 12 March, 2018
Exallent die I use it on my 650 so I can use powder check & Mr bullet feeder. Makes it easy
Combo: Mini Mr.Bulletfeeder and 2-in-1 Seating and Crimping Die
Alpha Dynamics USA
2908 Betz Court, Orefield, PA 18069

Phone: (888) 628-3233 or (610) 366-9752
Fax: (610) 366-9680
E-mail: sales(at)doublealpha.biz