Mr. Bulletfeeder by Double-Alpha - Pistol and Rifle
Mr. Bulletfeeder by Double-Alpha - Pistol and Rifle
Reviews:
(Current Reviews:

50

)
Mr. Bulletfeeder ® (Bullet Feeder) by Double-Alpha

DAA has been the proud European distributor of Mr. Bulletfeeder® since 2006, and we have never had an unhappy customer! Anyone and everyone who invested in a Bullet Feeder absolutely loves it. You wonder how you ever reloaded without one...

If you reload a lot, you quickly appreciate the efficiency and reliability of this ingenious patented system.

However, Mr. Bullet Feeder has always been a little "rough" in appearance and finish. It was made from existing materials and parts, and as such never had the sleek look and feel of a refined "production" article. Also, since the bullet feeders have always been hand made, in moderate quantities, production costs have been high, and demand always exceeded availability.

Now, all this has changed! We are proud to introduce the new Mr. Bulletfeeder® by DAA. DAA and RAK Systems have teamed up and have retooled and redesigned the Mr. Bulletfeeder®, which is now manufactured by Double-Alpha Academy. The new system, manufactured under license by RAK Systems, is lighter in weight and more compact than the previous models. It is easier to install and set up, and has a more professional "production" look and feel.

An entirely new US Patent Pending dropper system allows the new model to function better and longer than before. The new dropper design eliminates the need for any spring or small plastic parts in the dropper head, and works entirely powered by gravity and an ingenious geometric design.

And to top it all off - we can now offer the new system at a far more affordable price.
If you have never tried a bullet feeder on your progressive reloader - what are you waiting for?! It cuts the time and effort involved in reloading practically in half! A must-have item for any serious shooter.

the expanding powder funnel supplied is for the Dillon reloading machines only. Not compatible with other brands. To use with the LnL press, you will need to purchase their expanding powder funnel separately.

The new Mr.Bulletfeeder is available in 9/38, 40SW/10 mm, .45. Rifle calibers .223, .308. and 6.5x55mm

Pistol: Please note: Mr.Bullet feeders and Mini Mr.BF are usually shipped with our Dillon Powder funnel. If you wish us to swap that out for a Hornady funnel when shipping – we can do so for you. request that at time of ordering. Or, separately purchase your
Rifle: No expanding powder funnel is included with this system, because throating the rifle brass in the powder funnel is not possible. That would lead to too small a powder through hole. Flaring the brass must be done as a prep stage or using a modified M-die on the 1050.
Hornday expanding powder funnel here
Click here for user instructions for this and other products.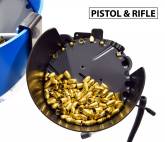 Andrew Keene
Date Added: Wednesday 04 January, 2017
I bought this for a Dillon 650 XL and it works just as advertised. I took my time and set it up prior to any immediate loading so that I didn't have any pressure on myself. Once I had it feeding appropriately and without hesitation, I went into production. What a great machine! No problems, smooth and very efficient. I sometimes dumped a few too many bullets in the hopper and it didn't even notice or slow. Just efficient and accurate. Thanks once again for an extremely well-engineered piece of equipment.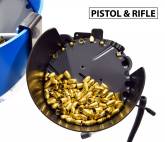 JEAN PIERRE LABONBTÉ
Date Added: Monday 27 June, 2016
Je me suis procurer un excellent complment à ma Dillon Xl650. juste un peu de difficultés d'ajustement du panier de collection pour le nettre à 45 degré. De l'argent bien investi. Jean Pierre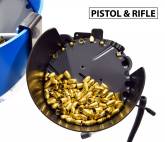 Martin J. Ivancsics
Date Added: Tuesday 21 June, 2016
Der beste Bulletfeeder auf dem Markt - sobald das Gerät eingestellt ist, läuft es wie am Schnürchen. Die Geschosse werden zuverlässig zugeführt, die Geschwindigkeit ist regelbar und somit auf das eigene Arbeitstempo sehr gut einstellbar. Der Kaliberwechsel geht schnell von der Hand, die Verarbeitung ist sehr solide. Sollte einmal ein Teil kaputt werden, so ist es kein Problem die Teile nachzubestellen und auszutauschen. Ein weiterer Vorteil ist, dass man im Gegensatz zu den anderen Bulletfeedern eine relativ große Menge an Geschossen einfüllen kann - ohne eine Störung hervorzurufen. Angesichts der Vorteile und der wirklich guten Verarbeitung ist auch der höhere Preis gerechtfertigt und zahlt sich allemal aus.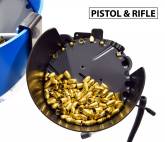 T Gohdes
Date Added: Monday 13 June, 2016
Purchased a Mr. Bulletfeeder in 9 m/m and conversion kits for .40 and .45. Set-up was very easy thanks to the included set-up instructions and the online videos. I do not know why I waited so long to get this. I am using this on a 650 with a case feeder. Pros: Easy set-up Seats the bullet, eliminating any powder slinging. Bullets seated true and square. No more shaved lead or copper (from copper plated bullets) No more crumpled cases while seating. Cons: None that I have encountered. If you are considering a bulletfeeder, look no further than the Mr. Bulletfeeder. About the only thing that comes close to this is a good Belgium beer!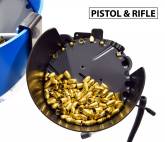 Bill Davis
Date Added: Tuesday 26 April, 2016
Bought the bullet feeder a month ago. Shipping took a few days longer since it had to go through customs. Product is well made, instructions were clear, and videos online were very helpful is needed. Hardest part was sorting the pucks that hang the collator on the case feeder of my Dillon 650. Took about five minutes to make the final adjustment so that all the bullets were flipping to the correct upright position. My intention is to buy other caliber conversions, I have no idea of how smoothly that will go, but since the install was so smooth, I will be surprised if the conversion do not go just as well. The unit is very quiet. Also by installing this unit, the casefeeder and a couple of other accessories it forces me to be more diligent in case sorting and case preparation -- not a bad thing at all. My only suggestion is that the mounting pucks have some sort of indicators on them to help get them in the proper orientation. Silly enough, this part took me longer than anything else. Recommend this purchase to anyone who reloads enough to warrant one.
Mr. Bulletfeeder by Double-Alpha - Pistol and Rifle
Double-Alpha Academy BV
Elzenweg 33b, 5144MB, Waalwijk
The Netherlands
Phone: +31 (0)416 660 464
Fax: +31 (0)416 392 040
E-mail: daa(at)doublealpha.biz