Mr. Bulletfeeder by Double-Alpha - Pistol and Rifle
Mr. Bulletfeeder by Double-Alpha - Pistol and Rifle
Reviews:
(Current Reviews:

50

)
Mr. Bulletfeeder ® (Bullet Feeder) by Double-Alpha

DAA has been the proud European distributor of Mr. Bulletfeeder® since 2006, and we have never had an unhappy customer! Anyone and everyone who invested in a Bullet Feeder absolutely loves it. You wonder how you ever reloaded without one...

If you reload a lot, you quickly appreciate the efficiency and reliability of this ingenious patented system.

However, Mr. Bullet Feeder has always been a little "rough" in appearance and finish. It was made from existing materials and parts, and as such never had the sleek look and feel of a refined "production" article. Also, since the bullet feeders have always been hand made, in moderate quantities, production costs have been high, and demand always exceeded availability.

Now, all this has changed! We are proud to introduce the new Mr. Bulletfeeder® by DAA. DAA and RAK Systems have teamed up and have retooled and redesigned the Mr. Bulletfeeder®, which is now manufactured by Double-Alpha Academy. The new system, manufactured under license by RAK Systems, is lighter in weight and more compact than the previous models. It is easier to install and set up, and has a more professional "production" look and feel.

An entirely new US Patent Pending dropper system allows the new model to function better and longer than before. The new dropper design eliminates the need for any spring or small plastic parts in the dropper head, and works entirely powered by gravity and an ingenious geometric design.

And to top it all off - we can now offer the new system at a far more affordable price.
If you have never tried a bullet feeder on your progressive reloader - what are you waiting for?! It cuts the time and effort involved in reloading practically in half! A must-have item for any serious shooter.

the expanding powder funnel supplied is for the Dillon reloading machines only. Not compatible with other brands. To use with the LnL press, you will need to purchase their expanding powder funnel separately.

The new Mr.Bulletfeeder is available in 9/38, 40SW/10 mm, .45. Rifle calibers .223, .308. and 6.5x55mm

Pistol: Please note: Mr.Bullet feeders and Mini Mr.BF are usually shipped with our Dillon Powder funnel. If you wish us to swap that out for a Hornady funnel when shipping – we can do so for you. request that at time of ordering. Or, separately purchase your
Rifle: No expanding powder funnel is included with this system, because throating the rifle brass in the powder funnel is not possible. That would lead to too small a powder through hole. Flaring the brass must be done as a prep stage or using a modified M-die on the 1050.
Hornday expanding powder funnel here
Click here for user instructions for this and other products.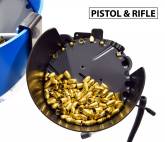 F. du Boisrouvray
Date Added: Wednesday 30 March, 2011
Excellent product. ++++++ Just try and enjoy reloading !!!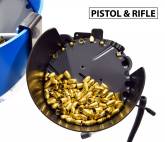 Jonas Ardemalm
Date Added: Saturday 27 November, 2010
When I ordered Mr.Bulletfeeder I´ve got this message from DDA H Jonas, thanks for your new order. You will love the bullet feeder! we will send it out today saul The delivery was about 4 working days to Sweden and I have used Mr. Bulletfeeder for a while now. There is a good manual with the delivery and yes I´m sorry but it was to much money to not read the manual before installation ;-). I must say... it is true I really love Mr.Bulletfeeder. It makes reloading so much nicer... If you load a lot buy one your self you will not regret it. Best Regards Jonas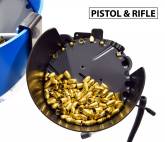 Maik
Date Added: Saturday 06 March, 2010
Mounted it on a Dillon 1050 set up for 38SA: works from the first minute flawless! Absolute reliable and fast. I expected a couple of hours for setup and then the first 1000 rounds many troubles. But far from it: 2 hours after opening the package I've finished the first 1200 rounds without any trouble! Great!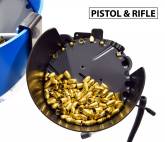 Peter Jansson
Date Added: Monday 02 November, 2009
Super machine +++++++++ works like a clock. Rapid delivery to Sweden 5 working days from order to delivery. Best regards. Peter Jansson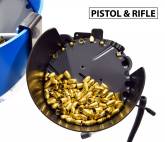 Guy Engelen
Date Added: Sunday 04 October, 2009
Well, first of all I saw this bulletfeeder on YouTube. I've been looking for something like this for years to install on my Dillon Xl 650. I started searching and came across some other feeders like the one from GSI. When you've seen this one you know you've seen it before. But that was in a Spielberg movie, "Close Encounters Of The Third Kind" or something like it… So not what I was looking for and besides this is not why I bought a Dillon press. It needed to be flexible and affordable. So I stumbled on the Mr. Bulletfeeder. When I received the shipment I could not help the feeling that I just had financed a high school science project. It looked like it could work, sure! but it was not there yet with the looks. The sewage pipes didn't help that thought at all. Was this a more advanced prototype of a toilet or what? But when I started to install the collator it seemed like they've thought things through. To my surprise they also made some nice improvements in comparison to the versions you see on YT. I made myself a bracket, which should have been included in the first place, and got rid of the sewage pipes. Mounted the collator on it and was ready to roll. And it is true the science project works. IT'S ALIVE!!! The only problem I see is that sometimes the bullet is not seated straight up. I'm hoping a Redding Competition seating die is going to correct this problem. Things to consider next time: When these guys supply a 220V adapter for Europe they should include some adapters to plug it into our European wall sockets! I also hope that there will be a spare parts list available soon.
Mr. Bulletfeeder by Double-Alpha - Pistol and Rifle
Double-Alpha Academy BV
Elzenweg 33b, 5144MB, Waalwijk
The Netherlands
Phone: +31 (0)416 660 464
Fax: +31 (0)416 392 040
E-mail: daa(at)doublealpha.biz