Mr. Bulletfeeder by Double-Alpha - Pistol and Rifle
Mr. Bulletfeeder by Double-Alpha - Pistol and Rifle
Reviews:
(Current Reviews:

50

)
Mr. Bulletfeeder ® (Bullet Feeder) by Double-Alpha

DAA has been the proud European distributor of Mr. Bulletfeeder® since 2006, and we have never had an unhappy customer! Anyone and everyone who invested in a Bullet Feeder absolutely loves it. You wonder how you ever reloaded without one...

If you reload a lot, you quickly appreciate the efficiency and reliability of this ingenious patented system.

However, Mr. Bullet Feeder has always been a little "rough" in appearance and finish. It was made from existing materials and parts, and as such never had the sleek look and feel of a refined "production" article. Also, since the bullet feeders have always been hand made, in moderate quantities, production costs have been high, and demand always exceeded availability.

Now, all this has changed! We are proud to introduce the new Mr. Bulletfeeder® by DAA. DAA and RAK Systems have teamed up and have retooled and redesigned the Mr. Bulletfeeder®, which is now manufactured by Double-Alpha Academy. The new system, manufactured under license by RAK Systems, is lighter in weight and more compact than the previous models. It is easier to install and set up, and has a more professional "production" look and feel.

An entirely new US Patent Pending dropper system allows the new model to function better and longer than before. The new dropper design eliminates the need for any spring or small plastic parts in the dropper head, and works entirely powered by gravity and an ingenious geometric design.

And to top it all off - we can now offer the new system at a far more affordable price.
If you have never tried a bullet feeder on your progressive reloader - what are you waiting for?! It cuts the time and effort involved in reloading practically in half! A must-have item for any serious shooter.

the expanding powder funnel supplied is for the Dillon reloading machines only. Not compatible with other brands. To use with the LnL press, you will need to purchase their expanding powder funnel separately.

The new Mr.Bulletfeeder is available in 9/38, 40SW/10 mm, .45. Rifle calibers .223, .308. and 6.5x55mm

Pistol: Please note: Mr.Bullet feeders and Mini Mr.BF are usually shipped with our Dillon Powder funnel. If you wish us to swap that out for a Hornady funnel when shipping – we can do so for you. request that at time of ordering. Or, separately purchase your
Rifle: No expanding powder funnel is included with this system, because throating the rifle brass in the powder funnel is not possible. That would lead to too small a powder through hole. Flaring the brass must be done as a prep stage or using a modified M-die on the 1050.
Hornday expanding powder funnel here
Click here for user instructions for this and other products.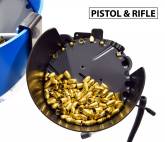 Peter Ronnberg
Date Added: Monday 11 February, 2019
Struggling with the powder funnel/case opener provided. It was quite rough and causes the machine to shake when pulling it out of the case. I honed it with 1200grit paper and it got better but still sticky causing powder to spill. Will just have to load a couple of thousand and see if it gets smoother.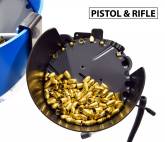 JOHN HELMS
Date Added: Saturday 20 October, 2018
Mr BulletFeeder is GREAT! I just recently added another Dillon 1050 to my bench, and I have Mr. BulletFeeder on my other pistol setups so I had already planned to do the same to the new loader. Really does a great job, and allows me to concentrate on other functions rather than place individual bullets. Therefore, I believe that while the bullet feeder is not a total necessity, it certainly helps me to make more consistent ammo with less issues during a reloading session. And, the MR BF certainly speeds up the operation by a sizeable margin. Nice work DAA and MR BF! Keep it up.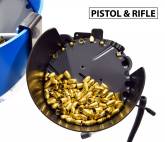 Dennis
Date Added: Sunday 07 October, 2018
A great invention. Took about a little over a hour to set up, and adjust. Save a lot of time when reloading.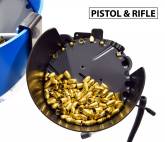 Greg Soileau
Date Added: Friday 14 September, 2018
I added the Mr. Bulletfeeder to my Super 1050 and it has made reloading fun. I reload 223 ammo and being someone with big fingers, trying to place the small bullets onto the case was very aggravating. The Mr. Bulletfeeeder has resolved that issue and reloading is now fun and very fast. Thank you for such an outstanding product! Greg Soileau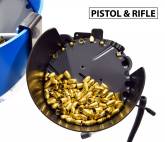 Jeff Kulbis
Date Added: Thursday 09 August, 2018
Have a Dillon 650 and wanted to keep the powder check station so I bought the DAA 9mm crimp/seater die. I only taper crimp which the die did well, Once set up no problems at all, happy with the purchase.
Mr. Bulletfeeder by Double-Alpha - Pistol and Rifle
Double-Alpha Academy BV
Elzenweg 33b, 5144MB, Waalwijk
The Netherlands
Phone: +31 (0)416 660 464
Fax: +31 (0)416 392 040
E-mail: daa(at)doublealpha.biz