Read What Others Are Saying
Thursday 25 March, 2021
JOHN M***Y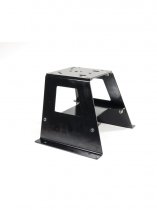 Lyman Universal Press Stand
When I purchased the Brass Smith American 8-Turret, I thought I would mount it to my bench. When I saw this stand, I originally thought the press would be too tall. When the stand came in, I was pleasantly surprised that the press was at the proper height for stand-up operation, which is what I wanted.
Anyway, the stand is well built with 2 plates (I'll use the 2nd plate for some other project sometime later).
Wednesday 24 March, 2021
Kris H***d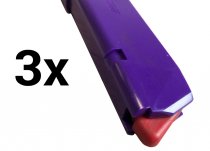 Combo: DAA Dry-Fire Practice Mag, Pack of 3
I have been using these for about 6 weeks and I typically dry fire practice 5 days a week. The mags weigh 8.2 oz on my scale and my unloaded mag weighs 3.8 oz (with TTI +5 base pads) so you definitely get a realistic feel for a loaded magazine. The practice mags seem to perfectly replicate the dimensions of a real magazine, fit mag pouches perfectly and load/drop from the gun just like a real mag. I bought these because I didn't want my match mags to take a beating from dry fire practice. However, I only gave 3 stars because the durability of these plastic mags needs improvement. I have already shattered 1 of the mags while practicing reloading. Unless you practice on a thickly padded surface you will break these. They need to be made out of a a more durable/less brittle material.
Tuesday 23 March, 2021
Nick P***e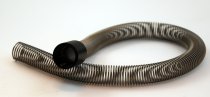 Mr.Bulletfeeder output spring and extension adaptor
Honesty being the best policy; I purchased this thinking it was a large spring with the adapter only to discover it was not. I called DA and the gentleman that answered was extremely professional and informative. After a few moments on the phone I understood what I needed and place the order for the complete unit. As to the functionality of the part under review, I actually ended up using it to give me an 1-1/2 more length allowing my custom setup of the DA Bullet Feeder to function like it needs to.
Tuesday 23 March, 2021
Roy B***y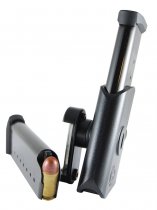 DAA Single Stack Racer Pouch
They work great except.....The screws that are provided do not fit if you want to mount bullet tip pointing away from your body & you have to drill holes. For the price, they should have pre-drilled the hole and provide screws that fit.
Monday 22 March, 2021
JAMES O***T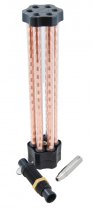 Mini Mr.Bulletfeeder by DAA - Pistol
Bought Mini Mr. Bullet Feeder in 9mm for my new XL750. Dropper and powder die setup were simple. (Polished the powder die with fine steel wool plus light coating of Hornady One Shot Case Lube and system runs smoothly.) Bought 2 extra magazines to increase productivity. Excellent value and service. Thank you. Note: Purchased the Mini Case Feeder, Case Feeder Loader Bowl and Extra Short Dillon Powder Bar. Great additions to my system. Speeding up bullet magazine refills by attaching Case Feeder Loader Bowl to bullet magazine, placing .223 adaptor plate on top and manually sliding 9mm (plated) bullets base down to filler holes. Would definitely buy bullet loader bowl if Double Alpha develops one as effective as the Case Feeder version.
Monday 22 March, 2021
Mike L***s

Mini Mr.BulletFeeder by DAA - 6-tube Magazine - Rifle
Works great. Will feed jacketed as well as cast. Love how it sits perfectly on the feeder. You could make your own, which I have, but this is a whole lot simpler to use. Nothing to figure out in how to get it to work. You may need to clean the feed tubes once in a while when doing cast as the lube will get on the tubes. A wooden dowel and some cleaning patches takes care of that.
Monday 22 March, 2021
Mike L***s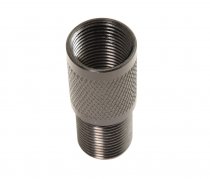 Mr.Bulletfeeder Bullet Dropper Thread-Extention
Works great when doing longer brass like 30-06. Gives you the extra height needed to set everything up.
Monday 22 March, 2021
JAMES O***T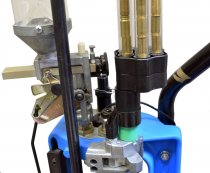 DAA Mini Multi-Cal XL650 / XL750 Case Feeder
Mini case feeder fits my XL750 space and budget constraints perfectly. Very happy with the quality and construction. Advertised as "one size fits all" for specified caliber range, follow the guidance with regard to "light fitting" of the adaptor. Box arrived stamped 9/38, and I discovered the magazine's base was marked 40/45. Initial test with my setup resulted in 9mm cases hanging up at the case feeder arm. Light removal of material (Dremel and fine sandpaper) on green plastic case feeder arm bushing plus slight adjustment of arm set screw solved the problem. Purchased additional magazine tube plus the mini case feeder loader bowl (collator.) Loader bowl works great: about 45" to fill an entire magazine in initial tests. Excellent products and service. Thank you!
Monday 22 March, 2021
Mike L***s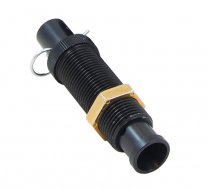 Mr.BulletFeeder by DAA Die Assembly Only
Best bullet feeder out there. Works with anything you throw at it. Jacketed or cast. It just does not matter. I do not believe you can find a bullet this thing will not feed. It just works. About the only way to stop this feeder would be to feed the wrong caliber through it.
Monday 22 March, 2021
ALEXANDRE M***A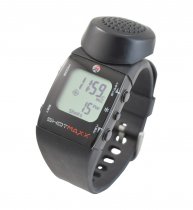 SHOTMAXX-2 Watch Shot Timer
I'm very happy with the Shotmaxx-2 timer. I bought it a couple of months ago to practice IPSC with an airsoft replica and it works extremely well, especially in the accelerometer mode. I don't even have to set it to the maximum sensitivity - level 07 is already enough so it captures all my shots. It's also very handy when dry-firing as I can easily set my par times. This is a must-have product for those who are serious about their performance.
Monday 22 March, 2021
James S***k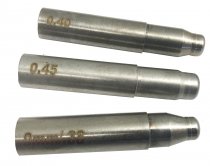 Mr.BulletFeeder by DAA Powder Funnel - Dillon
Seats the bullet perfectly. I use the Redding special bell die on my turret press. Basically does the same thing.
Friday 19 March, 2021
Larry P***r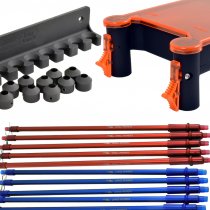 Combo: PRIMAFILL, 2x 5 pack DAA Primer Pickup Tubes and Primer Rack
Works great. Much faster way to fill primer tubes.
Friday 19 March, 2021
Larry P***r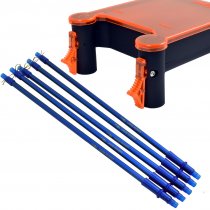 Combo: PRIMAFILL and DAA Primer Pickup Tubes - 5 Pack
Works great. Much faster way to fill primer tubes.
Monday 22 March, 2021
Jay M***s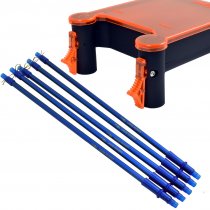 Combo: PRIMAFILL and DAA Primer Pickup Tubes - 5 Pack
After many frustrating hours, I finally got my Dillon RF100 primer tube filler to work perfectly with CCI SP and SR primers. Not wanting change the settings for LR and not wanting to buy a second RF100 paperweight for LR, I decided to give this machine a try.
It definitely takes some finesse and is not quite as "set it and forget it" as the Dillon (while working). However, this machine does work right out of the box and requires no adjustment. I purchased some 8mm vinyl end caps and used those in place of the plastic pick up tips on the primer tubes. There really is no need for pick up tips when using a primer filler. Also, Dillon primer tubes work perfectly with machine.
Pros for this machine are its ease of use, versatility switching back and forth between large and small primers, and cost effectiveness.
Cons are you still have to flip the primers before using, the lid does not lock down, and this is not a set and forget unit like the Dillon.
Overall, I like this unit very much and will continue to use it exclusively for large primers. I do not shoot the same volume of large primer cartridges as I do small primers. Therefore, the extra time spent is of little consequence.
If I had an extra RF100 dialed in for large primers, I'd probably prefer to use that. However, in terms of saved money and frustration, this little machine is very hard to beat.
Sunday 21 March, 2021
Shawn S***f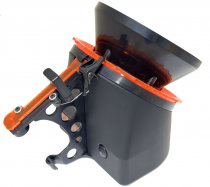 DAA PRIMER-PRO Collator
This is second review. Let's see if it makes the website. The product itself is poorly constructed, all plastic, and has multiple choke points. Metal screws in plastic that need constant adjustment will lead to wear and the screws nolonger functioning. The hole the the primers fall into the tube routinely has primers that get stuck even though you realign and adjust the collar. Primers feed,then don't feed, then feed with no rhyme or reason.
The 2 stars vs negative stars is for the customer service. They are fantastic. Very helpful, understanding, knowledgeable, and polite.
Great people poor product.
[DAA Reply]:
Dear Shawn,
We must disagree that this product is "poorly constructed" because it is made from plastic. It was engineered to be made from plastics, and could not easily be manufactured with any other process other than injection molding with its current design. The materials uses are all high-grade plastics and nylons and are not "cheap" by any means. There are no screws needing constant adjustment either.
I am sorry to read you are finding the Primer Pro finicky to use. most users (over 5,000 of these units are out there being used now) are happy with its performance. Not knowing the details of the issues you have experienced its hard for me to respond in detail. but certainly primers jamming on the way out of the exit hole often has to do with the primer tube in use and its chamfer. Try to run the primer Pro without a tube, dropping the primers into a cup to confirm the exit hole is good. Then, QC the edge of your primer tube hole and symmetry of it.
Depending on the type of primers in use, follow the online advice regarding cleaning/polishing the surfaces of the primer bowl to prevent the tacky primers from sticking to the that surface.
Sunday 21 March, 2021
Rick T***r
Dillon Ammo Box, 100 rounds
Very best price on the ammo boxes. They look well made, will buy more
Sunday 21 March, 2021
Don L***s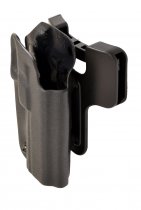 IDPA PDR PRO-II Holster
Fits the gun very well, excellent construction. My only complaint is with the belt attachment. For IDPA, your belt has to go through your belt loops. Most pants have a beltloop at the 3 o'clock position that needs to go between the two "ears" of the belt attachment. With the small space between the "ears" on this product, the holster is almost impossible to put on your belt while you are wearing the pants.
Friday 19 March, 2021
Larry P***r
DAA PRIMAFILL
Works great. Much faster way to fill primer tubes.
Thursday 18 March, 2021
Thomas C***s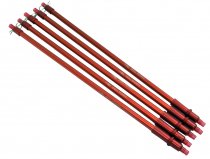 DAA Primer Pickup Tubes, 5-Pack
This is REAL QUALITY!!!
They look nice and work GREAT.
Thursday 18 March, 2021
Anders A***n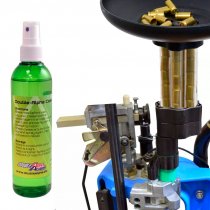 Combo: Multi-Cal Case feeder, Loader Bowl and Case Lube
The case feeder works great and life is easy together with the loader bowl. This solution works much better for me instead of using the noisy electric case feeder. The only thing that could be better is a solution for calibers larger than .40.