Read What Others Are Saying
Sunday 11 April, 2021
Travis L***s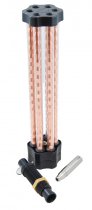 DAA Mini Mr. Bulletfeeder - Pistol
I love this product. It's really helped to speed up the loading process. There was a short learning curve involved. The tube magazine tends to swivel on the die as you load. this led to it eventually getting hung up on my seating die. When this happened and I returned the press to the down position, all the projectiles in the tube would empty out all over the place. So just watch out for that, and you'll be in good shape.
Saturday 10 April, 2021
FRATZESKOS S***S
Alpha-X Holster
Fit perfect for Walther Q5 Match SF Black Ribbon. One more time im a happy customer
Friday 09 April, 2021
JAMES O***T
DAA Extra-Short Dillon Powder Bar
Perfect solution allowing incorporation of DAA's Mini Mr. Bulletfeeder into my new XL750 system. Simple, drop-in replacement for Dillon's small powder bar yields consistent, accurate charges. Thank you, DAA, for these excellent upgrades (plus Mini Case Feeder) to my reloading system.
Friday 09 April, 2021
Paul F***s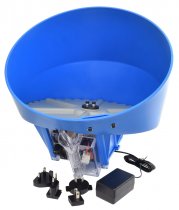 Dillon XL 650/750 Variable Speed Case Feeder with Plate
Should have been my first purchase with the press. Great service from DAA too.
Friday 09 April, 2021
Paul F***s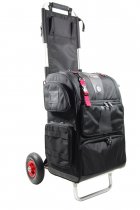 Combo: RangePack Pro and RangeCart Pro
Outstanding quality bag and should hold everything you need and then some. I had and issue with the cart but it was sorted out and excellent customer service. Thanks again.
Thursday 08 April, 2021
Harold C***x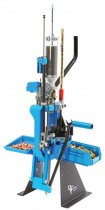 Dillon XL 750 without Case Feeder with Caliber Kit
I ordered everything needed to get into the reloading business. Alpha Dynamics was very helpful and was able to get my order shipped ASAP. I have placed additional orders with them
Thursday 08 April, 2021
Larry H***d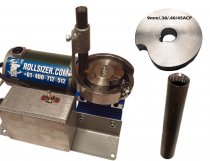 Rollsizer - Complete DC Drive Mini Roll Sizer with Caliber discs and Drop Tube
I was having problems with some of my reloads bulging at the base such that they would'nt guage. With the cost of primers now I hated to discard them just to keep these reliable. this product is expensive but I have now run several thousand rounds through it with great success and 100% reliability in my guns. Can't imagine that I didn't have it before.
Double Alpha had it in stock and shipped immediately. Great to do business with them!
By the way, this machine does run hot for the first couple of hour or so until the motor brushes and worm gear box seat in but not a problem, Follow the instructions. Great addition to my reloading routine.
Thursday 08 April, 2021
Nick P***e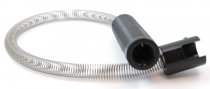 Mr.BulletFeeder by DAA Output Assembly
The workmanship alone make this particular part a pleasure to behold - that's speaking as a machinist. Changing my hat, the function and fit (Quality Manager) are superb. Assembly, two fasteners and we're done! A note of caution however to new users - Delrin is a plastic and overtightening the fasteners can be a disaster on the threads so be easy.
Thursday 08 April, 2021
Gerald M***a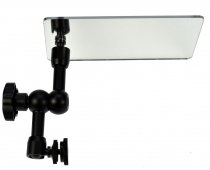 Inline Case Feeder / Bullet Feeder Mirror Assembly
This mirror was a great addition to my reloading station. Super clarity and adjustability.
The mirror makes it easy to know when to reload the feeders. I am very happy and recommend this product.
Thursday 08 April, 2021
christopher h***s
DAA Magnetic Powder Check
This powder check is amazingly effective. We run an ammo manufacturing shop running 2000 rounds per day. Thank you Double Alpha for this great product.
Wednesday 07 April, 2021
Bruce B***d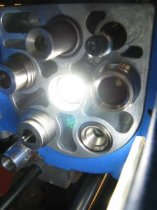 InLine Fabrication LED lighting system for Dillon 650/750
Quality product from a good company. It works well because you know the better the lighting the better and safer product you will produce.
Wednesday 07 April, 2021
Bruce B***d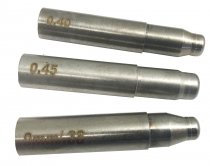 Mr.BulletFeeder by DAA Powder Funnel - Dillon
Works very well, does what it said would do I recommend this for any Dillon dies on any press that you use
Wednesday 07 April, 2021
Bruce B***d

Mini Mr.BulletFeeder - 6-tube Magazine - for pistol calibers
Works great as your only feeder (buy the set) or as a stop-gap feeder if your electric Mr.Bulletfeeder will not work, with 147gr Hornady XTP.
Wednesday 07 April, 2021
John R***s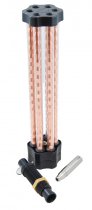 DAA Mini Mr. Bulletfeeder - Pistol
Ordered this for my hornady LNL. Fast delivery, easy setup, I use lee powder through expanding dies and autodrum powder dispenser and this works perfectly with them. As a bonus, this feeder also works with 357 sig.
Wednesday 07 April, 2021
Charles W***t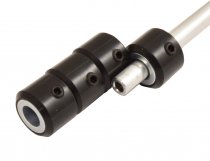 DAA 4-Pack Magnetic Collars for Primer Tube
They work as expected.
Wednesday 07 April, 2021
Charles W***t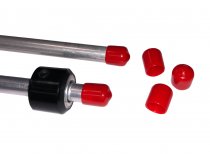 DAA Primer-Tube Cap, 5-pack
they're ok.
Wednesday 07 April, 2021
Charles W***t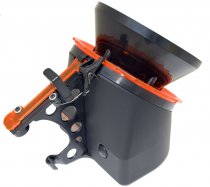 DAA PRIMER-PRO Collator
It's not as fast as I imagined it would be, but still nice not to have to load primers in the tubes by hand.
Tuesday 06 April, 2021
Clarence E***y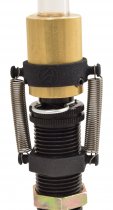 Mr.BF Dropper-Tensioning Spring Assembly
Great - fixes most problems with their feeders. I've purchased 2 of these units and will purchase 2 more. A++
Tuesday 06 April, 2021
David H***n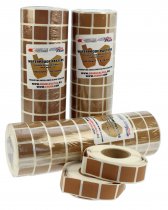 CED/DAA Waterproof Target Pasters - pack of 10, Unboxed
Amazing when you have the CORRECT tape for your paster gun! Been fighting with our 2 yr old Comp Edge guns for over a year, only to find out someone ordered the wrong tape for them. Ordered this tape and now they work flawlessly.
Tuesday 06 April, 2021
Ryan Q***k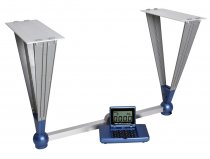 CED M2 Shooting Chronograph
Outstanding Chronograph. It worked right out of the box without having to tweak it in an attempt to get it to work jut right like other Chronos. My son (12 years old) and I had no issues setting it up. This is well worth the money.