Combo: Rifle 5-Pack Ammo Box
Combo: Rifle 5-Pack Ammo Box
Reviews:
(Current Reviews:

5

)
Save €€€ when buying a set of 5 rifle ammo boxes! An excellent new offering from SmartReloader.com!

Caliber .308 box will also fit Cal. .220 Swift, 243 Win., 300 Sav., 225 / 307 Win., 338 Fed., 6mm Rem., 6.5x50 Jap Arisaka, 7mm-08 Rem., 7.65x53 Belgian Caliber .223 box will also fit Cal. 17 / 221 / 222 Rem., 204 Ruger, 222 Rem. Mag., 6 x 47 These top quality plastic rifle ammo boxes will provide you long years of service, offering the perfect means to transport your reloaded ammo. Each box holds 50 rounds.

Unlike other, cheaper, boxes, the SmartReloader ammo boxes are constructed of two parts, with a pinned hinge connecting the lid. It is guaranteed to last over a million cycles of use!

The lid locks firmly in place, preventing ammo spills common with other boxes.
Available in a smart looking dark grey / orange color combination.

Choose the required caliber below.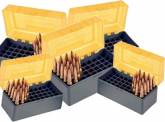 Combo: Rifle 5-Pack Ammo Box
Kay Hartkamp
Date Added: Sunday 29 March, 2015
Very, very good value for money! Top notch stackable ammo box i'm using for either transporting ammo to range and sorting out cases. The see-through lid is a nice touch!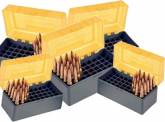 Combo: Rifle 5-Pack Ammo Box
FREDERIK
Date Added: Monday 23 March, 2015
Great ammo box! good quality to use, good investment......!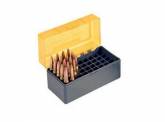 Plastic Ammo Box - Rifle
Magnus
Date Added: Saturday 09 February, 2013
Good Quality, I'll add a few more to my next order :)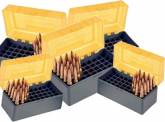 Combo: Rifle 5-Pack Ammo Box
Tilmann
Date Added: Thursday 16 June, 2011
Good product with enough flat space outside to put on labels.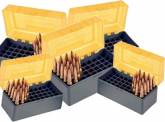 Combo: Rifle 5-Pack Ammo Box
mark dewilde
Date Added: Tuesday 27 October, 2009
great ammo box! I really like the fact that they have a real hinge. the 5 pac is a real bargain
Combo: Rifle 5-Pack Ammo Box
Double-Alpha Academy BV
Elzenweg 33b, 5144MB, Waalwijk
The Netherlands
Phone: +31 (0)416 660 464
Fax: +31 (0)416 392 040
E-mail: daa(at)doublealpha.biz