Shell Sorter
Shell Sorter
Reviews:
(Current Reviews:

10

)
The Shell Sorter™ is a simple product designed to reduce the time spent sorting brass by caliber, allowing you to enjoy more time reloading and shooting.

The Sorter simply sits on top of a common 5 gallon bucket, with a few shakes your brass is sorted by caliber. The Shell Sorter™ is comprised of three pans designed to sort several common calibers.

The three main calibers that most reloaders sort are 45 ACP, 40 S&W, and 9mm. We have labeled the sorters according to those three main calibers. The sorters do sort many more calibers! The following chart shows some of those calibers and the sorter pan that they end up in.

The fastest way to sort is to stack all three of the pans together with the yellow pan on top, and the black on the bottom, in that way all your brass is sorted at the same time.

If you sort before tumbling as is recommended, most shells that are inside of each other will come apart with the shaking and are sorted correctly. However, if you tumble first, those are likely to jam together with small bits of media, and sometimes those require a pliers.

The sorters can also take the place of your media sifter. Just tumble, pour your brass into the appropriate sorter(s), shake a bit, your media is in the bucket, and your brass is ready for the next step.

You can use this on the range so that you only bring home brass in the calibers that you reload.

The Shell Sorter™ is made of ABS, a very strong plastic which will give a lifetime of service. We placed a sorter underneath a car tire, and it didn't break or distort! In fact, it still worked!

Always wear gloves and a dust mask when working with used brass because of the levels of lead dust present.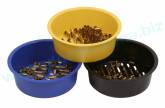 Guillaume BEAUDOIN
Date Added: Sunday 29 January, 2017
Ideal quand on ne veut pas trier ses étuis avant de les passer au tumbler.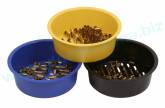 Daniel Bottignole
Date Added: Thursday 23 July, 2015
When training with shooters from other divisions its a great help to sort out the different caliber brass. It does its job very well and is a big timesaver. Really happy with it!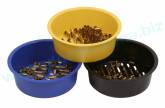 Dusan Turba
Date Added: Thursday 21 May, 2015
Saving me lot of time each time after beck from range. How I could live without it before ;-)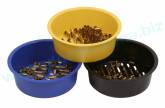 Julien Boit
Date Added: Thursday 30 October, 2014
When training with other shooters and trying to sort out different calibers brass, this is a MUST have item !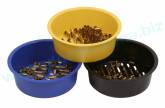 thomas z
Date Added: Wednesday 20 March, 2013
Bin hoch zufrieden! Der ShellSorter erspart einem nicht nur Zeit beim Hülsensortieren zu Hause (das geht in Windeseile) sondern auch am Schießstand. Es ist nicht mehr notwendig die Hülsen einzels aufzusammeln. Einfach alles zusammenkehren und ab in den Kübel und einpacken. Empfehlenswert! PS: Schnelle Lieferung, Problemlose bezahlung, jederzeit wieder Ich bedanke mich!
Shell Sorter
Double-Alpha Academy BV
Elzenweg 33b, 5144MB, Waalwijk
The Netherlands
Phone: +31 (0)416 660 464
Fax: +31 (0)416 392 040
E-mail: daa(at)doublealpha.biz