Contact Us
Prices shown in USD | All items shipped from PA, USA
DAA 2-in-1 Seating and Crimping Die
Reviews:
(Current Reviews:

7

)
We sell a lot of Bullet Feeders. And the most common request we hear is "Can I used the Bullet Feeder on my 550?" Or "can I use the Bullet Feeder and still continue to use my powder check on my 650?".
The answer to both questions is, YES, provided you combine your Seating and Crimping operations into one station, to free up the station your Bullet Feeder will need.
Such Seating and Crimping dies are available, and so we decided it was timer we made them directly available to our customers as well. We teamed up with one of the best Die manufacturers, LEE Precision, and are now pleased to offer you our DAA 2-in-1 Seating and crimping dies.
These quality stainless steel dies, enable you to Seat and Crimp in one station, without compromising the quality of your ammo. It may take a little longer to get the adjustments just right, but once calibrated correctly, this die will produce consistent and precise quality ammunition.
These dies include an O-ring lock machined into the nut, which allows you to hand tighten only – and the die stays put! They include a finger adjustable floating bullet Seater, are heat treated to ideal hardness and polished to the smoothest finish.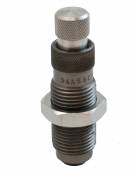 Steve Cresswell
Date Added: Monday 12 March, 2018
Exallent die I use it on my 650 so I can use powder check & Mr bullet feeder. Makes it easy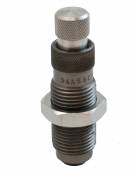 Ray Breault
Date Added: Friday 05 January, 2018
I installed this die on my XL 650 so I could keep my powder check system while also using Mr. bullet feeder. It did not take too long to dial-in, I highly recommend this product.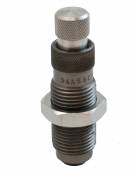 William Hoshell II
Date Added: Thursday 01 June, 2017
I utilized the die on a 650 Dillon press, so that I can utilized the powder check alarm with the Mr. Bullet accessory. It adjusted fairly easy, but not as consistent with the Dillon dies. I decided to go back to the Dillon die as the crimp was consistent. It did perform as advertised. Would I recommend this? Yes, if you plan on using a powder check alarm with Mr. Bullet on a Dillon 650 press.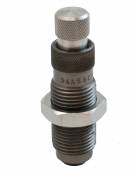 ADS
Date Added: Tuesday 28 February, 2017
Nice die. Used on Dillon 650. Takes some adjustment but works great once dialed in. Enables use of bullet feeder in station 4 while maintaining my powder check in station 3.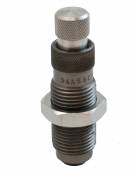 Stephen
Date Added: Thursday 18 August, 2016
If you own a 550, then you MUST HAVE this Mini Bullet Feeder and the DAA 2in1 die. So easy to install and its very easy to use Highly Recommended!
DAA 2-in-1 Seating and Crimping Die
Alpha Dynamics USA
2908 Betz Court, Orefield, PA 18069

Phone: (888) 628-3233 or (610) 366-9752
Fax: (610) 366-9680
E-mail: sales(at)doublealpha.biz
Also available in Combo(s)