Prices shown in USD | All items shipped from PA, USA
InLine Fabrication LED lighting system for Dillon 650
InLine Fabrication LED lighting system for Dillon 650
Reviews:
(Current Reviews:

13

)
The Skylight kit for the Dillon 650 has a machined bushing with an embedded high output LED pod that installs into the center hole of the toolhead, additionally, the system also has a 4" 6 LED strip that attaches to the inside of the press frame. Super bright, , out of the way, no heat and does the job perfectly. Average lifespan is 75,000 hours.
Caliber changes are quick and easy, just pop it out, swap your toolhead, pop it back in and get to back work. The system comes complete with a 220/110 plug in adaptor, onoff switch, wire routing anchors and zip ties. As with all Inline Fabrication lighting systems, these have our lifetime "No worries" warranty.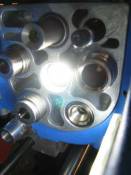 Tobias Henriksson
Date Added: Sunday 04 November, 2018
A really good product that makes the XL650 even better!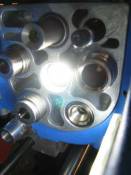 Don G
Date Added: Wednesday 17 October, 2018
This is a great product. With the lighting I can now see every aspect of my Dillon 650Xl without jury-rigging a seperate lighting system. Thanks for a genius invention..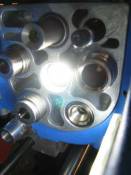 Eric
Date Added: Thursday 26 July, 2018
One of the best additions to my Dillon 650. Gives off plenty light..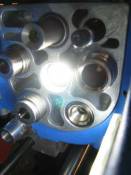 Bruce Sierra
Date Added: Monday 19 March, 2018
Excellent product for my Dillion 650 may get another for my Lee loadmaster, fast shipping. Can't go wrong with this lighting system.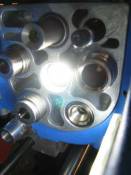 m.vastenhout
Date Added: Monday 05 February, 2018
when you bay the press it should be there alredy it is to bad that you have to bay it seperetly
InLine Fabrication LED lighting system for Dillon 650
Alpha Dynamics USA
2908 Betz Court, Orefield, PA 18069

Phone: (888) 628-3233 or (610) 366-9752
Fax: (610) 366-9680
E-mail: sales@doublealpha.biz