Dillon XL650 with case feeder
Reviews:
(Current Reviews:

3

)
Does not qualify for free shipping

5 station progressive loader
Station 1) resize/deprime
Station 2) powder drop/flare
Station 3) powder check
Station 4) seat
Station 5) crimp

Mechanically indexed shellplate
Mechanically inserted cases, manually fed bullets. Casefeed tube to automatically insert cases. Capable of loading 500 to 800 rounds per hour Lifetime "No-B.S." Warranty
No dies are included with the XL650.

The basic Dillon XL 650 Reloading Machine includes the following:
* One powder measure with standard large and small powder bars (small bar installed), Small bar throws from 2.1 to 15 grains of powder, Large bar throws from 15 to 55(extruded type)-60(ball/spherical type) grains of powder.
* One prime system with large and small priming parts(appropriate size installed).
* One large and one small primer pick-up tube.
* One loaded cartridge bin
* One toolhead
* One powder die
* One caliber conversion kit – installed
* One set of standard Allen wrenches

No dies are included with the machine.
Machine Height from bench is 32″ without the optional electric case feeder, 38 1/2″ with the electric casefeeder installed.

Below is some additional information by Dillon expert Brian Enos: The fully progressive XL 650, with optional case feeder, is the competitive shooter's dream come true.

XL 650 PressIt comes with:
* Toolhead
* One Caliber Conversion (Shellplate, Locator Buttons, and Powder Funnel)
* Automatic Powder Measure System and Powder Die
* Automatic Priming System for Large and Small Primers
* Low Primer Warning System (sounds audible alarm)
* One Large and one Small Primer Pickup Tube
* Loaded Ammo (Akro) Bin
* Loaded Cartridge, Auto-eject System
* Standard (not ball-end) hex key set ("allen wrenches")

Its features include:
* Automatic Indexing
* Five-Station Interchangeable Toolhead
* Uses Standard 7/8″ x 14 Dies
* Loading Rate: 800-1000 Rounds per Hour
* Optional Casefeeder Assembly

The 650 was designed with the serious competition shooter in mind – it's reasonably priced, and it can crank out a boatload of ammo. (Allowing you to spend more of your hard-earned cash on reloading components, which you'll need to feed your 650.)

Recommended for loading 2000-3500 rounds/month in a single caliber, but seldom as your first progressive machine. And I never recommend it for your first reloading machine, unless you have a buddy with one. I have two minor complaints. First, it is a little more difficult to clear a stoppage than it is on the 1050. (The 8-station shell plate on the 1050 leaves you plenty of room to work; opposed to the 5-station, 650.) Second, you seat the primer manually, by feel, at the end of the upstroke, like most every other press in the world. Conversely, the 1050 seats the primer, based on a mechanical adjustment, on the downstroke.

Although not technically a "drawback," the case feeder for the 650 is optional, meaning add another 180 bucks to the base price of the machine. (Don't even think of buying a 650 without the casefeeder.)

The picture shows the XL650 with case feeder, with several optional add-ons, which are not included in the basic package. These are:
Roller handle
Strong Mount
Low powder sensor
Powder Check System.
Bullet tray.

*** These item can be ordered separately.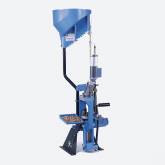 Max Lagerstedt
Date Added: Tuesday 31 March, 2015
I have now loaded over 17000 pcs of 9x19 rounds with the Dillon 650 and it works fine. Occasionally the case feeder switch jams and cases start to drop all around. The next thing I must get is a caliber conversion kit to start makin also .223 rifle rounds.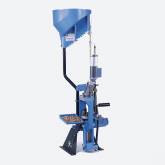 Carsten Ullerup
Date Added: Monday 18 August, 2014
Hi. The Dillon XL650 is a great machine. i'm loading 9 mm and .38 special and i suits my needs fully. is very recommendable. /CU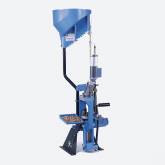 Claus Stahnke
Date Added: Tuesday 26 June, 2012
Simply a great machine! If you are reloading for IPSC, and are not looking for a fully automated setup, this is the one to have. Works flawlesly, clearly a quality product. Have put about 10.000 rounds trough mine now, in half a year, and apart from a minor part broken, caused by a screw that had loosened itself that I wasn't aware of, it just keeps going. The broken part was prompty replaced, by the way, with no expense to me. You will want the case feeder sooner or later, so best buy it along with the machine.
Post to United States start from (Shipping cost for this product only): - Weight: 20.5Kg - Destination: United States (based on IP)
| | | |
| --- | --- | --- |
| | International Registered Parcel Post | $0.00 |
| | DHL | $231.16 |
Dillon XL650 with case feeder
Double-Alpha Academy BV
Elzenweg 33b, 5144MB, Waalwijk
The Netherlands
Phone: +31 (0)416 660 464
Fax: +31 (0)416 392 040
E-mail: daa(at)doublealpha.biz
You may also be interested in