DAA Golden 20-Pocket Gauge
DAA Golden 20-Pocket Gauge
Reviews:
(Current Reviews:

17

)
Any competitor serious about his shooting is aware of the importance of drop-testing one's bullets before a match. Since most malfunctions are ammo related, and most of those relate to deformed, bulging or otherwise defective brass - dropping the bullets into a gauge is an effective way to reduce the chance of a costly malfunction. The problem has always been that it takes time! over 15 minutes at least, to test 400 rounds with a single bullet gauge or using one's barrel. Well not any more!

We are please to offer you the DAA Golden 20-Pocket Gauges, available in 9mm, .38Super, .40SW or .45ACP. These gauges are machined from top quality aluminium, and the pockets are finished using Clymer finishing reamers, the same which are used by top gunsmiths worldwide to cut the final dimensions on the barrel. The 20 pockets allow you to drop the rounds in a lot faster than into a single gauge, cutting your testing time down to less than half of the time!

A great deal of thought went into the dimensions of the block: The bullet pockets were positioned as close together as possible, to allow dropping 2 or 3 bullets in at a time, in the same way you would fill your ammo boxes. The height is purposely cut shorter than other gauges, so that the tip of the bullet head sticks out. If a bullet gets stuck, as reloaded ammo often does - you can simply push it loose from below with your finger, without having to pick up a tool.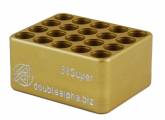 Bojan
Date Added: Sunday 12 August, 2018
For all of you that are handloading, especially .45 ACP for my 1911, it's a must. Perfect, not spending too much time but you are sure to be on the range with perfect ammunition. Must buy.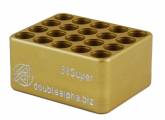 Cédric Dumont
Date Added: Tuesday 08 May, 2018
Good products as usual...............................................................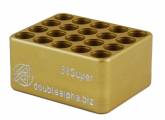 Paul
Date Added: Sunday 23 July, 2017
With this item I am sure when the bullet-cartridge passes it will also fit my gun. I recommend it for every shooter, no hick-up's any more during stages.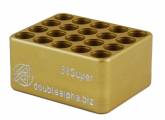 Lance
Date Added: Sunday 30 April, 2017
Simple, Fast, Fits in your hand. Awesome! 20 rounds at a time is much nicer than a single one.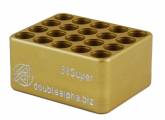 Stephane
Date Added: Friday 13 November, 2015
Simple, efficace, rapide. je peux tester en une fois une grande quantité de cartouches. A reccomander.
DAA Golden 20-Pocket Gauge
Double-Alpha Academy BV
Elzenweg 33b, 5144MB, Waalwijk
The Netherlands
Phone: +31 (0)416 660 464
Fax: +31 (0)416 392 040
E-mail: daa(at)doublealpha.biz