Read What Others Are Saying
Saturday 19 September, 2020
Kim Herrick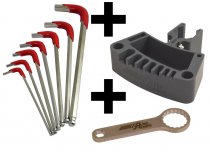 Combo: DAA Reloading Press Tool Holder, Hex Key and 1" Die Wrench
the tool holder does not fit the tube for the case feeder on my XL750, its loose, I had to wrap the tube with tape to use the holder. The wrenches don't hang straight in holder the holes in the holder are just a smidgen to large, a small beef but it bugs every time I look at it. The wrenches have a ball end that's a good thing but they don't work well, they bind up if uses at an angle, like the chrome plating is out of spec, just a little thick. I end up using my Bondhus set instead quite often. The closed end wrench works well but not on the powder measure, it wont go over the measure, an open end wrench would work better. All in all I wish I had purchased the Dillon set. DAA reply: Hi Kim, Make sure the pole square-to-round adaptor is insert from below. It makes the fit tight on the round rod and prevent slide. But, as you have done, a little tape does solve that too The wrench is a box-end wrench, closed design, as clearly shown. it must be closed to allow it to be so thin. And keeping it thin is critical to fitting in between the dies. cant have it both ways…. But sure, it does not fit over large items like powder checks. For that, you still do need an open end wrench.
Saturday 19 September, 2020
Kim Herrick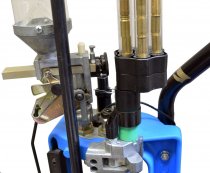 DAA Mini Multi-Cal XL650 / XL750 Case Feeder
this works very well, simple to use. combine it withe the feeder bowl and I don't need a $300 case feeder.
Saturday 19 September, 2020
Kim Herrick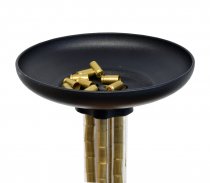 DAA Mini Case Feeder Loader Bowl
This loader bowl works well. I have been loading 6.5 Grendel, using the bowl set up for .223. The Grendel round uses the same parent case as the 7.62X39 so I was hoping it would feed the 6.5 cases, and it does. Just throw some cases in the bowl while the whole thing is sitting on the press and give it a swirl, the cases drop in just fine. This system is a better option than the Dillon case feeder for me, it's simpler to use and saved almost $300 on equipment.
Friday 18 September, 2020
Miguel Yamuni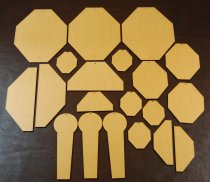 DAA Dry-Fire Target Set (Classic-IPSC)
Great training aid ... Well built , easy to install ..
Thursday 17 September, 2020
Mikael Östling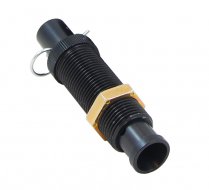 Mr.BulletFeeder by DAA Die Assembly Only
Great gear, had one for .40, needed one in 9mm.. easy install and setup.
Wednesday 16 September, 2020
David Sweeter
DAA Magnetic Powder Check
So I'm kinda stuck, this is a follow up to the 5 start I had given. I purchased this a year ago and it was awesome. So here I sit here a year later with a dead battery. I call my Batteries Plus store (3X to make sure) they tell me the battery has been discontinued. I call DAA and they check into it send me an email that says multiple locations on Amazon. All the feed back for the amazon ones are crap or are completely out of stock and are from another country. So until DAA can make good on a reliable battery availability state side. I wouldn't recommend this powder check. DAA reply: Hi David, Ok, since you don't want to purchase from the amazon links we sent, here is another: https://www.hellobatteries.com/other-alkaline-batteries-4lr44-10-11-23-27a/alkaline-battery-1-x-11a-mn11-6v-gp-battery-4891199003776-354.html hope this helps,
Wednesday 16 September, 2020
Lewis Medlin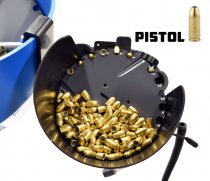 Mr.Bulletfeeder by Double-Alpha - Pistol and Rifle
Got my Mr. Bullet feeder yesterday I've been wanting one for years I just wouldn't spend the money that was a mistake. I love this thing it was easy to install and only took a few min. to work the bugs out. All I need now is a few more primer tubes and I'll be ready to rock and roll.
Wednesday 16 September, 2020
Erik De Wilde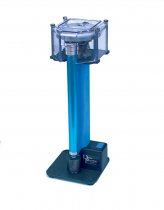 Dillon RF100 Automatic Small Primer Filler
Try the best speed once and you can relax forever having always filled primer tubes at your site. Spend only time on accurate setting your primers, not on filling tubes. Even more relaxed when you have enough tubes and stake them on a tube board. With conversion you can even use normal Dillon primer tubes. Changing to large primer is quick and dirty job, two seconds only. Very well produced and seems very long lasting too.
Wednesday 16 September, 2020
Jan-Willem Dikshoorn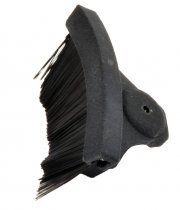 DAA PSP Brush
Due to the brush and its location it will slowdown the filled shell and not tilt the bullet, this helps in faster reloading and less failures. A well spend investment.
Wednesday 16 September, 2020
Sean Hearne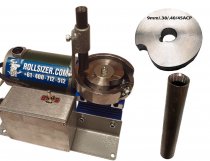 Rollsizer - Complete DC Drive Mini Roll Sizer with Caliber discs and Drop Tube
My unit shipped without the power block. I contacted Rollsizer directly to get a replacement for the missing power block. Even though they are located in Australia, the responded to my request within hours and have a new power block to me within three days. Excellent customer service! I have been using the system for about a month now and rolled on the order of 8,000 9mm and 3,000 40S&W. The unit has worked perfectly and I have no more issues with the Glock bulge on my cases. I particularly saw that with the 40S&W cases. It is an excellent product and as long as speed is not a critical factor go with this system. 1000 cases an hour is fine for my need as a hobbyist.
Wednesday 16 September, 2020
Sean Hearne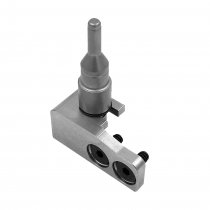 Swage It - Small Primer Only for Dillon XL650/XL750
While it was easy to set up and install, I found that about 25% of military cases were not reformed enough to allow a primer to seat without additional prep of the case. It is an improvement, but not perfect.
Wednesday 16 September, 2020
David Berthelette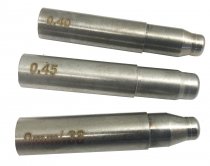 Mr.BulletFeeder by DAA Powder Funnel - Dillon
Bells the case mouth perfectly but sticks in the case causing an annoying "thump" and powder spillage on retraction. I tried lubed and non-lubed cases. I even tried lubing the powder funnel.
Tuesday 15 September, 2020
Gary Krol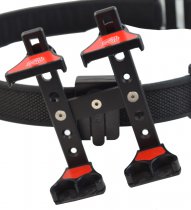 DAA Twin Quad Loader
No more yard sales when bending down. Great retention and easy release. Versatile set up for anywhere on the belt. Highly recommend.
Tuesday 15 September, 2020
Justin Cooper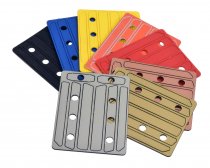 Alpha-Xi Pouch Inlay
As always a great quality product from DAA , simple as it is made to the highest standards to compliment an already great new product !
Tuesday 15 September, 2020
Justin Cooper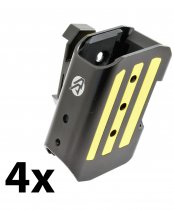 Combo: 4x Alpha-Xi Pouch with Color Inlays
LOVE Them !!! all the issues with the Alpha have been corrected and can so reason these wont last a long long time. No more grub screws holding the ball joint in place and the upgrade to Torx head is a great improvement.
Tuesday 15 September, 2020
Justin Cooper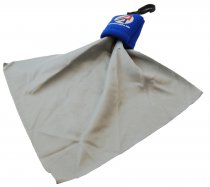 DAA Lens Cleaning Cloth
Great little item , very handy on the range and also have one on my keys for general use !
Tuesday 15 September, 2020
Stefan Maier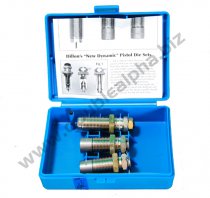 Dillon Carbide Pistol Die Set
Ordered the pistol die set to my Dillon 550 press. Good quality and no problems so far.
Tuesday 15 September, 2020
Stefan Maier
DAA Click-Adjustable Powder knob V2
Awesome tool. Of course it is possible to adjust amount of powder without the knob, but it makes it so much easier. I will order another one for my second powder die.
Monday 14 September, 2020
Curt Hays
DAA Magnetic Powder Check
This Powder Check was purchased for the sole purpose of preventing 9mm rounds from being loaded without a powder charge. Sometimes, the powder drop gets dirty or adjusted improperly which results in lots of cases not getting powder. This results in minor squibs (minor because they don't allow another round to chamber in my guns) which are frightening, to say the least. Could not be happier with this addition to my Hornady Lock N Load Progressive Press. Installs easily, adjustments are very quick and simple. The price is just right.
Monday 14 September, 2020
Micha McLain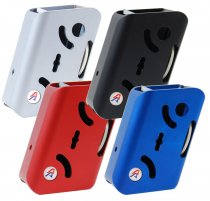 DAA Race Master Magazine Pouch
Let me start by saying I love these pouches. They are solid, adjustable, and easy to use. However, the Allen wrench screws that come with this thing are made of an overly soft metal. There are countless forum posts about the issue and even DAA staff admitted to me they know it's an issue. When setting up my belt for the first time, I naturally wanted to move the belts around a little until it was completely comfortable to me. In doing so, all of the belt attachment screws stripped after only moving them between 2-4 times. I was shocked that a pouch costing $60/ea would have such poor screws being used. There is no excuse for this and the fact that DAA knows about this issue and refuses to change it is concerning to me. I'm giving this a 3 star because 1) it's a poor quality screw and shouldn't be stripping at 2-4 moves on a belt... and 2) because they know about the issue and have failed to take action, forcing its users to seek alternate parts on their own simply because they are too lazy to fix their problems.