Contact Us
Prices shown in USD | All items shipped from PA, USA
Shotac Shooting Pants
Reviews:
(Current Reviews:

12

)
This product is not currently available from our North American Warehouse.
Producing the perfect IPSC shooting pants has been a goal of ours at DAA for a long while. We have tried before several times, with varying degrees of success.

However now, with the new DAA SHOTAC Pants, we believe we have "hit the nail on the head!".

Our SHOTAC Pant is made of lightweight, tough and durable rip-stop fabric, which provides ample flex and an extremely comfortable fit. The design and material choice allow you a comfortable range of motion, without appearing loose fitting or baggy. These pants do not look or feel like gym/sweat pants – but they provide as much flexibility and comfort as any sportswear!

The SHOTAC Pant features include:
- A self-adjusting tunnel waistband, with a full 2" range of fit
- An extra frontal pocket for that "load and make ready" magazine (or for your cell phone)
- Two large rear Velcro pockets
- Large, quick access angled side pockets
- Wide belt loops & double layered fabric in the belt area for increased comfort while wearing your shooting rig
- Double layered knee area, for increased durability
- Steel front snap with DAA logo. SHOTAC logo embroidered on back pocket flap
- Fade and stain resistant fabric, available in Black or Navy Blue.

Size Chart:
Small: Waist: 30"-32" Length 32"
Medium: Waist: 32"-34" Length 33"
Large: Waist: 34"-36" Length 34"
X-Large: Waist: 36"-38" Length 34"
XX-Large: Waist: 38"-40" Length 34"
XXX-Large: Waist: 40"-42" Length 34"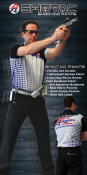 Roger D. Guth
Date Added: Sunday 13 November, 2016
Super! Sitzt perfekt, sehr angenehm zu tragen! Einziges Manko: Knopf löste sich nach dem ersten mal Tragen.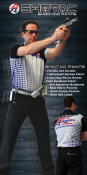 Scott Hayes
Date Added: Saturday 19 March, 2016
I love these pants. I have 4 pair now. If I am not wearing these, I am probably wearing shorts or the fantastic DAA winter pants. The Shotac pants are the most comfortable pants I have ever had the pleasure to own. These Shotac pants are good looking, quality made, with well thought out design features. The material is tough, but light, surprisingly soft, and extremely comfortable. The stitching is top quality. The self-adjusting tunnel waistband is super smart, and comfortable. It provides a very comfortable feel on the waist without a belt, if you are standing, bending over, squatting, or any movement you can do. The 7 belt loops hold your inner belt very nicely to support your outer belt, and its heavy load, firmly with no loose or sagging points. The pockets are great. They are easy to get into, but deep enough to never worry about anything accidentally falling out. The pocket linings are double stitched and made of a good material that will not tear from your keys, pocket knife, or anything else. The pants material is tough and durable, but so light and soft, you don't notice the double layered knee areas until you squat or kneel down, and feel that little extra comfort, without pinching or binding. The double layered knee areas also don't stand out in the design, so it doesn't look like your wearing work pants. I am constantly putting these pants through challenging conditions that would be the end of other pants, but these Shotac pants come through without a tear or bust stitch, and in comfort and good looks. Thank you DAA and Shotac.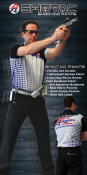 Arnth Lien
Date Added: Tuesday 28 April, 2015
This is my second pair. Very flexible, comfortable and sturdy.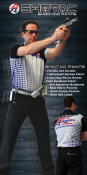 Ben Hur Yap boyshooter2003@yahoo.com
Date Added: Saturday 28 March, 2015
I got 2 of this. Very comfortable and stands to hard use w/ IPSC shooting style. In my tropical/hot/humid country this pants is very comfortable. The pockets around it are well thought out. The small one in front securely carries my iphone that plays my music connected to my earmuff while I shoot!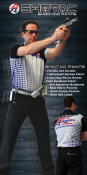 Eliud Colon
Date Added: Friday 27 March, 2015
I bought two of these pants, both black. I always take new cloths and give them a wash or take them to the cleaners. So when I got these pants I tried them on and wow they fitted great. When you bend they hold the waist and the fabric feels a tiny bit elastic, they might not be but somehow thats how they feel to me. Both pants are the summer type and I live in the Caribbean so most of the time is either hot or humid or both and I was hoping they were a little cooler, but they are tolerable to wear. I read all the washing instructions and followed them to the letter and man I could have sworn they shrunk on the first wash. Mind you that they did not shrink to an unwearable size, it was just enough that they got a bit tight around the legs. I figured that it was normal and after a couple of hours of wear they would loosen a bit. Nope. I like them and recommend them but just take that into advisement. Also the way they design the elastic is fantastic. It never feels like its squeezing your waist but feels snug. Im giving them a four for the shrinking which was a bummer.
Shotac Shooting Pants
Alpha Dynamics USA
2908 Betz Court, Orefield, PA 18069

Phone: (888) 628-3233 or (610) 366-9752
Fax: (610) 366-9680
E-mail: sales(at)doublealpha.biz