DAA Magnetic CR Speed Combo Pouch
DAA Magnetic CR Speed Combo Pouch
Reviews:
(Current Reviews:

3

)
Our magnetic pouches, which we introduced early this year, became an overnight success, and spawned several copies and imitations.

Of course, the one problem those "stand alone" magnetic pouches create, particularly for Standard and Production class shooters, is that they take up space on your shooting belt, and force you to move your other pouches further back, to stay legal behind the hip bone.

To address this problem, we are pleased to now off the new DAA Magnetic CR-Speed Combo Pouch.

This offers you a new and complete CR Speed Versa Pouch, onto which we have professionally mounted one of our super-strength magnets, to allow you to snap-up that extra mag onto the front of your pouch, without taking up any space on your belt!

The magnet is mounted to the back of the pouch, onto the main original screw. It is not simply screwed onto the box of the pouch, as doing that would interfere with the original function of the pouch.
Our magnet is assemble using a reinforced hardened aluminum bracket, which is wrapped around the pouch, leaving the box pouch untouched. The Aluminum bracket is coated with rubber lining, to prevent slipping or movement.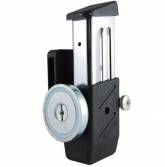 Iosifidis Kostas
Date Added: Saturday 28 March, 2015
Strong magnet ... with easy pull mag !!!!!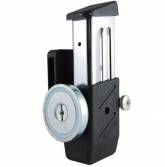 Iosifidis Kostas
Date Added: Saturday 28 March, 2015
Strong magnet but you can easy pull mag . Grate product !!!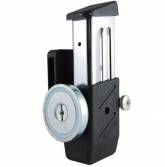 Dave
Date Added: Wednesday 31 March, 2010
Easy to put together and slip on to belt. Very powerful magnet but mags slide off easily. Competition coming up in two weeks so any pick up stages will be a lot easier
DAA Magnetic CR Speed Combo Pouch
Double-Alpha Academy BV
Elzenweg 33b, 5144MB, Waalwijk
The Netherlands
Phone: +31 (0)416 660 464
Fax: +31 (0)416 392 040
E-mail: daa(at)doublealpha.biz