Contact Us
Prices shown in USD | All items shipped from PA, USA
DAA CZ Shadow 2 / SP01 Aluminum Grip
Reviews:
(Current Reviews:

32

)
This product is not currently available from our North American Warehouse.
These grips fit the following gun types: CZ SP01/75/85 and CZ Shadow 2!

The DAA CZ SP01 aluminum grips are made of top quality 6061 aluminum and offer a striking new look for your CZ competition pistol.

Our CZ SP01 grips are available in six beautiful colors, these CZ grips are precisely machined for a snug fit onto your CZ SP01 frame, to prevent any wiggle or unwanted movement. They assemble using the original grip-screws supplied with your CZ grips.

Laser-cut M3 grip tape is supplied with each set (applied by customer) and is secured onto the grips into precisely machined pockets, preventing any sliding or loosening of the grip-tape.

The DAA CZ SP01 grips are available in two sizes - the thin grips narrow down the CZ grip to approx. 29.4mm, while the thicker grips measure approx. 32.2mm from side to side, when assembled on the pistol.

Personalize your CZ SP01 with custom name engraving! (serivce NOT available in US/Canada)
The DAA CZ SP01 grips can be ordered with your name laser engraved on both panels, as shown in the picture. Maximum number of characters should be 10-12.
Note that this option costs an additional 12 euro, and may take a few days to produce.
Add your text at checkout -> comments section.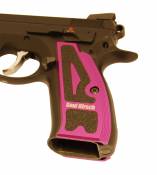 Andy
Date Added: Saturday 23 September, 2017
Got these grips for my sp01 they look good on the pistol but A good positive grip when shooting highly recommended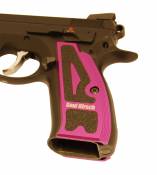 Luis Branco
Date Added: Saturday 29 July, 2017
I purchase the CZ thicker grips for my CZ SP-01 Orange. Great quality product and since i have biger hands it really improve my grip on the gun. One of the plates required a small fitting in the screw hole. Thanks and best regards to all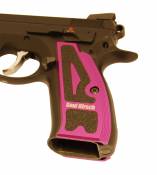 JM Stumpf
Date Added: Sunday 23 April, 2017
Très bonne qualité. Très belle finition. Rapport qualité-prix excellent. Je suis très satisfait. Juste une petite critique : la gravure en blanc sur des plaquettes grises ne se voient pas très bien. Il aurait été plus judicieux de graver en noir.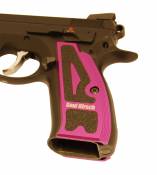 gareth
Date Added: Tuesday 04 April, 2017
very impressive. easy to fit, look good and feel excellent. I added a bit more grip tape around the front of the grip (held down by the new grips) too, and the pistol feels, holds, and points extremely well. A very worthwhile upgrade, and means I won't be tempted by the shadow 2 for a while longer yet! :)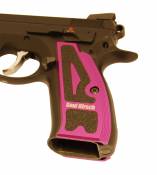 Maxim Lizotte
Date Added: Sunday 19 February, 2017
Was looking for thicker aluminium grips for my CZ SP-01 shadow for a long time....These do the trick in an awesome way!!!!
DAA CZ Shadow 2 / SP01 Aluminum Grip
Alpha Dynamics USA
2908 Betz Court, Orefield, PA 18069

Phone: (888) 628-3233 or (610) 366-9752
Fax: (610) 366-9680
E-mail: sales(at)doublealpha.biz