Prices shown in USD | All items shipped from PA, USA
Combo: DAA Race Master Pouch and Magnet
Combo: DAA Race Master Pouch and Magnet
Reviews:
(Current Reviews:

13

)
Now you can order your Race Master Aluminium mag pouches already pre-fitted with our Super-Strong pick-up magnet already fitted for you. We attach the magnet directly to the pouch body, using an M5 screw threaded into the front side wall of the pouch body. These magnets are now available separately as well, so you can add them yourself if you have already purchased your RM pouches. you will need to thread that front hole yourself! Like the innovative Race Master Holster itself, the Race Master Pouch is a completely original design, unlike anything else seen on the market to date.

It is constructed from aluminum rather than plastic, and this allows a design and performance never before possible in a competition mag pouch. It offers a wider and more diverse range of adjustability and mounting options – and more important, locks rock-solid in the chosen position, not losing its settings until the user chooses to change them.

Its wide range of angle adjustments allows the user to position his magazine "just so". This feature, combined with a unique and superior retention system, creates a smoother and more consistent release, leading to a more reliable and faster reload.

Unlike all other pouches, this pouch's pressure adjustment wheel applies its load to the back of the magazine, squeezing the mag tube from back to front rather than from left to right, as most others do. This is a lot more effective, as the magazine's front and back walls are straight and parallel, while the side walls are tapered on all double-stack mags. This type of contact creates a far smoother draw of the magazine. A few turns of the wheel changes the tension from very loose to very tight, as may be required on a particular course of fire.

The side and back inner plastic spacers are specific to the magazine size. Each pouch is delivered with two sets of spacers: one that fits the larger STI type magazines (assembled as default), and one for the slightly smaller CZ/Tan type double-stack mags. A single-stack adapter is available separately as an accessory.

The hanger system of the Race Master Pouch borrows heavily from the excellent features of the Race Master Holster. The inner side of the hanger fits snugly over the shooter's outer belt, preventing any rocking motion. Since the hanger can be assembled directly in the chosen position, and does not need to slide all along the belt, it can be made with a tighter fit. The minimalist steel plate on the inside of the hanger causes no separation between your inner and outer belt. This is critical, especially when carrying 3 or 4 pouches side by side. The steel plate can be tightened down, to lock the pouch tightly even on thinner, narrower belts.

The cant and tilt of the pouch is achieved by using a ball-socket joint as in the Race Master Holster. The aluminum ball is locked firmly in place with two set-screws. The ball-socket joint is purposely set off-center on the belt hanger, allowing the user to choose between two heights when fitting the pouch to his belt. The ball joint locks into the body of the holster so that it cannot slip or rotate, even if the center screw comes loose. This is a new and very unique feature of this pouch.

Three mounting points on the pouch body allow for ambidextrous use, as well as making it possible to mount the pouch turned 90 degrees away from the body, as preferred by some shooters.

The DAA Race Master Magazine Pouch is suitable for right- or left-handed shooters, for all double-stack magazines, and is available in Black, Silver, Blue, or Red.

Please note!
The DAA Race Master Aluminium pouches are supplied with 2 sets of spacers. The first set (assembled) is designed to fit the 2011 STI magazines. It will work perfectly also for SV, Para, SPS, BUL M5 and any other wide body 2011 type mag we have tried.

The Second set of inserts are designed for the CZ SP01 mags. They are a perfect fit also for the small Tanfoglio mags. For other model magazines, some fitting may be required. It may be necessary to remove some material from the back side of the side spacer, to allow more room for slightly wider mags. This we have seen with Glock and S&W M&P mags, and is sure to be the case with others. This fitting can be done in minutes with a piece of flat sandpaper, or in seconds with a belt sander.

Also, please note that these pouches are made of aluminium. It is to be expected that the steel magazines will scratch and burr the top edges of the pouch over time, however this has no effect on the function of the pouch.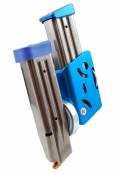 Rabah AMIR
Date Added: Thursday 01 March, 2018
What can be said ? The amazing DAA Race Master pouch, with a powerful magnet. Great quality, easy setup. A must have !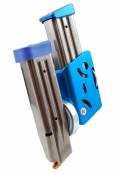 Mika
Date Added: Friday 03 February, 2017
Great quality. Very easy to setup and a magnet is super strong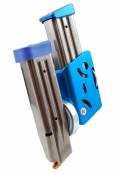 Tasos Alexiou
Date Added: Thursday 12 January, 2017
EVERY MAN SHOULD HAVE ONE ( OR TWO ) MAKES LIFE EASIER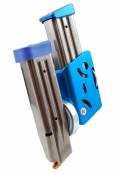 Staro
Date Added: Saturday 07 May, 2016
Just got one yesterday. Large size magnet holds mag securely. A must- have for open shooters!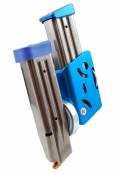 Jogan
Date Added: Saturday 29 August, 2015
The best mag carrier out there! Unlimited adjustments. Position it where you want it and it stays put. Mags stay secure, yet slide out like they're on ball-bearings.
Combo: DAA Race Master Pouch and Magnet
Alpha Dynamics USA
2908 Betz Court, Orefield, PA 18069

Phone: (888) 628-3233 or (610) 366-9752
Fax: (610) 366-9680
E-mail: sales@doublealpha.biz