Prices shown in USD | All items shipped from PA, USA
Combo: Mr.Bulletfeeder and Conversion Kit
Combo: Mr.Bulletfeeder and Conversion Kit
Reviews:
(Current Reviews:

75

)
Mr. Bulletfeeder ® (Bullet Feeder) by Double-Alpha

DAA has been the proud European distributor of Mr. Bulletfeeder® since 2006, and we have never had an unhappy customer! Anyone and everyone who invested in a Bullet Feeder absolutely loves it. You wonder how you ever reloaded without one...

If you reload a lot, you quickly appreciate the efficiency and reliability of this ingenious patented system.

However, Mr. Bullet Feeder has always been a little "rough" in appearance and finish. It was made from existing materials and parts, and as such never had the sleek look and feel of a refined "production" article. Also, since the bullet feeders have always been hand made, in moderate quantities, production costs have been high, and demand always exceeded availability.

Now, all this has changed! We are proud to introduce the new Mr. Bulletfeeder® by DAA. DAA and RAK Systems have teamed up and have retooled and redesigned the Mr. Bulletfeeder®, which is now manufactured by Double-Alpha Academy. The new system, manufactured under license by RAK Systems, is lighter in weight and more compact than the previous models. It is easier to install and set up, and has a more professional "production" look and feel.

An entirely new US Paten Pending dropper system allows the new model to function better and longer than before. The new dropper design eliminates the need for any spring or small plastic parts in the dropper head, and works entirely powered by gravity and an ingenious geometric design.

And to top it all off - we can now offer the new system at a far more affordable price.
If you have never tried a bullet feeder on your progressive reloader - what are you waiting for?! It cuts the time and effort involved in reloading practically in half! A must-have item for any serious shooter.

the expanding powder funnel supplied is for the Dillon reloading machines only. Not compatible with other brands. To use with the LnL press, you will need to purchase their expanding powder funnel separately.

The new Mr.Bulletfeeder is available in 9/38, 40SW/10 mm, .45. Rifle calibers .223 and .308.

Please note: Mr.Bullet feeders and Mini Mr.BF are usually shipped with our Dillon Powder funnel. If you wish us to swap that out for a Hornady funnel when shipping – we can do so for you. request that at time of ordering. Or, separately purchase your Hornday expanding powder funnel here
Conversion Kit
Conversion kits are available allowing you to use your Mr. Bulletfeeder by Double-Alpha for more than just one caliber. Many reloaders have a second complete tool head for their 2nd caliber of choice, voiding the need to reset the dies.

To make the transition easy, the Mr. Bulletfeeder by Double-Alpha conversion kits includes a complete dropper assembly, a custom powder funnel (for pistol calibers) and a new collator plate for the caliber of choice. This will allow you to switch your bullet feeder from one caliber to the next in a matter of minutes.

The spring output tube securely attaches to the top of the dropper by means of the Spring Adaptor Cap, which attaches and disconnects easily from the top of the dropper. The inner threading grips the coils of the spring firmly, preventing any chance of it coming loose during operation, and allowes a quick transition from one dropper to the next.

Please note: All pistol calibers use the same output tube, lead spring and spring adaptor cap. So this assembly is not included in the conversion kit –as you will not need a second one when changing pistol calibers.

The rifle calibers too share the same output assembly, and so when converting from 223 to 308, the same output assembly is used.

However – if you intend to buy a conversion kit to convert a rifle unit to a pistol caliber, you must purchase the output assembly required, in addition to the conversion kit

The expanding powder funnel supplied is for the Dillon reloading machines only. Not compatible with other brands. To use with the LnL press, you will need to purchase their expanding powder funnel separately.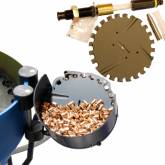 Combo: Mr.Bulletfeeder and Conversion Kit
Robert Reese
Date Added: Saturday 23 March, 2019
I had purchased the Mini MrBulletfeeder awhile ago and had a lot of problems with it. I decided to upgrade to the Mr Bulletfeeder and have been very happy with it. I had a bit of trouble getting it set for the 40S&W 180gr fmj fp, due to the small diameter difference between the top and bottom of the bullet. However, once I got it adjusted, I ran 600 rounds through the Dillon 650xl and only had one bullet drop backwards. Excellent addition to the 650! I'd skip the mini model, because you won't be happy with it. It ended up costing me a lot of money because I had to purchase 10,000 pieces of once fired brass to play with it! Love it!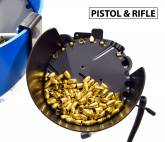 Mr. Bulletfeeder by Double-Alpha - Pistol and Rifle
Jack Whelan
Date Added: Tuesday 19 March, 2019
As I load a good 20k 45 a year, I really wanted to like it. Tried to get it to work for over a year. Was back and forth with customer service dozens of times, but regardless of what they say, this just does not work with a lot of lswc profile bullets. I, and a number of other bullseye shooters I have spoken with, have never been able to get it to work even though I was assured it would work before ordering it. I was forced to sell it. In the end I lost over 100$ and a ton of time on this. Not happy.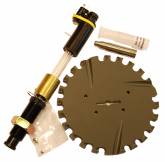 Mr. Bulletfeeder by Double-Alpha Conversion Kit
Ryan Weisheit
Date Added: Friday 15 February, 2019
I absolutely LOVE the Mr Bullet Feeder! I purchased a unit and got a caliber conversion for 223 and then bought the 308 conversion. The only issue i am having, is with my 308. It will not drop .310 diameter bullets through the dropper assembly for 300 BLK subs. I don't know why the tolerances are that tight? But all in all, I am happy.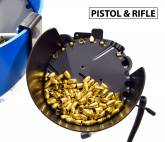 Mr. Bulletfeeder by Double-Alpha - Pistol and Rifle
Peter Ronnberg
Date Added: Monday 11 February, 2019
Struggling with the powder funnel/case opener provided. It was quite rough and causes the machine to shake when pulling it out of the case. I honed it with 1200grit paper and it got better but still sticky causing powder to spill. Will just have to load a couple of thousand and see if it gets smoother.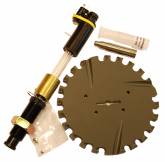 Mr. Bulletfeeder by Double-Alpha Conversion Kit
Clint Scharff
Date Added: Thursday 03 January, 2019
Great product and so easy to use . I'm so glad that I was able to find it on line.
Combo: Mr.Bulletfeeder and Conversion Kit
Alpha Dynamics USA
2908 Betz Court, Orefield, PA 18069

Phone: (888) 628-3233 or (610) 366-9752
Fax: (610) 366-9680
E-mail: sales@doublealpha.biz