Prices shown in USD | All items shipped from PA, USA
CED waterproof Case W/Trolley
CED waterproof Case W/Trolley
Reviews:
(Current Reviews:

3

)
Taking a good thing one step further, we are pleased to offer you the CED waterproof case in a new configuration which includes transport wheels and a fold-down telescopic handle.

This new case is longer than even the Large model CED Waterproof case, measuring an impressive 55x33x23cm and weighing 5.1kg. It is perfect for transporting valuable firearms, camera gear, or any expensive equipment which needs to be well protected. The new two-piece release latches make opening the closing this case easier than ever, and handy lock eyelets make it possible to use a regular pad-lock to secure the case. The wheels are perfect for indoor use, but are not designed for use off-road.

CED water tight, dust-proof, dent-resistant, shatter-resistant, virtually unbreakable cases are durable, strong and able to withstand some fairly extreme conditions. They are essential for keeping equipment secure and are a prerequisite for transporting or freighting delicate air cargo or protecting your valuable handguns. Each case is packed with multi-layers of eggshell and cubed foam to provide the best of both. For fast usage, simply place your pistol in the case and the eggshell foam will compress it in place. For longer journeys, where protection is vital to delicate scopes, camera equipment or other valuables, simply reverse the bottom foam layers to place the eggshell on the bottom of the case with the cubed layers on top. Then pull out the cubes as needed to the shape of the item to be stored and insert it for the ultimate protection during transport.

The tough, strong, durable PP material used in these cases, make them virtually indestructible. Each contains a folding handle for easy storing, eggshell & cubed foam packing, locking feature for absolute security, purge valve to release atmospheric pressure, are stackable for easy storage, and have stainless steel hinge pins to prevent rust. Compare sizes / prices and you will find that these CED waterproof cases offer the BEST value for both in the market today.

Outer dimensions: 22 x 13 x 9 Inches
Weight: 11.5 lb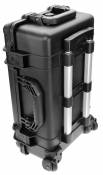 BRAVO
Date Added: Sunday 10 September, 2017
MALETIN TROLLEY PERFECTO PARA VIAJAR FUERA, SEGURO, DURO E IMPRESCINDIBLE PARA VIAJAR CON ARMAS.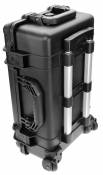 Johan Schryvers
Date Added: Saturday 13 April, 2013
Very tough and strong case with nice trolley-system. Shaping the inner side to transport handguns is easy. I am very satisfied with the purchase. Fast delivery by DA !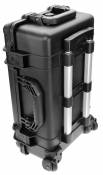 Ted Granbom
Date Added: Monday 17 December, 2012
I have got the case now for a month and traveld from Sweden to China and back, I use the case almost everyday on my way to and from the range. I´m very pleased with the product, I was looking for the much moore expencive Pelicase but now I see no reason to pay almost the double price...... When compared with Pelicase 5110 wich is very similar the case seems equal in every aspect to a much lower cost. I highly recomend my friends to buy this product.
CED waterproof Case W/Trolley
Alpha Dynamics USA
2908 Betz Court, Orefield, PA 18069

Phone: (888) 628-3233 or (610) 366-9752
Fax: (610) 366-9680
E-mail: sales@doublealpha.biz