DAA Hard Case Small-235
DAA Hard Case Small-235
Reviews:
(Current Reviews:

3

)
DAA Hard Case Small-235 are IP67 certified, tough, durable and reliable. They may be used in a variety of applications, ranging from firearms and valuable transport, to marine, photography, scuba diving, hunting, fishing, special corps and much more. They are ultra-compact and light weight – making them perfect for Air Travel, where weight is often an issue. And although they are small – they can hold two full size Standard pistols. (too small for Open guns though..)
An added bonus is that their small size allows them to fit snugly into the lower compartment of the CED/DAA RangePack (Medium backpack)

These cases offer superior protection from the elements, water, dust and impacts, making them suitable for a wide array of sectors and applications.

The DAA Hard Case Small-235 cases are shipped including a 5 piece set of foam: 1 egg-shell layer of foam in lid, and beneath that two thick precut-cube foam layers, and two hard layers of 10mm foam, allowing you to pluck-out the shape of the valuables you wish to transport in the case, and create two layers to transport two guns, one on top of the other.

Features include:
· Watertight seal around lid
· Automatic pressure release valve
· Two easy to open double throw latches
· Load tested soft grip handle
· Holes for double padlocking
· Stackable interlocking system
· Thick body material
· Extra fixing points
· Full length hinges
· Pick N Pluck foams in the bottom and convoluted foam in the lid available as standard
· Rectangular DAA resin logo on the lid
· Available in Black or Orange color

External dimension: 258 x 243x H 118 mm/10.16 x 9,56 x 4.64 inch
Internal dimensions: 235 x 180 x H 106 (81+25) mm/9.25 x 7.08 x 4.17 (3.19+0.98) inch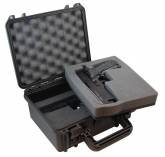 Charles H Perrenoud
Date Added: Friday 02 March, 2018
…absolutely exemplary professional behaviour. -very fast reaction of a mistake in color, top materials one of my favourite cases… Thank you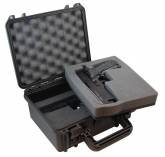 BRAVO
Date Added: Sunday 10 September, 2017
MALETIN RIGIDO, DURO, PERFECTO PARA TRANSPORTE, ESTUPENDO PARA LLEVARLO DE VIAJE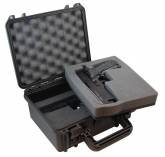 Francesco
Date Added: Saturday 09 September, 2017
Simply perfect. You can feel your gun always safe. It doesn't matter weather condition. When gun is inside nothing csn happen.
DAA Hard Case Small-235
Double-Alpha Academy BV
Elzenweg 33b, 5144MB, Waalwijk
The Netherlands
Phone: +31 (0)416 660 464
Fax: +31 (0)416 392 040
E-mail: daa(at)doublealpha.biz