DAA Hard Case Medium-300
DAA Hard Case Medium-300
Reviews:
(Current Reviews:

5

)
DAA Hard Case Medium-300 are IP67 certified, tough, durable and reliable. They may be used in a variety of applications, ranging from firearms and valuable transport, to marine, photography, scuba diving, hunting, fishing, special corps and much more.

These cases offer superior protection from the elements, water, dust and impacts, making them suitable for a wide array of sectors and applications.

The DAA Hard Case Medium-300 cases are shipped including a 4 piece set of foam: 2 egg-shell layers of foam in lid and upper case, and beneath that two thick precut-cube foam layers, allowing you to pluck-out the shape of the valuables you wish to transport in the case. Extra sets of foam are available separately.

Features include:
· Watertight seal around lid
· Automatic pressure release valve
· Two easy to open double throw latches
· Load tested soft grip handle
· Holes for double padlocking
· Stackable interlocking system
· Thick body material
· Extra fixing points
· Full length hinges
· Pick N Pluck foams in the bottom and convoluted foam in the lid available as standard
· Rectangular DAA resin logo on the lid
· Available in Black or Orange color

External dimension: 336 x 300 x H 148 mm/13.23 x 11.81 x 5.83 inch
Internal dimensions: 300 x 225 x H 132 (99+33) mm/11.81 x 8.86 x 5.20 (3.90+1.30) inch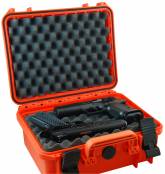 Christian Stahl
Date Added: Sunday 30 October, 2016
Great product with enough room for several handguns. On one level a have my USP and my CZ 75TS. And on the lower level a Desert Eagle.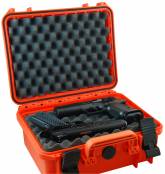 Denis
Date Added: Thursday 13 August, 2015
Excellente qualité comme toujours, j'avais déjà le modèle noir je viens d'en racheter une orange.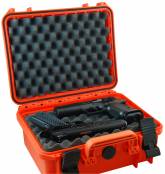 Anne-Valérie Fonder
Date Added: Wednesday 15 April, 2015
matériel très solide et très pratique, j'adore celle de couleur orange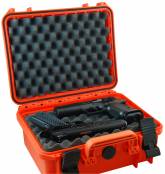 Graeme Cooper
Date Added: Thursday 20 November, 2014
Great piece of kit - solid, well made, good fasteners and totally waterproof - great for a wet day on the range to keep ammo and other small items safe and dry.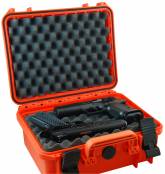 Marlon
Date Added: Tuesday 14 October, 2014
Superb piece of kit... It will protect your gun from any elements ... Price is reasonable infact I can say it's a bargain condidering what he can do with your precious gun. I highly recommend this .
DAA Hard Case Medium-300
Double-Alpha Academy BV
Elzenweg 33b, 5144MB, Waalwijk
The Netherlands
Phone: +31 (0)416 660 464
Fax: +31 (0)416 392 040
E-mail: daa(at)doublealpha.biz