Wet/Dry Media Separator
Wet/Dry Media Separator
Reviews:
(Current Reviews:

1

)
Ideal for both wet or dry cleaning processes!

Perforated sifter allows media to fall through while retaining cleaned brass!

Includes 2 installed strainers to separate wet media from water!

Includes two sifting handles for ambidextrous use when separating brass from media

Rugged rubber latch keeps sifter closed even with heavy loads of brass and media

Spill proof tub fully captures water, dry media and stainless steel pins

The tub top includes a mesh strainer to rinse brass during wet separating to remove any left over cleaning solution

Mesh strainers for draining the water from the tub base without losing stainless steel pins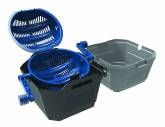 Paul Vande Casteele
Date Added: Thursday 14 July, 2016
Works fine. However with the static electricity the corn stays tucked to the walls and bottom when cleaning the container after use, it is nnot easy to get all the corn back into the tumbler. Always close the cover, if not the corn flies around when turning the tumbler. Some force needed to get the closing rubber in place. Good stuff.
Wet/Dry Media Separator
Double-Alpha Academy BV
Elzenweg 33b, 5144MB, Waalwijk
The Netherlands
Phone: +31 (0)416 660 464
Fax: +31 (0)416 392 040
E-mail: daa(at)doublealpha.biz