DAA PDR-PRO
DAA PDR-PRO
Reviews:
(Current Reviews:

20

)
DAA PDR PRO holster. This holster represents well over a year of design and experimentation to produce a holster that offers more than any of its predecessors.

Following our customers' feedback, we decided to do away with the suede lining. While the suede lining does offer increased protection for the gun, it adds a drag factor, especially when new. The bare Kydex cannot be beaten for speed, quick release and smooth draw. We beefed up the side wall thickness, and went with a 3.3 mm Kydex plate to ensure the holster's integrity and structure won't fail, even in the toughest conditions.

The resulting new holster body is a slick, simple and efficient design incorporating the manual "no tool" thumb turn tension adjustment screw. With only a few turns of the knob, you can adjust the holster's retention to fit your preference or course of fire.

But where you'll find most of the innovation is in the totally new belt hanger.

The hanger attaches to your shooting belt using the now familiar DAA thin profile steel plate attachments. These minimize the separation between your inner and outer Velcro shooting belt sections, and allow the holster to be held securely in place. The hanger is designed to fit on belts 1.5", 1.75" or 2" wide, thanks to the included click-in spacers. These can be used to position the hanger higher or lower on the belt, allowing for three height positions when used with a 1.5" belt, the most common size in competition.

The main feature of the hanger is the aluminum ball joint, which, combined with steel lock-up plates, allows you to adjust the holster into infinite positions, and then lock up solid as can be. These adjustments can easily be made even while wearing the holster as the screws are positioned at the front of the hanger. The rail attachment fitted to the holster body allows height adjustment in steps of 10 mm to maximum 80 mm up or down. This is in addition to the 0.5" adjustment of height that is possible in the hanger's belt attachment (when used with 1.5" belts).

Models are currently offered for the following firearms: CZ SP01, Glock, Sig 226/228, 1911 GOVT, S&W M&P, Springfield XDM 5.25", STI 2011, HK USP and Tanfoglio. Available only in Black.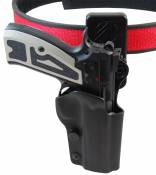 Rob Ridley
Date Added: Friday 26 August, 2016
Holster is comfortable and ergonomically efficient. I got called out at a recent match. Unless I keep my suspenders snugged up real tight, I am in violation of the 50mm rule. No way to get it closer except to lift it closer to my spare tire belly flab. This holster needs more adjustment for closer to the body. Offset is only useful if it can be made legal.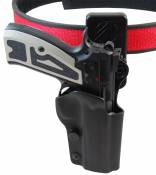 gerry davis
Date Added: Thursday 25 February, 2016
I am new to IPSC shooting. I wasn't happy with the positioning of my standard issue holster for my Sig Sauer P320 on my belt. It felt too high and not at the right angle for my hand from the surrender start position. Problem solved with this holster. All angles are adjustable as well as fitment for preferred belt height to the handle. Really has "upped" my game. Thanks...great design.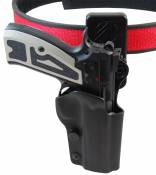 Heiko Lavan
Date Added: Sunday 21 February, 2016
Sehr gute Qualität und absolut passgenau für meine Smith Wesson M&P 22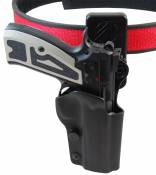 Taka
Date Added: Friday 09 October, 2015
This holster needs modify for quick draw. I remade and now it works for me.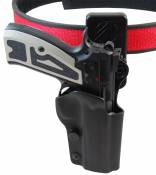 ROI HAREL
Date Added: Sunday 20 September, 2015
The pdr-pro holster is Excellent! Very s djustable and easy to use
DAA PDR-PRO
Double-Alpha Academy BV
Elzenweg 33b, 5144MB, Waalwijk
The Netherlands
Phone: +31 (0)416 660 464
Fax: +31 (0)416 392 040
E-mail: daa(at)doublealpha.biz