Contact Us
Prices shown in USD | All items shipped from PA, USA
IDPA PDR PRO-II
Reviews:
(Current Reviews:

7

)
The IDPA PDR PRO-II holster incorporates our latest generation Kydex holster body, as used in the popular PDR PRO-II holster. It is an efficient, fast holster body, available for many popular gun types for both right and left handed shooters.
The PDR-PRO-II holster body does not include the Suede lining that the PDR offers, making it more suitable for competition use, where speed and ease of draw are paramount. Attaching this PDR-PRO-II body to our Belt-Ride Ambidextrous Hanger, makes this holster a perfect choice for IDPA competitors or for general carry and range use.

The bare Kydex cannot be beaten for speed, quick release and smooth draw. Tension adjustment is done by turning one, or both Phillips head screws, which are accessible from the outside of the holster body, while worn.
This hanger positions the holster body up close against the body and provides you a solid, yet tilt adjustable holster mount. It can be used with 1.5-2" wide belts and is fully ambidextrous, working equally well for RH or LH holsters. If you are using the belt spacers (most will, as most use a 1.5" belt) you can choose to have those spacers both above, below, or one above and one below the belt as you thread it through. This will provide you some height adjustment.
Available for right or left handed shooters, in Black only.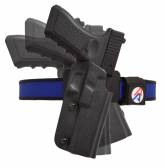 Dave Edo
Date Added: Saturday 18 November, 2017
I needed an upgrade from my old rig so I bought this holster with a DAA belt, I was very impressed with the quality and how nicely my G34 fit. I easily adjusted it and took it out for an IDPA match and it worked great!!!!!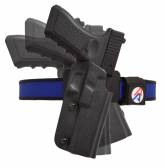 Tony S
Date Added: Friday 03 November, 2017
Fit and finish is great. Product arrived very fast. I will be using this holster with my CZ SP-01 Tactical, in IDPA.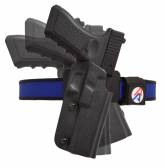 Chuck Kirgis
Date Added: Monday 18 September, 2017
IDPA PDR PRO-II Bought the holster for club IDPA Events. I'm using the HK USP model for my HK VP9 with no issues.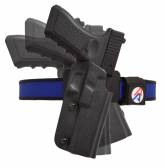 Enrique A. Borja
Date Added: Saturday 01 April, 2017
IDPA PDR- PROII, ideal for my 1911, works good. Recommended for 1911 users in IDPA Competition.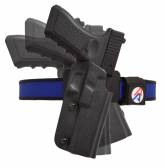 Robert Russell
Date Added: Tuesday 07 March, 2017
I recently purchased the IDPA PDR Pro-11 holster for IDPA competition but use it also in USPSA. I have tried many different brands over the years and I am always looking for a better product. This holster has topped them all. I like the way it sits firm-ally on the hip and does not move around and also the way I can adjust it for all the angles. You will not be disappointed.
IDPA PDR PRO-II
Alpha Dynamics USA
2908 Betz Court, Orefield, PA 18069

Phone: (888) 628-3233 or (610) 366-9752
Fax: (610) 366-9680
E-mail: sales(at)doublealpha.biz