IDPA PDR-PRO
IDPA PDR-PRO
Reviews:
(Current Reviews:

6

)
Responding to popular demand, we are pleased to now offer this new configuration for our PDR-PRO holster body. The PDR-PRO holster body does not include the Suede lining that the PDR offers, making it more suitable for competition use, where speed and ease of draw are paramount. Attaching this new PDR-PRO body to our PDR Belt Ride hanger, makes this holster a perfect choice for IDPA competitors or for general carry and range use.

The bare Kydex cannot be beaten for speed, quick release and smooth draw. We beefed up the side wall thickness, and went with a 3.3 mm Kydex plate to ensure the holster's integrity and structure won't fail, even in the toughest conditions.

Tension adjustment is done by turning a single screw by hand, without the need for any tool or aid. The adjustment ranges from very loose, to almost locked tight with just a few turns of the tension knob.

This Belt-Ride hanger model is compatible with 1.25" 1.5" and 2" belt sizes, and can easily be changed back and forth from one size to the other. The Belt-Ride hanger positions the gun closer to the body, and higher than the off-set hangers do, making it compatible with the demands of IDPA regulations, and more suitable for day to day and open or concealed carry purposes.

Available for right or left handed shooters, in Black only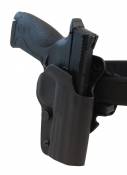 GEORGE
Date Added: Friday 03 February, 2017
Very nice holster. The fit is perfect and the price is awesome.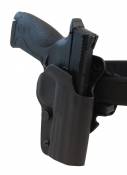 Arthur
Date Added: Thursday 08 October, 2015
This holster is the best holster I ever bought for my X5; it's close to the body but easy enough for action; and not awkward (not overly extended away from the waist)for carry-holster within the allowed area of the range.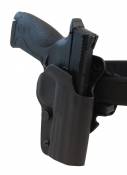 Jim
Date Added: Wednesday 08 July, 2015
Good and correct service. Very Nice holster for this price. Fits very good.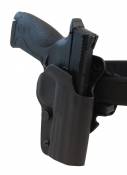 Jim
Date Added: Saturday 04 July, 2015
Very happy with this holster. Allready used it on different occasions. Safe and works good for training. Good and correct service.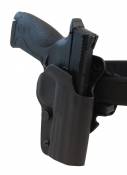 RC
Date Added: Saturday 21 March, 2015
For this rule you must change the screw: 8.5.1.17 Holsters with screws or knobs that extend past the outer face of the holster are allowed if the adjustment screw(s) require a tool to change tension, the screws protrude less than 0.125" (3.2 mm) from the outer face of the holster, and they meet all other holster requirements. Additionally, all tension screws anywhere on a holster must require a tool for tension adjustment.
IDPA PDR-PRO
Double-Alpha Academy BV
Elzenweg 33b, 5144MB, Waalwijk
The Netherlands
Phone: +31 (0)416 660 464
Fax: +31 (0)416 392 040
E-mail: daa(at)doublealpha.biz