DAA Premium Belt
DAA Premium Belt
Reviews:
(Current Reviews:

46

)
NOTE: All belt systems include both inner and outer belts
Introducing the DAA Premium belt. This belt offers the extreme rigidity of the Competition belt, in the higher quality finish and look of the PRO model.
In recent years we have offered two belts: The original DAA Competition belt, and more recently, the DAA PRO belt. The first's best feature is its extreme rigidity, stemming from a slightly thicker and harder core. The latter – boasts improved looks and finish, and includes a handy name-card holder incorporated into the outer belt. Both belts have been received well, and each has their followers. Some choosing the Competition belt if they view rigidity as the most critical feature while others choose the improved appearance and quality feel of the PRO belt. We thought – why force our customers to compromise? Why can't we offer the best of both belts – in one?
Sizes are available for 28"–50".
How to select the correct belt size: (do not select based on your pant size!)
1. Measure you actual waist circumference at the height where you plan to wear your belt.
2. Convert your measurements into Inches (1inch = 2.54cm)
3. Order the belt size which matches your measurement. Round upwards: if you measured 39", order a belt size 40".
Size chart:
| | | |
| --- | --- | --- |
| belt size to order (inch) | overall length (cm) | overall length (inch) |
| 28" | 90cm | 35.4" |
| 32" | 100cm | 39.4" |
| 34" | 105cm | 41.3" |
| 36" | 116cm | 45.7" |
| 38" | 121cm | 47.6" |
| 40" | 126cm | 49.6" |
| 42" | 131cm | 51.6" |
| 44" | 136cm | 53.5" |
| 46" | 141cm | 55.5" |
| 48" | 146cm | 57.5" |
| 50" | 151cm | 59.5" |
| 55" | 164cm | 64.5" |
| 60" | 176.5cm | 69.5" |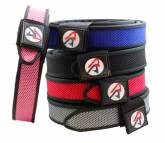 ANTON SIEKMANN
Date Added: Monday 21 January, 2019
Great belt, bought a second one and will probably get a third for my wife. I wear 32" pants and got a 36" belt, I would recommend that size since it provides a lot of support for lots of gear like a 3 gun setup.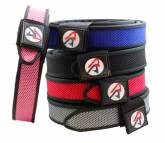 Ilkka H
Date Added: Wednesday 02 January, 2019
Great belt. I ordered two of this belts and probably one more later for 3. gun.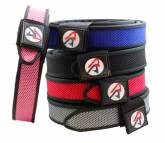 Norbert Lutsch
Date Added: Monday 03 December, 2018
Bought two of this Belts as i am shooting in 2 different disciplines. The belt is very strong and rigid and keeps everything in place no matter what. Had a little problem with the velcro and left a short review here, without a demand for a new belt. DAA immediately responded to my review which was not bad at all, because it is a great belt after all. DAA offered me to send me another belt. That is really great customer care and i am very happy. I use everything (the complete rig, a red dot, the grip kit... and many more things) from DAA and have to say all stuff is of premium quality and the videos are very helpful, too... I can strongly recommend everything i ever bought here. Norbert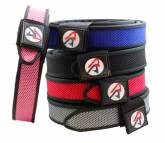 Norbert Lutsch
Date Added: Monday 03 December, 2018
Habe schon 2 Gürtel gekauft, da ich zwei unterschiedliche Disziplinen schiesse und bin sehr zufrieden. Der erste Gürtel hatte ein kleines Problem mit sich lösendem Flausch- Klett. Kurze Email an DAA und sofortige Rückfragen von DAA und anstandslose Ersatzlieferung. Wirklich sehr netter Kontakt und hervorragender Kundenservice.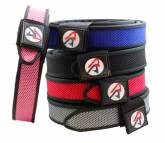 Ocie Powell
Date Added: Saturday 27 October, 2018
Great, belt! Strong, and allows no twist, at all. Highly recommend this to all competitors.
DAA Premium Belt
Double-Alpha Academy BV
Elzenweg 33b, 5144MB, Waalwijk
The Netherlands
Phone: +31 (0)416 660 464
Fax: +31 (0)416 392 040
E-mail: daa(at)doublealpha.biz
Sizing
Q: My pant size is 34". What is the correct belt size I need to order?
Pant sizes differ from one manufacturer to another. You need to measure your true waist circumference and choose your belt size based on that data. If you measure 36" or 91.5cm then we suggest you go one size up and select a 38" belt. Bear in mind that during winter time you might have several layers tucked in the pants which will add to the size.
Also available in Combo(s)