Contact Us
Prices shown in USD | All items shipped from PA, USA
DAA Premium Belt
Reviews:
(Current Reviews:

27

)
NOTE: All belt systems include both inner and outer belts
The latest innovative competitive shooting belt from DAA is the DAA Premium belt. This belt offers the best of two worlds! The extreme rigidity of the DAA Competition belt and the high quality finish and outlook of the DAA PRO model.
Both the Competition and PRO belts have been widely received in recent years, and each has their loyal followers. Some choosing the Competition belt if they view rigidity as the most critical feature while others choose the improved appearance and quality feel of the PRO belt. DAA decided – why force our customers to compromise? Why not offer the best of both belts – in one? Result – The DAA Premium Belt
Available in sizes from 28"–50".
How to select the correct belt size: (do not select based on your pant size!)
If you measure around your waist 86cm/33.85", you should choose a belt which is about 104-110cm/41"-43.3" Overall length, which would mean a DAA belt size 34". If you measure around your waist 98cm, you should choose a belt which is about 115-123cm/45.25"-48.5" Overall length, which would mean a DAA belt size 36 or 38" (38" would be the safer bet, a little long is always better than a little short).

1. Measure you actual waist circumference at the height where you plan to wear your belt.
2. Convert your measurements into Inches (1inch = 2.54cm)
3. Order the belt size which matches your measurement. Round upwards: if you measured 39", order a belt size 40".
Size chart:
| | | |
| --- | --- | --- |
| belt size to order (inch) | overall length (cm) | overall length (inch) |
| 32" | 100cm | 39.4" |
| 34" | 105cm | 41.3" |
| 36" | 116cm | 45.7" |
| 38" | 121cm | 47.6" |
| 40" | 126cm | 49.6" |
| 42" | 131cm | 51.6" |
| 44" | 136cm | 53.5" |
| 46" | 141cm | 55.5" |
| 48" | 146cm | 57.5" |
| 50" | 151cm | 59.5" |
| 55" | 164cm | 64.5" |
| 60" | 176.5cm | 69.5" |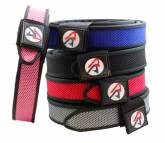 James
Date Added: Monday 05 March, 2018
Great belt. There is a reason you see this belt on a lot of USPSA and 3gun shooters.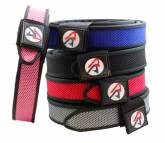 Cor
Date Added: Sunday 25 February, 2018
de verkeerde maat besteld de 1 ste keer ...omruilen geen probleem en wat een geweldig produkt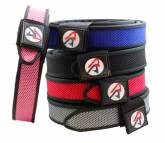 John Drummond
Date Added: Saturday 03 February, 2018
My first DAA belt. Well made and fits great. Can't wait to use it!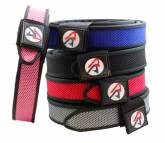 Steve austin
Date Added: Thursday 01 February, 2018
The belt i bought was high quality like i expected from this company. the belt sizing is good and the belt is very thick and stiff. Overall i am very satisfied with my purchase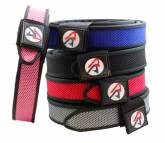 NATHANIEL GRAY
Date Added: Friday 12 January, 2018
I have ran a few different belts in USPSA Limited and all I can say is this belt is it is AWESOME! It is so sturdy and looks great a must have for any shooter, I'm a big guy and looked at the overall length of the belts and measured my waist if you do this you will have no problem with the fit but do not go off of your pants size, best belt I've ever ran!!!
DAA Premium Belt
Alpha Dynamics USA
2908 Betz Court, Orefield, PA 18069

Phone: (888) 628-3233 or (610) 366-9752
Fax: (610) 366-9680
E-mail: sales(at)doublealpha.biz
Sizing
Q: My pant size is 34". What is the correct belt size I need to order?
Pant sizes differ from one manufacturer to another. You need to measure your true waist circumference and choose your belt size based on that data. If you measure 36" or 91.5cm then we suggest you go one size up and select a 38" belt. Bear in mind that during winter time you might have several layers tucked in the pants which will add to the size.
Also available in Combo(s)