Contact Us
Prices shown in USD | All items shipped from PA, USA
DAA Premium Belt
Reviews:
(Current Reviews:

38

)
NOTE: All belt systems include both inner and outer belts
The latest innovative competitive shooting belt from DAA is the DAA Premium belt. This belt offers the best of two worlds! The extreme rigidity of the DAA Competition belt and the high quality finish and outlook of the DAA PRO model.
Both the Competition and PRO belts have been widely received in recent years, and each has their loyal followers. Some choosing the Competition belt if they view rigidity as the most critical feature while others choose the improved appearance and quality feel of the PRO belt. DAA decided – why force our customers to compromise? Why not offer the best of both belts – in one? Result – The DAA Premium Belt
Available in sizes from 28"–50".
How to select the correct belt size: (do not select based on your pant size!)
1. Measure you actual waist circumference at the height where you plan to wear your belt.
2. Convert your measurements into Inches (1inch = 2.54cm)
3. Order the belt size which matches your measurement. Round upwards: if you measured 39", order a belt size 40".
Size chart:
belt size to order (inch)
overall length (cm)
Inc. overlap
overall length (inch)
Inc.overlap
32"
100cm
39.4"
34"
105cm
41.3"
36"
116cm
45.7"
38"
121cm
47.6"
40"
126cm
49.6"
42"
131cm
51.6"
44"
136cm
53.5"
46"
141cm
55.5"
48"
146cm
57.5"
50"
151cm
59.5"
55"
164cm
64.5"
60"
176.5cm
69.5"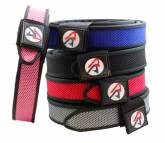 Alan
Date Added: Wednesday 29 August, 2018
Best belt on the market. I like that the outer is very stiff.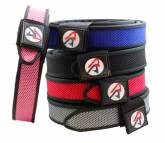 james pasquariello
Date Added: Wednesday 22 August, 2018
Superior belt. Extremely stiff, very satisfied with service and professionalism of DA , belt is fantastic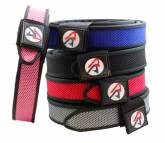 Jimmy
Date Added: Tuesday 19 June, 2018
I have four other competition belts. This is the best one I have ever owned. The inner belt is soft and the outer belt is very stiff. The materials are good quality and this is a very well made product.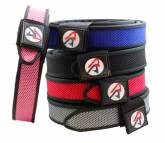 Joel Novak
Date Added: Thursday 14 June, 2018
A great belt for the money. Very sturdy, it is a bit thick, but was able to make everything work. Highly recommend this belt!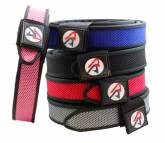 Emerson Bolen
Date Added: Tuesday 12 June, 2018
I just got into 3-Gun competition and realized how important proper gear is. I used the DAA Premium Belt last Saturday in my 3rd match (ever) and it made a HUGE difference. The stiff, two piece design worked perfectly and held the holster, shell carriers, mag pouches securely. Managed to finish 2nd in Factory division and 27th overall. I just finished building DAA a Limited 10 rig for IPSC. The DAA gear is pricey but it's worth the cost.
DAA Premium Belt
Alpha Dynamics USA
2908 Betz Court, Orefield, PA 18069

Phone: (888) 628-3233 or (610) 366-9752
Fax: (610) 366-9680
E-mail: sales(at)doublealpha.biz
Sizing
Q: My pant size is 34". What is the correct belt size I need to order?
Pant sizes differ from one manufacturer to another. You need to measure your true waist circumference and choose your belt size based on that data. If you measure 36" or 91.5cm then we suggest you go one size up and select a 38" belt. Bear in mind that during winter time you might have several layers tucked in the pants which will add to the size.
Also available in Combo(s)