Combo: 7x Single Stack Racer Pouch and DAA Belt
Combo: 7x Single Stack Racer Pouch and DAA Belt
Reviews:
(Current Reviews:

62

)



Save over 5% with this fantastic Single Stack Racer pouch and DAA Competition belt combo. You get:

- 7x Single Stack Racer Pouch
- 1x Double-Alpha Competition Belt

Please note!
These single stack pouches will work only with 1911 style Single stack magazines which follow the standard external dimensions! (roughly 13.7mm 0.54" wide, and 34.8mm 1.37" from back to front)
It has come to our attention that some manufacturers are shortening the front to back length of their tubes for the 9mm calibers – and these will not work in our single stack pouches!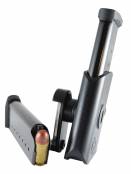 DAA Single Stack Racer Pouch
Mjoy
Date Added: Friday 18 May, 2018
This pouch is amazing! It doesn't take too much space in my belt-- which also mean that I don't need to reach all the way to my back to get my last magazine. It's lightweight and it's very stable. I can run freely without worrying about my mags falling off.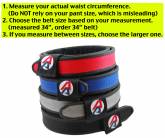 Double-Alpha Competition Belt
Eric
Date Added: Sunday 04 February, 2018
Great products I have a full rig I use to shoot limited 10. Now trying to build a rig for my M&P core ordered a complete competition belt the inner belt the stitching was coming apart had to return inner belt. It cost me about $10 to return I should have just purchased the premium belt.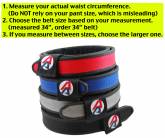 Double-Alpha Competition Belt
Torben Qvist
Date Added: Saturday 15 July, 2017
Howdy I am the proud owner of a couple of these belts. Both inner and outer belt work as intended by DAA. I find myself using the inner belt more places than just on the range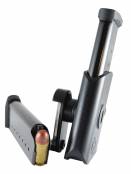 DAA Single Stack Racer Pouch
Greg
Date Added: Wednesday 17 May, 2017
Great product. I have 7 on my belt that takes up less space than 4 parallel pouches. Very well made, very quick.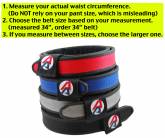 Double-Alpha Competition Belt
Stumpf JM
Date Added: Friday 12 May, 2017
Cet article correspond parfaitement à mon souhait. Ma commande m'a été livrée dans les délais (3jours). Impeccable. Je recommande DAA pour leur sérieux.
Combo: 7x Single Stack Racer Pouch and DAA Belt
Double-Alpha Academy BV
Elzenweg 33b, 5144MB, Waalwijk
The Netherlands
Phone: +31 (0)416 660 464
Fax: +31 (0)416 392 040
E-mail: daa(at)doublealpha.biz