Prices shown in USD | All items shipped from PA, USA
Mr. Bulletfeeder by Double-Alpha Conversion Kit
Mr. Bulletfeeder by Double-Alpha Conversion Kit
Reviews:
(Current Reviews:

14

)
Conversion kits are available allowing you to use your Mr. Bulletfeeder by Double-Alpha for more than just one caliber. Many reloaders have a second complete tool head for their 2nd caliber of choice, voiding the need to reset the dies.

To make the transition easy, the Mr. Bulletfeeder by Double-Alpha conversion kits includes a complete dropper assembly, a custom powder funnel (for pistol calibers) and a new collator plate for the caliber of choice. This will allow you to switch your bullet feeder from one caliber to the next in a matter of minutes.

The spring output tube securely attaches to the top of the dropper by means of the Spring Adaptor Cap, which attaches and disconnects easily from the top of the dropper. The inner threading grips the coils of the spring firmly, preventing any chance of it coming loose during operation, and allowes a quick transition from one dropper to the next.

Please note: All pistol calibers use the same output tube, lead spring and spring adaptor cap. So this assembly is not included in the conversion kit –as you will not need a second one when changing pistol calibers.

The rifle calibers too share the same output assembly, and so when converting from 223 to 308, the same output assembly is used.

However – if you intend to buy a conversion kit to convert a rifle unit to a pistol caliber, you must purchase the output assembly required, in addition to the conversion kit

The expanding powder funnel supplied is for the Dillon reloading machines only (no expansion powder funnel is included with the rifle calibers) not compatible with other brands. To use with the LnL press, you will need to purchase their expanding powder funnel separately.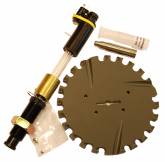 Dennis
Date Added: Sunday 07 October, 2018
Can be set up in minutes, easy to use. Save a lot time during reloading.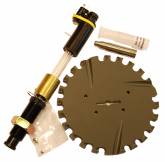 Blake
Date Added: Tuesday 17 April, 2018
Excellent service from CEDHK. Mr. Bullet feeder also works great.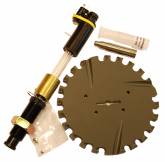 Alexandre Sousa
Date Added: Sunday 31 December, 2017
Is an essential accessory for anyone who wants to by a real reloader!!!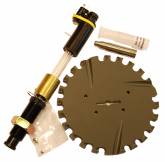 Gerd Benedix
Date Added: Sunday 09 July, 2017
I have purchased a number of items from Mr. Bulletfeeder which always arrived promptly. I actually enjoy watching the system do its thing - almost a ballet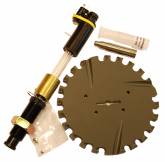 Mike Grubb
Date Added: Sunday 25 June, 2017
I purchased .223 rifle, 9mm and .45 acp Mr Bullet feeders, as well as, a Inline Fabrication lighting kit for my Dillon xl 650. I have carpal tunnel syndrome in both my wrists and loading bullets by hand was very painful. This bullet feeder has made loading a joy again! Wow, the Mr Bulletfeeder is incredible and works as advertised. The lighting system is perfect for light right where you need it. I recommend these products to anyone who no longer want to place bullets by hand and come out of the darkness on your press...
Mr. Bulletfeeder by Double-Alpha Conversion Kit
Alpha Dynamics USA
2908 Betz Court, Orefield, PA 18069

Phone: (888) 628-3233 or (610) 366-9752
Fax: (610) 366-9680
E-mail: sales@doublealpha.biz
Also available in Combo(s)