Prices shown in USD | All items shipped from PA, USA
Ammo Brass Collector
Ammo Brass Collector
Reviews:
(Current Reviews:

17

)
The Ammo Brass Collector is simply the BEST brass-picking (collecting) device we have seen or tested to date for centerfire pistol and rifle cases. This broom styled roller device easily picks up spent brass from the range. Simply roll it over the ammo brass you want to pickup and it captures it within its wire cage. It works not only on hard surfaces, but in grass and dirt as well.

Supplied with a dumper device that can be attached onto any mid-size bucket (not included). Stick the point of the dumper into the Ammo Brass Wizard cage, twist π turn and the Ammo Brass Collector releases its contents into the bucket.

The Ammo Brass Collector will pick up handgun brass and anything with a diameter of approximately 9-15mm. Works great with handgun caliber brass including - .380, 9mm Luger, .38 Special, 38 Super, .357 Magnum, 40 S&W, 10mm, .45 ACP and rifle caliber brass .22-250, .223, 5.56 x 39, .243 Winchester, 7.62 x 39, 7.62 x 54, .308, .30-06 and .45-70.

Great for clubs and range facilities.

Includes brass cage, Y connector, dumper, and the new telescopic aluminum handle, extending to 120cm.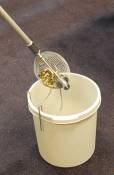 ivan noel vogl
Date Added: Thursday 08 March, 2018
Am the envy of my fellow shooters and being super senior this awesome invention is a definite must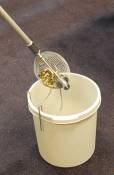 lester harris
Date Added: Thursday 20 July, 2017
A real back saver. Well worth he money. Cheaper tan a Dr. visit and pain pills.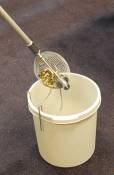 stephen carey
Date Added: Saturday 18 March, 2017
Didn't think I would like it, but now I don't go to the range without it.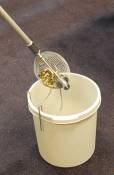 David Kline
Date Added: Monday 20 February, 2017
I bought one of these to use at our indoor pistol club. It works easily and smoothly. If I use the broom and dustpan to pick up brass, I get all kinds of floor dirt along with the brass. And, I get a little tired and sore picking up 50 or 100 rounds one-by-one. This "Wizard" picks up the brass without the dirt, and without bending over. I ended up donating it to the Club, and I ordered another for me to use outdoors once spring arrives.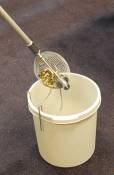 Mark
Date Added: Monday 15 February, 2016
Best thing I've ever bought. Saves my back and picks up the brass faster then three people, would rec emend getting one if you do a lot off shooting.
Ammo Brass Collector
Alpha Dynamics USA
2908 Betz Court, Orefield, PA 18069

Phone: (888) 628-3233 or (610) 366-9752
Fax: (610) 366-9680
E-mail: sales@doublealpha.biz
Also available in Combo(s)