DAA PDR Low-Ride Holster
DAA PDR Low-Ride Holster
Reviews:
(Current Reviews:

31

)
The new Double-Alpha Academy Production Division Race (PDR) Low-Ride Holster is the latest word in competition holsters specifically tailored for the special needs of the Production division IPSC shooters.

The Production division has been growing rapidly in recent years, and in many regions it is now the largest and most competition class. Reasons for this vary, but primarily it appeals to many for its simplicity, reduced costs, and a return to the "more practical days" of Practical Shooting.

Along these lines of thinking, Double-Alpha Academy teamed up with world renowned holster manufacturer, Front-Line, to design a holster which would meet and exceed the demands of this competitive division, while remaining true to its nature of practically and simplicity.

The Double-Alpha PDR Low-Ride Holster is a quick draw Kydex holder, with an injection molded base for strength and durability. It offers a smooth and uninhibited draw, and a wide range of adjustability.

Unlike most other Kydex holsters, the Double-Alpha PDR Holsters have an additional inner suede leather lining to protect your valuable firearm from wear and scratches typical to other Kydex holsters. This inner suede leather lining ensures a smooth draw, and a firm retention when the holster is tightened up.

Tension adjustment is done by turning a single screw by hand, without the need for any tool or aid. The adjustment ranges from very loose(*), to almost locked tight with just a few turns of the tension knob.

The wide range of adjustability originates from the newly designed Low-Ride belt hanger to which the body of the holster is attached. This hanger is compatible with both 1.5" and 2" belt sizes, and can easily be changed back and forth from one size to the other.

The hanger offers a height adjustment range of over 8 cm, as well as a 3 position tilt angle adjustment. For those wishing to position the holster further from the body – longer screws with disc spacers are included.

Available for right or left handed shooters, in Black only. Models currently offer for the following firearms:
CZ SP01, Glock, Sig 226/228, HK USP, S&W M&P, Springfield XD, 1911 Gov.

* Keep in mind that new leather or suede lined holsters do not release as smoothly as they will once worn in. You can improve this from the start by applying some oil or leather-slick to the inner lining.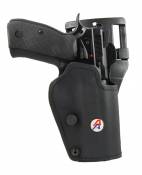 Hans Culo
Date Added: Monday 06 August, 2018
Very good holster fits nicely. Correct store with a good service and shipment.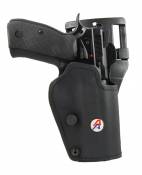 John Ballesta
Date Added: Monday 25 June, 2018
Bought this from a local store when I got my CZ Shadow 2. The adjustments are good but it should drop lower. This holster snags when pulling the draw just a little to the outside. I even tried to heat form it per DAA's video. I think this is due to the thin kydex. I don't have this issue with my Bladetech DOH.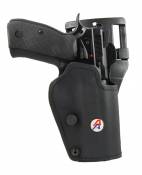 Detlev Pollok
Date Added: Wednesday 18 April, 2018
Purchased during my vaccine in Florida and can't await to try it out. Back last weekend, I carry my Glock 19 within the DAA holster. I'm very satisfied with this sport holster for dynamic discipline. Buy it, I am sure, you will be satisfied too!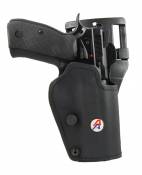 JM Stumpf
Date Added: Sunday 23 April, 2017
Très bon holster. Très bonne qualité. Il faut un peu de temps pour trouver le bon réglage, mais ensuite pas de problème. Pour le prix, je suis très satisfait. Une critique : il manque le logo AA sur le bas du holster,(comme sur la photo), dommage.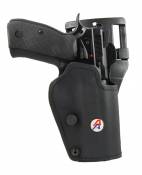 Les Glendinning
Date Added: Friday 14 April, 2017
Excellent holster, holds securely draws easily fits right where its comfortable.As a newcomer to this discipline i find this an outstanding piece of kit!
DAA PDR Low-Ride Holster
Double-Alpha Academy BV
Elzenweg 33b, 5144MB, Waalwijk
The Netherlands
Phone: +31 (0)416 660 464
Fax: +31 (0)416 392 040
E-mail: daa(at)doublealpha.biz