3M Peltor SportTac Electronic Earmuffs (Black/Red)
3M Peltor SportTac Electronic Earmuffs (Black/Red)
Reviews:
(Current Reviews:

3

)
Optimal attenuation
A gunshot is an impulse noise, which is particularly harmful to the human ear. A single shot can cause permanent damage without the proper hearing protection.
Our range of hearing protectors for shooting are specially designed to attenuate, for example, from noise of a gunshot. for reassured protection.

Easy and comfortable
Many shooters have to wear their hearing protectors for a long time. The range of hearing protectors help ensure you'll have no problems staying focused. The low, two-point fasteners allow an even distribution of pressure over the whole cushion area, to help ensure the ear muff stays in place even during sudden head movements or positioning the weapon. This feature also helps ensure a snug fit without compromising comfort and protection for high quality sound reproduction.

Hear what you want to hear
Our level dependent hearing protectors contain advanced electronics with built-in microphones.
The level dependent ear muffs can amplify external sounds up to four times which enables the shooter to detect faint sounds helping pin-point targets with great accuracy.
Not only are sounds amplified, but they are also reproduced in stereo, allowing you to detect exactly where they are coming from. You become a better hunter when you can hear your dogs and prey from a greater distance. A direct connection to an external communication radio enhances teamwork with your fellow hunters and boosts safety. Some of the products in the level dependent range allow you to adapt the stereo balance, for example if you have a hearing impairment in one ear.

The unique digital sound circuit eliminates the sharp sound clip that is typical for most level dependent hearing protectors on the market. Many people find that sound unpleasant and disturbing.
The new electronics in the PeltorTM SportTacTM hearing protector react instantane- ously, protecting your hearing from loud impulse noises. The system reacts so gently that you rarely hear the clip as the protection is activated.
Just like the other level dependent hearing protectors from 3M, the SportTac hearing protector also enhances your hearing, so you actually hear better with the hearing protector than without it. The PeltorTM SportTacTM also allows you to connect your hunting radio directly to the headset.

• Specially designed for hunters and marksmen
• Smooth active-volume function that helps prevent the sound being cut off abruptly
• Interchangeable shells make it easy to change colours (black and red shells included)
• Automatic shut-off
• Foldable
• Battery life span about 600 hours
• Audio input for an external radio
• SNR26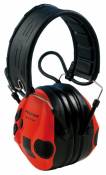 Noop van de Ven
Date Added: Friday 14 September, 2018
Good product,clear sound,good protection! Easy to use,auto-off give a warning after two hours if you forget to put them off .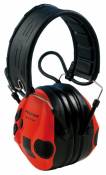 Roger Pfaeffli
Date Added: Monday 13 August, 2018
In combination with the silicon kit, it is a very comfortable earmuff. You can wear them for hours and won't feel anything. However, in closed shooting areas, they give me not enough protection, it is still too loud for me. I'm using earplugs in addition to the Peltor. Well, most of earmuffs are not giving enough noise protection indoors, or they are not comfortable.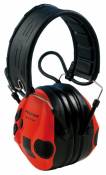 buffard
Date Added: Monday 08 February, 2016
excellent , comfortable and very clear sound , fast shipping .
3M Peltor SportTac Electronic Earmuffs (Black/Red)
Double-Alpha Academy BV
Elzenweg 33b, 5144MB, Waalwijk
The Netherlands
Phone: +31 (0)416 660 464
Fax: +31 (0)416 392 040
E-mail: daa(at)doublealpha.biz