Ammo Brass Wizard
Reviews:
(Current Reviews:

11

)
The Ammo Brass Wizard is simply the BEST brass-picking (collecting) device we have seen or tested to date for centerfire pistol and rifle cases. This broom styled roller device easily picks up spent brass from the range. Simply roll it over the ammo brass you want to pickup and it captures it within its wire cage. It works not only on hard surfaces, but in grass and dirt as well.

Supplied with a dumper device that can be attached onto any mid-size bucket (not included). Stick the point of the dumper into the Ammo Brass Wizard cage, twist π turn and the Ammo Brass Wizard releases its contents into the bucket.

The Ammo Brass Wizard will pick up handgun brass and anything with a diameter of approximately 9-15mm. Works great with handgun caliber brass including - .380, 9mm Luger, .38 Special, 38 Super, .357 Magnum, 40 S&W, 10mm, .45 ACP and rifle caliber brass .22-250, .223, 5.56 x 39, .243 Winchester, 7.62 x 39, 7.62 x 54, .308, .30-06 and .45-70.

Great for clubs and range facilities.

Includes brass cage, Y connector, dumper, and the new telescopic aluminum handle, extending to 120cm.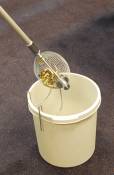 Joel M
Date Added: Wednesday 08 July, 2015
I wonder why I waited so long to get one, the easiest way to retrieve your brass. JM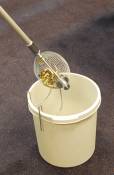 Mikko Kurki-Suonio
Date Added: Monday 02 February, 2015
I was sceptical at first, but after being recommended this I took the plunge and ordered it. The thing really works! Sometimes it drops a couple of the collected brass, sometimes you have to roll over a couple of times to collect them all, but it really does work. I just wish it collapsed into a smaller package, as I can't store it at the range and the handle doesn't fit in any range bags.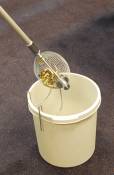 Alain Tarrade
Date Added: Wednesday 23 July, 2014
super produit trés pratique, excellent à conseiller sur nos stands.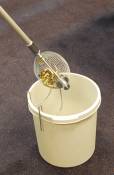 David Walton
Date Added: Monday 07 July, 2014
This thing is great! Works exactly as described. I love having it at the indoor range. The extension handle allows me to pick up every single case that I fire, including the ones that land out past the firing line. I keep the basket and wire cradle/emptier in a plastic ammo case. I pick up and dump the brass into the ammo case after every two or three mags. The holder cradles the device while I am shooting.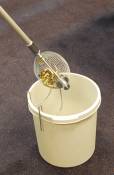 Joan
Date Added: Thursday 13 February, 2014
Amazing. May be as fast as doing manually but without effort. I've bought another for my buddies.
Post to United States start from (Shipping cost for this product only): - Weight: 1.3Kg - Destination: United States (based on IP)
| | | |
| --- | --- | --- |
| | International Registered Parcel Post | $9.95 |
| | DHL | $73.69 |
Ammo Brass Wizard
Double-Alpha Academy BV
Elzenweg 33b, 5144MB, Waalwijk
The Netherlands
Phone: +31 (0)416 660 464
Fax: +31 (0)416 392 040
E-mail: daa(at)doublealpha.biz
You may also be interested in