Read What Others Are Saying
Wednesday 05 August, 2020
Klaus Wissler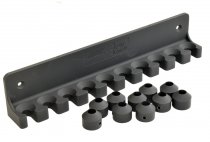 DAA Primer-Rack with 10 collars
Passt alles-gut. Verbesserungsvorschlag: An den breiten Rippem vertikal eine Kunststoffnase anbrigen (eine Art Haken) damit auch die schwereren magnetischen "Collars" des Autoprimer-Feeder von DDA sicher gehalten werden!
Tuesday 04 August, 2020
Scot Earp
DAA PRIMER-PRO Collator
Works 100% out of the box with cci primers. Federal and winchester have varying anvil heights causing feeding issues. Per the instructions included I loosened off the screws and win primers fed 100% federal about 80%. With nothing to actually space the plates apart i cut strips of printer paper and put in screw holes between the 2 plates to keep the assembly ridgid. You can then adjust the spacing by compressing the strips of paper and it holds the spacing. Bought a second one, stuck paper in right out of the box and it runs 100%. A very thin paper-like ring with the bolt spacing could be included with it for minimal money.
Tuesday 04 August, 2020
Jerry Giesecke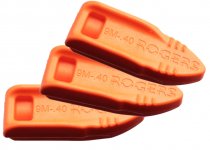 CoolFire Slide Release Magazine Insert - 3 Pack
These function perfectly in My Sig P365 magazines making dry fire exercises much more enjoyable. Service from Double Alpha was excellent too!
Tuesday 04 August, 2020
Timothy Lyons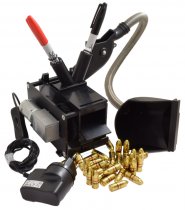 DAA Automatic Brass Marker
Not the most straightforward unit, lots of ways to adjust, but once you get it dialed in, it works perfectly *most* of the time. In a box of 100, I get red and black stripes in the right place and the right orientation 97 or 98 times. Always end up with 2 or 3 that end up not flipping properly, or not seating against the rim before getting striped. However, I will note that ever since getting this unit, I've gotten 100% of my brass back every match that I've shot with it. I do wish the unit was a bit more "finished" with the motor unit permanently wired to some sort of power jack, rather than having to properly orientate two push on connectors each time. That way, I could also use a less bulky power supply instead of the one that covers other sockets on my power strip. Either way, it sure beats marking brass by hand!
Monday 03 August, 2020
Jules Kremer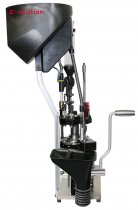 The Mark 7 Evolution
Short of dies and Mr.Bulletfeeder, it comes ready to reload, no other options to improve your press are needed as I was calculating for a blue 10 stage press. It is made without concessions, very well engineered. I like that a lot. The uniformity and speed during reload is phenomenal. Buy once cry once and then enjoy it a lot!!
Monday 03 August, 2020
Addison Caluya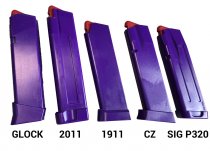 DAA Dry-Fire Practice Magazine
Picked up a set to work on dry-fire with my Sig Sauer XFive. Great investment, has definitely improved the consistency of my drills and I don't worry about making mistakes and damaging my actual mags.
Monday 03 August, 2020
Addison Caluya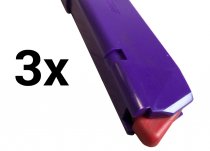 Combo: DAA Dry-Fire Practice Mag, Pack of 3
Picked up a set to work on dry-fire with my Sig Sauer XFive. Great investment, has definitely improved the consistency of my drills and I don't worry about making mistakes and damaging my actual mags.
Sunday 02 August, 2020
David Sweeter
DAA Adjustable Thumb Rest
This is my second thumb rest I have purchased for my second competition gun. My first one was the narrow rest that I soon traded to another shooter for the wider one. Everyone's thumbs are not the same. So why buy a fixed thumb rest. This one it totally adjustable to the shooter! The wide rest gives me more control of recoil letting me press the gun back into place. I've trained myself using this grip for so long I can't shoot without it's become part of my muscle memory. It's comfortable doesn't get in the way of my holster & and helps manage recoil.
Sunday 02 August, 2020
tom florio
CED/DAA RangeCart Pro
I've had a converted jogger stroller, foldable cart etc. This cart combined with the Medium Back Pack is the perfect combo for me. It goes over all range type terrain easily and after removing two pins, it folds in half to fit in the tiny trunk of my car. Only regret is that I should've bought it sooner.
Sunday 02 August, 2020
Christian Kempf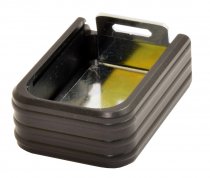 DAA SIG P320 +2 Base Pad Black
Very good craftsmanship, sturdy product. It works with XFive, XFive Legion and all other P320 variants.
Saturday 01 August, 2020
Daniel Samsonite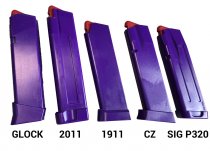 DAA Dry-Fire Practice Magazine
Great. I like these a lot so far. Initial impressions are very good. I have the Glock version. They fit, lock into place, and release just like a real magazine. The spring pretty closely imitates the feedback of inserting a loaded mag when the slide is closed. The material is a very thick plastic, they don't feel cheap at all. I didn't find the country of manufacture anywhere on the packaging. They weight is pretty close to the real thing: The training mags weigh 9.0 oz 17 round Glock mag with 115 grain weighs 9.8 oz 17 round Glock mag with 147 grain weighs 11.0 oz I don't foresee having any problems with these. Time will tell...
Saturday 01 August, 2020
Blair Hrx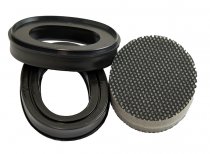 DAA Silicone Gel Replacement Ear Pads
Delivery took a couple of weeks, but this Covid thing is causing all sorts of mail mayhem and Double Alpha responded very quickly to my emailed concern. The earpads themselves seem really nice so far. They were very easy to swap in - once I worked out the best angle to click out the originals (which it's necessary to learn anyway, for maintenance purposes). The Double Alpha earpads are more comfortable than the originals, with more room for my ears, and they mould better if the user is wearing glasses. I have no measuring equipment but performance of the muffs appears no worse, and may even be better (due to better fit). Having had the DAA earpads only for a short time so far, I cannot comment objectively on their longevity, but they seem well made and I see no reason why they should give problems. If my experience changes, I will endeavour to update my review.
Saturday 01 August, 2020
William Hayden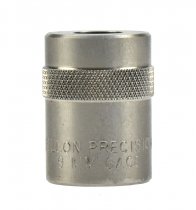 Dillon Case Gauge
Seems to be a bit more tolerant than Lyman case gage. Rounds will pass with Dillon, but fail with Lyman
Saturday 01 August, 2020
William Hayden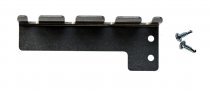 Primer Tube Rack - Case Feeder Mount
Fits perfectly and holds the primer tubes in a handy place
Saturday 01 August, 2020
William Hayden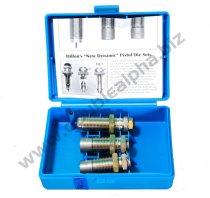 Dillon Carbide Pistol Die Set
Dies create hour glass shaped brass. Set them up per instructions, but still get the hour glass brass.
Friday 31 July, 2020
Peter Van Dyke
DAA PRIMER-PRO Collator
The collator works very well. Some tweaking may be necessary on occasion. But it does very well so far for me. Eliminates the most irritating task in bulk loading. Hope they provide large primer capacity soon.
Friday 31 July, 2020
David Colon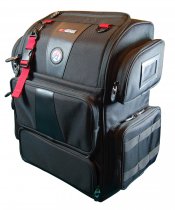 CED/DAA RangePack (medium) - IPSC Shooting Range Bag
This is a well-built, feature rich range bag that is also not uncomfortable to carry around on a long, outdoor range day. But... Give the target audience for this bag, I think including two "Rig Straps" and at least 3 pistol pouches should be standard. $90 extra for a wheel caddy seems a bit steep where I think this could be built in (like some other brands) for an extra $20 to the base price. (The small space in the ammo bay used by the wheels would be negligible. This bay can hold alot of ammo.) And while we are at it, I would rather see a pistol caddy instead of pistol pouches inside the main storage bay, but I could live with pouches if more were included. I understand the sales industry practice of offering add-ons, but I feel given the price and market position of this bag, these "extras" should really be standard. A great bag, but there are some areas where it can be even better.
Friday 31 July, 2020
Joe Tregenza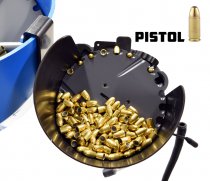 Mr. Bulletfeeder by Double-Alpha - Pistol and Rifle Calibers
One of the two biggest time savers for reloading on a progressive press.
Friday 31 July, 2020
Cyndee Temple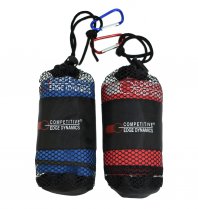 CED Sports Towel
spend $250 Checked box for BLUE wanted BLUE received RED :( _~~~ unhappy face
Friday 31 July, 2020
Jason Mahoney
Pro Grip Lotion (2oz) - cannot be shipped with UPS Saver
Love this stuff. A little drop goes a long way and it doesn't make my hands and clothing and gun all white. Theres a little bit of a chalky white but not much. A little drop will dry up my hands on the most humid Pennsylvania July matches and last several stages. In the summer I usually only have to reapply once. Other times of the year, a drop at the start of the match and you are good to go the entire match.