Thigh Pad for Alpha-X / Racer-X Holsters
Thigh Pad for Alpha-X / Racer-X Holsters
Reviews:
(Current Reviews:

11

)
The Thigh Pad is compatible with Alpha-X and Racer-X holsters!
The Alpha-X holster by Double-Alpha has taken the shooting world by storm, fast becoming the choice of top shooters worldwide. And while the reviews and feedback have been overwhelmingly positive, we have had a few requests for a Thigh Pad option to be made available for this holster.
And we are now pleased to offer you just that – a compact yet effective Thigh Pad option for your Alpha-X and Racer-X holsters. No screws or glue required. Simply slide the Thigh Pad on over the bottom of the holster's belt attachment, until the tabs at the top of the extended arms click into the pockets and keep the Thigh Pad in place. To remove, pull those tabs up and out of the pocket they are clipped into, and slide the piece down and off (it may be a tight fit, to prevent wobble)
Suitable for use on both Right-Hand and Left-Hand holsters.
First batch compatibility issue: Please note! If you have one of the very first holsters (from 2016) your holster hanger does not have the corner chamfer as shown in one of the pictures here. Your hanger is also a little wider, and this Thigh Pad will NOT fit your model holster. Sorry.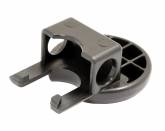 Seth Moore
Date Added: Sunday 03 March, 2019
Great addition to the holster. Should probably be included standard with every holster order.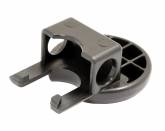 Cliff Pinsent
Date Added: Sunday 27 January, 2019
It does a really good job keeping the muzzle of the gun pointed straight down at the ground.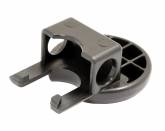 Gregg
Date Added: Sunday 02 December, 2018
Nice solid product. Customer service is great. I just wish it comes with auto lock when you holster your gun or make the lock lever a little bit bigger. Thanks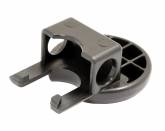 STEPHEN RIDDICK
Date Added: Sunday 23 September, 2018
This is a nice addition to an already super holster takes the pressure of holster and onto thigh turns a rock solid holster into an immovable object . 5☆☆☆☆☆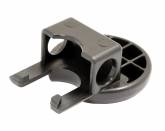 Cesare Camboni
Date Added: Monday 17 September, 2018
A must have and cheap accessory for a super holster. It stabilizes the position.
Thigh Pad for Alpha-X / Racer-X Holsters
Double-Alpha Academy BV
Elzenweg 33b, 5144MB, Waalwijk
The Netherlands
Phone: +31 (0)416 660 464
Fax: +31 (0)416 392 040
E-mail: daa(at)doublealpha.biz