Contact Us
Prices shown in USD | All items shipped from PA, USA
Thigh Pad for Alpha-X Holster
Reviews:
(Current Reviews:

3

)
The Alpha-X holster by Double-Alpha has taken the shooting world by storm, fast becoming the choice of top shooters worldwide. And while the reviews and feedback have been overwhelmingly positive, we have had a few requests for a Thigh Pad option to be made available for this holster.
And we are now pleased to offer you just that – a compact yet effective Thigh Pad option for your Alpha-X holster. No screws or glue required. Simply slide the Thigh Pad on over the bottom of the holster's belt attachment, until the tabs at the top of the extended arms click into the pockets and keep the Thigh Pad in place. To remove, pull those tabs up and out of the pocket they are clipped into, and slide the piece down and off (it may be a tight fit, to prevent wobble)
Suitable for use on both Right-Hand and Left-Hand holsters.
First batch compatibility issue: Please note! If you have one of the very first holsters (from 2016) your holster hanger does not have the corner chamfer as shown in one of the pictures here. Your hanger is also a little wider, and this Thigh Pad will NOT fit your model holster. Sorry.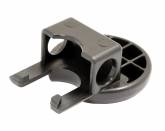 John Riggs
Date Added: Wednesday 25 April, 2018
Adding the thigh pad to my Alpha-X Holster has made a nice improvement. No more having the holster rock into my leg during stages. Great job!!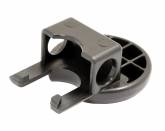 Dmitri Brodski
Date Added: Wednesday 25 April, 2018
Good accessory, provide more control over the holster positioning.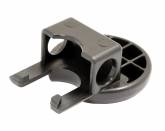 Jim Lurton
Date Added: Thursday 19 April, 2018
This is an excellent addition to the Alpha X. Further it is really such required addition it should be a part of the holster package. Raise the price if necessary but the holster is not so good without this piece.
Thigh Pad for Alpha-X Holster
Alpha Dynamics USA
2908 Betz Court, Orefield, PA 18069

Phone: (888) 628-3233 or (610) 366-9752
Fax: (610) 366-9680
E-mail: sales(at)doublealpha.biz