SureFire EP7 Sonic Defenders Ultra, Black, Medium
SureFire EP7 Sonic Defenders Ultra, Black, Medium
Reviews:
(Current Reviews:

4

)
EP7 Sonic Defenders Ultra protect your hearing without interfering with your ability to hear routine sounds or conversations. Their foam-tipped stem design, featuring soft memory-foam Comply™ Canal Tips, fits most people and provides a Noise Reduction Rating (NRR) of 28dB. Sounds, at safe levels, are allowed to pass through into the ear canal, while potentially harmful noises (above 85dB) are reduced via a proprietary design that incorporates a special noise-reducing filter. EP7s include attached filter caps, which can be inserted for additional protection and blocking out lower-level noise, like that heard on a plane, in situations where hearing ambient sounds or conversations isn't critical. Right/left color-coded Sonic Defenders Ultra are made from a soft but durable, hypoallergenic polymer that provides all-day comfort and an extended product life (up to 6+ months, depending on usage and care). Their patented EarLock® retention rings lock the earplugs in place, while soft foam-tipped stems provide secure seals in the ear canals. And their low-profile design means they can be worn while wearing a helmet or mask, or while using a phone or headset.

Comfortable EP7 Sonic Defenders Ultra also serve as earpieces for compatible radio communication systems* simply by removing the noise-reducing filter and attaching the earpiece to the system. NOTE: EP7 earpiece will not provide hearing protection if the noise-reducing filter is removed.

EP7s are available in small (S), medium (M), and large (L) - NOTE, WE ONLY STOCK MEDIUM. Proper size is based on the dimensions of your ear's concha bowl. Size "medium" fits most people;

EP7 Sonic Defenders Ultra are sold as a single left/right set or in a box containing 25 sets. Each set is packaged in a convenient carry case and includes a polymer lanyard and an extra set of memory foam Comply™ Canal Tips;

Features
- 28dB Noise Reduction Rating (NRR) with filter caps inserted
- Lowers potentially dangerous noise levels above 85dB
- Hear safe sound levels (with filter caps out) as if you weren't wearing ear plugs
- Patented EarLock® retention rings utilize seven contact points to lock earpieces in place and fit the same way every time
- Soft memory-foam Canal™ Comply Tips provide secure seals in ear canals and all-day comfort
- Made from hypoallergenic, medical-grade polymer that's soft, comfortable, and durable
- Low-profile design allows you to keep them in place while wearing a mask, helmet, hat, or while using phone, headphones, or supplemental hearing muffs
- Serve as earpieces for compatible* radio communication systems
- 26" polymer lanyard included
- Additional pair of Comply™ Canal tips included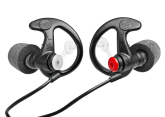 James Johnes
Date Added: Friday 23 October, 2015
I received these earplugs a couple of days ago. From reading up about the product both here and on Surefire's website I was somewhat doubting that the product can do what it claims to but I gave it a go anyway. Delivery was smooth and fast, thank you for that. Tested on the range today while shooting my Desert Eagle 50 cal. Outdoors these felt awesome and I did not have to double-plug. Once we moved indoors to our IPSC purpose-built shooting range I was worried these Surefire EP7 won't hold up. I was wrong, shooting 9mm with these babies was awesome. Surefire rocks! I will order a couple of additional pairs for backup. Thank you DAA.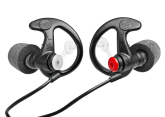 Daniel Bottignole
Date Added: Thursday 23 July, 2015
Due to the two differnt foam sizes, the fitting was good for me. After using then for ca. 10 times, the foam was damaged and they started hurting due to the hard plastic tube thats now exposed. For me not worth the (little) money...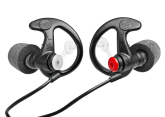 Shahar
Date Added: Wednesday 22 July, 2015
When I got the product, I found out that there is a table with sizes according to ear size. I think that this fitting table should appear as part as the product page. I found it very hard to fit them to my ear. When I succeeded, they block shooting noise well, but most of the time I just fail to fit them.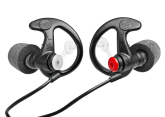 Arnth Lien
Date Added: Tuesday 28 April, 2015
These look nice, but at least for me they do not fit properly due ti size. It is hard to make the EarLock retention ring fit properly even when I changed the foam tip.
SureFire EP7 Sonic Defenders Ultra, Black, Medium
Double-Alpha Academy BV
Elzenweg 33b, 5144MB, Waalwijk
The Netherlands
Phone: +31 (0)416 660 464
Fax: +31 (0)416 392 040
E-mail: daa(at)doublealpha.biz