Shooter's Choice Rust Prevent Aerosol
Shooter's Choice Rust Prevent Aerosol
Reviews:
(Current Reviews:

1

)
There are many gun cleaning product lines, solvents and oils, but there is only one Shooter's Choice! Double-Alpha Academy is proud to be a European distributor for this fantastic product line.

Having used these products ourselves, we can say with full confidence that you will find no better for cleaning and maintaining your firearms. And this year, Shooter's Choice is proud to introduce their new line of water based cleaners – perfect for cleaning indoors or when odors and toxic fumes are unacceptable.
Aerosol 6 ozs. 170gr
A superior anti-oxidant moisture displacing agent engineered to preserve all gun metals.


Simply spray on a thin layer – and that's it! Your weapon will be protected against the harshest conditions.

Protects against:
• Rust
• Corrosion
• Fingerprints and body acids
• Pitting
• Salt air

Advantages:
• Displaces water
• Ultra thin film
• Penetrates
• Non-conductive
• Lubricates
• Prevents electrolysis

Recommended Uses:
• Firearms
• Auto
• Sports equipment
• Fishing tackle
• Industrial
• Household
• Marine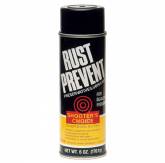 THEMISTOKLIS ARONIS
Date Added: Wednesday 10 February, 2010
A PERFECT SPRAY FOR RETENTION OF WEAPON .... Spray the DIMIOURGONTAS WEAPON A PROTECTIVE FILM FROM THE DARK AND POWDERS ........
Shooter's Choice Rust Prevent Aerosol
Double-Alpha Academy BV
Elzenweg 33b, 5144MB, Waalwijk
The Netherlands
Phone: +31 (0)416 660 464
Fax: +31 (0)416 392 040
E-mail: daa(at)doublealpha.biz