Race Master/Racer Holster Detachable Belt Hanger
Race Master/Racer Holster Detachable Belt Hanger
Reviews:
(Current Reviews:

9

)
The detachable Belt Hanger system allows you to detach your Race Master or Racer Holster body from your rig with a simple turn of a thumb screw. It enables you to easily and quickly remove the holster body while retaining all of your holster position settings. Not one setting is lost!

No screws or tools are required. The locking thumb screw remains assembled, securely attached to your belt hanger so you cannot lose it. In just a few seconds, your rig becomes much more compact and easy to pack into your range bag, or suitcase for travel to your next big match.

The Detachable Belt Hanger option adds almost no weight and no bulk to your holster. The look and shape of the Belt Hanger is retains and only a couple of mm of material and two small custom parts are added.

The Detachable Belt Hanger is currently available only in Black color and can be used with any Racer Holster or any Race Master holster which has the round vertical pin, as shipped from 2013. It is not compatible with the older flat vertical support arm.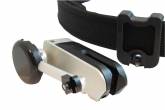 James Smith
Date Added: Wednesday 06 June, 2018
A great addition to great gear. Easy to use, and makes transport a lot easier.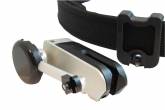 Tom
Date Added: Thursday 01 December, 2016
Just an excellent addition to an excellent holster, this makes transports so much easier. Sometimes it is the little helpers that make life easier. Also same as the standard belt hanger, this one if excellent quality metal parts, rigid and keeps everything safely in place.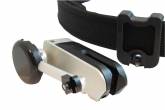 Paul T
Date Added: Thursday 29 September, 2016
Nice useful addition to what is already a great piece of kit !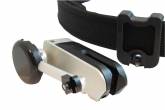 Graeme Cooper
Date Added: Thursday 08 September, 2016
A great idea and makes the belt easier to transport - would recommend to anyone as protects your kit.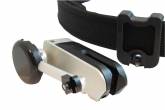 Scott Hayes
Date Added: Tuesday 12 July, 2016
Wow! The Race Master/Racer Holster Detachable Belt Hanger is Fantastic! It is super easy to take your holster on and off. It tightens on with the lightest turn of a coin or screwdriver, and it is rock solid -zero movement! It does not loosen, until you are ready to remove your holster, and then all it takes is the lightest turn with a coin or a screwdriver, and your holster is off in seconds. I no longer have to worry about my holster being torqued out of position, or damaged when packing my gear into a suitcase to travel to a match. It makes my rig nice and compact. Thanks DAA for another brilliant product.
Race Master/Racer Holster Detachable Belt Hanger
Double-Alpha Academy BV
Elzenweg 33b, 5144MB, Waalwijk
The Netherlands
Phone: +31 (0)416 660 464
Fax: +31 (0)416 392 040
E-mail: daa(at)doublealpha.biz