Contact Us
Prices shown in USD | All items shipped from PA, USA
Race Master / Alpha-X Insert Block Assembly (Magnetic)
Reviews:
(Current Reviews:

57

)

PLEASE NOTE: If you are ordering a holster or an insert block for a CZ TS checkmate or CZ TS Orange, please contact us first with a picture of your trigger guard area. CZ seem to be using two styles of frames for these pistols ,and without seeing your gun, we will not know which insert model you need. More details here: Click here for more details.
US Patent No. 8720754.
Note: Both the Race Master and the Alpha-X holsters use the same insert blocks.

The Race Master Holster utilizes an efficient and easy system to allow shooters to switch their holster from one gun type to another by means of changing the Insert Block Assembly. This switch is fast and easy and can be done in less than a minute, and without losing any of the holster's adjustments or settings.

The Insert Block Assembly includes:
1. The Locking Block (gun specific).
2. The Sliding Lock, assembled (gun specific).
3. The safety lever, assembled.
4. The internal magnetic activation system, assembled.

The Insert block grips the pistol only on the front end of the trigger guard, and a very precise fit is required in that area. In some cases some light modifications to the Insert Block may be required.

Should you need to dismantle your insert block for some fitting, follow these steps:
1. Remove the insert block from the holster by removing the two small M4 screws from the back of the holster.
2. Using a punch and hammer, push the two steel pins from the front of the block towards the back (push from the side with the gun type engraved). These pins may be tight.
3. Once the pins are out, the plastic wedge holding the 2nd magnet will come out. Make sure the magnet does not fall out the part. It is usually held snugly it its pocket.
4. Use a marker to make a dot on the top of the magnet which is embedded in the slide lock. This will make it easy for you to ensure that you reassemble it with the correct side up. Most likely it will fall out or you will want to remove it while fitting the slide lock.
5. To remove the slide lock from the block, unscrew the M3 screw visible from the back of the block – and then slide the slide lock upwards and out through the window in the block – passed the safety lever, which must be in the unlocked position.

To reassemble- reverse your steps.

The Race-Master Holster Insert Blocks are design to be used in either RH or LH holsters. The same insert works for both.
CRITICAL SAFETY WARNING
Read the following instructions carefully before using this holster or Insert Block:
Never holster a loaded firearm without first engaging its safety.
Check periodically to ensure your safety is functioning correctly.
Never disengage the safety of the firearm until well clear of the holster and the muzzle is pointing down range.
Make sure you are fully familiar with the correct use, and adjustment of your DAA Holster before attempting to use it with a loaded firearm.
Make sure that you have the correct holster/Insert model for your type of firearm.
Do not use a holster that is unsuited to your firearm, as that could result in unreliable retention or release which could lead to a fatal accident.
Never use a trigger shoe or a widened trigger with this holster.
Double check that the retention and release work well, particularly if any modifications have been made to your firearm.
Care must be taken to ensure the gun is placed properly when returned to the holster. It if it is not positioned correctly, it will not be held securely and may fall out.
Never holster the gun quickly or with force, as that increases the chance of making contact with the trigger.
Any adjustment or modification to the holster design may render it unsafe or cause malfunction.
Take care that the firearm is not dislodged or knocked when holstered, particularly when the holster's safety lever is unlocked. As this holster has no muzzle support, take care that the muzzle of the gun is not bumped upwards, as this may dislodge the gun from the holster
Keep your fingers well clear of the trigger when holstering and drawing the firearm.
The holster should be locked when running or jumping with a holstered gun, or you should keep your hand on the gun's grip to prevent it accidentally falling.
Handling a loaded firearm, and drawing it from a holster is inherently dangerous. You do so entirely at your own risk and responsibility.
Liability is limited only to the replacement of this holster or parts thereof. No additional warranties are expressed or implied by the manufacturer or the distributors.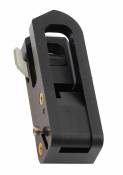 Markus Friedl
Date Added: Monday 25 June, 2018
Ordered 2 for the TSO. One did not fit but that's because CZ changed the frame. But I got immediately a replacement for free. This one also fits perfectly. Very nice product! Great Service!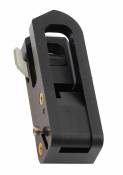 James Smith
Date Added: Wednesday 06 June, 2018
I have the same issue with this as others have had. I am using this for a Gen 4 Glock and the fit is terrible. I had to remove a lot of material to get it to fit properly. I uderstood when ordering I would have to remove material upon ordering, but I never expected as much as had to be. After I got it to fit it still wouldn't go all the way down so the locking bar would lock. I had to again remove material from a different area to get it to lock. This created about a 1/4" of play when locked. It stays safely in the holster, but for the $50 cost it shouldn't require so much fitting in my opinion.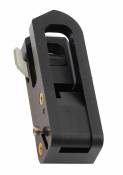 Graeme Cooper
Date Added: Tuesday 05 June, 2018
As with all DAA kit this is an excellent addition to my rig. By using the Alpha X holster I can accommodate all of my different guns without having to run multiple rigs. High quality, excellent fit and very easy to slip in and out of the main holster. First rate as ever.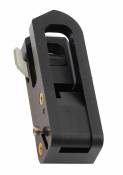 Jimmy Perito
Date Added: Tuesday 22 May, 2018
This product is made well but has fitment issues on a Glock Gen 4. I am not sure if this is the case for Gen 2, 3, and 5. For the price that this is sold for, this should have a very minimal modification to make your glock fit. There is a major mod that you will be doing in order to make this product fit. You will be cutting or taking off materials on the actual block to get your glock to fit. I was told that not all glocks frames are the same as far as tolerance. But this product IMHO is just way off, I am talking about a lot of materials need to be removed. Not what I was expecting for a company that makes a high end gear.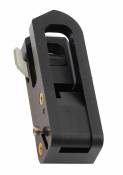 Chris Stadler
Date Added: Monday 09 April, 2018
I have one of these for the Sig P320 and one for the Phoenix Trinity (for my Atlas Titan). These are awesome. Nothing else to say. Holds my heavy 2011 with ease. Allows a fast draw and locks up secure. All the things a good holster should do!
Race Master / Alpha-X Insert Block Assembly (Magnetic)
Alpha Dynamics USA
2908 Betz Court, Orefield, PA 18069

Phone: (888) 628-3233 or (610) 366-9752
Fax: (610) 366-9680
E-mail: sales(at)doublealpha.biz
Models and Fitting
Q: I have one of the newer Sig X5 models. Will the Sig X5 insert block fir the new model?
A:, yes it will. In fact, we tested the new Sig X5 and X6 models and they all fit to the X5 insert block.
Also available in Combo(s)