Quick-n-EZ Case Tumbler 220V
Quick-n-EZ Case Tumbler 220V
Reviews:
(Current Reviews:

1

)
The Frankford Arsenal® Case Tumbler provides a quick, easy and economical means to clean your brass. Used in conjunction with the FrankFord Arsenal® walnut and corn cob media, the Quick-N-EZ™ Tumbler removes fouling, Lube and oxidation quickly and conveniently. It will hold up to 600 9mm or 350 .223 cases.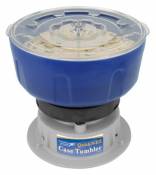 Paul Vande Casteele
Date Added: Thursday 14 July, 2016
Like the name sais, it is a very easy tumbler. With the corn cob as proposed by DAA it takes +/- one hour to clean the cases. When you put it on the floor, very stable, not so much noise. Easy to fill, to close the cover, not to heavy in weight.
Quick-n-EZ Case Tumbler 220V
Double-Alpha Academy BV
Elzenweg 33b, 5144MB, Waalwijk
The Netherlands
Phone: +31 (0)416 660 464
Fax: +31 (0)416 392 040
E-mail: daa(at)doublealpha.biz