Micro Aimpoint + Mount Combo Deal
Micro Aimpoint + Mount Combo Deal
Reviews:
(Current Reviews:

8

)
Note: The Aimpoint R1 was replaced with Aimpoint H1 which is practically the same model but in black.

Take and advantage of our new Combo Deal:
AIMPOINT MICRO H-1 and DAA Aimpoint Micro Sight Mount - Save €45!
Micro H-1 - This member of the Micro family of sights is designed and built with the competitive handgunner in mind. With its silver metallic finish and its 104 g, the Micro H-1 is perfect on pistols and revolvers for NRA Action Pistol or IPSC competition. With its 4 MOA dot size, the Micro H-1 is also ideally suited for use on stainless hunting rifles.
Unique features for Micro H-1
• Its weight – 84 g without mount and 105 g with mount Ideal for rifles, shotguns, handguns or archery equipment.
• Integral Weaver-style base allows easy attachment. ACET technology allows 50,000 hours of operation on one battery.
• Available in 4 MOA (minutes of angle).
• Submersible to 15 feet (5 meters).
• 1X (non-magnifying) parallax free optic.
• Patent pending mount is keyed to the sight body to absorb recoil.
• Precision adjustment for windage and elevation. Top of protective caps fits into holes on adjustment screws – no other tool required.
• 13 settings for use in daylight and lowlight conditions.
• Color: black
DAA Aimpoint Micro Sight Mount- The Aimpoint Micro Sight is a fantastic new scope, but few good pistol mounts are available for it – and none like this one!
Designed according to Saul Kirsch's specifications, the DAA Aimpoint Micro Sight Mount will place your Aimpoint Micro Sight much lower down to the slide and get that large battery cap out of your way by rotating the sight 90 degrees to the left. It thereby places the battery compartment on top rather than off to the right.
The mount attaches directly to the body of the sight without the use of the originally supplied dovetail mount, thus reducing bulk and obstruction of view.
DAA Aimpoint Micro Sight Mount is available in Silver or Black Anodize.
>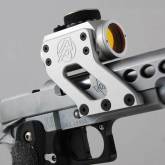 DAA Aimpoint H1/Micro Sight Mount
Jim Hagearty
Date Added: Friday 25 January, 2019
I am back, again, for the third or fourth time. Mounting an Aimpoint H-2 on a Caspian carbon steel frame. As always, the best product on the market!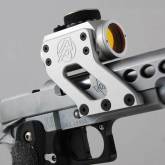 DAA Aimpoint H1/Micro Sight Mount
Steven Cano
Date Added: Friday 06 July, 2018
I purchased this item a few weeks ago and let me tell you...the installation was straightforward all the holes lined up perfect and with a small dab of Loctite on the screws and allowing cure time I was off to the range and got my H1 zeroed with no issues.If you want a bulletproof mount for your Gold Team look no further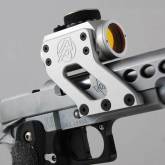 DAA Aimpoint H1/Micro Sight Mount
Paolo Ravizzini
Date Added: Tuesday 14 June, 2016
The mount is perfect, fit on my Tanfoglio very well and is very light. DAA service always OK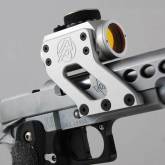 DAA Aimpoint H1/Micro Sight Mount
Markus
Date Added: Sunday 26 August, 2012
Sehr schöne Montage und absolut stabil, nur leider sind die Bohrungen für die Köpfe der mitgelieferten Schrauben zu klein und mussten daher etwas aufgebohrt werden. Ansonsten ist die Montage klasse, da das Mikro H1 damit sehr dicht über den Schlitten kommt! Die Schrauben sollten unbedingt mit Loctite gesichert werden!!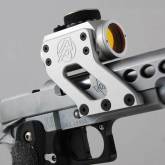 DAA Aimpoint H1/Micro Sight Mount
Jim Hagearty • USA
Date Added: Friday 17 June, 2011
Please add to my review . . . . mounted on a Caspian 1911 Titanium frame.
Micro Aimpoint + Mount Combo Deal
Double-Alpha Academy BV
Elzenweg 33b, 5144MB, Waalwijk
The Netherlands
Phone: +31 (0)416 660 464
Fax: +31 (0)416 392 040
E-mail: daa(at)doublealpha.biz