Contact Us
Prices shown in USD | All items shipped from PA, USA
DAA RTS2 2011 Scope Mount
Reviews:
(Current Reviews:

1

)
DAA launches the new RTS2 2011 mount! Precision made with 100% machined aircraft grade aluminum to provide a long lasting durable life.
The RTS2 2011 mount is streamlined to just 2mm of clearance above a flattened 2011 slide. Note: This may create a tight fit if no material has been removed from the top of the slide.
The mount is designed with several mounting holes on the side to incorporate the included serrated wide thumb paddle allowing the user to adjust the position of the thumb rest as desired. There are more than twenty adjustments in both height and angle to select from. The choice of using this addition or leaving it off is up to you! A steel pin attaches the thumb rest and a M3 socket screw which is also included.
The mount design is created to align the sight with the center of the slide and as close to the slide as possible. The design allows a forward-positioned Slide-Racker (as is included with the STI DVC Open pistols) to fit with the mount in place. It is designed for the Slide-Racker to be used on either side of the pistol, so the user has the choice of left or right!
The mounting surface for the sight includes locating pins which have been machined directly from the solid aluminum block material to ensure an excellent precision fit to the C-More RTS2 sight. Additionally, a compact and very functional blast shield is designed into the mount, helping to deflect muzzle blast away from the lens of the sight.
The pattern mounting hole is the standard C-More design, with a 4th hole added between the front and middle holes.
Due to the wide variety of mounting screws and threads in use – mounting screws are not included with this mount. Use screws that fit the threads your frame already has, or as recommended by the Gunsmith when drilling and tapping your frame. The DAA recommended screw is the M4 Torx.
Note: also fits C-More STS scopes.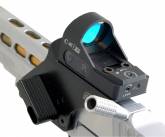 Petteri Piepponen
Date Added: Tuesday 23 January, 2018
This is a great improvement and replacement for the standard STI C-More mount. With the RTS2, the dot becomes about half of the lens lower, making aiming and finding of the dot much more easier and quicker, especially using strong/weak hand only. Moreover, it is much more compact leaving the ejection port completely uncovered. Black colored version looks great on top of black gun. As compared to the STI mount, the attaching screws have to be shorten about two of millimetres, be sure that there will be absolutely no protrusion of the screws through the frame, otherwise the fore end of the slide will be scratched.
DAA RTS2 2011 Scope Mount
Alpha Dynamics USA
2908 Betz Court, Orefield, PA 18069

Phone: (888) 628-3233 or (610) 366-9752
Fax: (610) 366-9680
E-mail: sales(at)doublealpha.biz
Also available in Combo(s)