DAA SHOTAC Shooting Vest
DAA SHOTAC Shooting Vest
Reviews:
(Current Reviews:

18

)
The DAA SHOTAC Shooting Vest is a garment custom designed from the ground up to provide a solution to a very real problem: How to stay warm enough in cold weather, in clothing that is not cumbersome and does not interfere with the draw, reloads and movement while shooting IPSC, USPSA, IDPA or other practical pistol disciplines. Anyone who trains or competes in cold weather will be well familiar with the challenge.
Leaning on 15 years experience gained by Competitive Edge Dynamics with their Shooting Vest, we worked to bring the product into the 21st century using modern materials, look and feel. The All new DAA SHOTAC Shooting Vest has a matt black texture and a soft-shell outer finish. It is water repellent, yet breathable and comfortable to wear for extended periods. Its cut and fit are designed and made specifically for the task at hand: IPSC style shooting, while outdoors in the extreme cold.
The DAA Shooting Vest's features include:
Medium thickness thermal insulation provides warmth without creating bulkiness
Wide and deep arm cutouts assure wearing is comfortable when in the arm-extended double-grip shooting stance
Wide elastic side panels create a snug fit around the midsection, preventing interference while drawing the gun or reloading
4 wide elastic Velcro straps allow you to connect the vest to your inner belt, to keep it from riding up
Cut short, to end just above your belt, thus avoiding interference with your shooting gear
2 front cargo pocket, plus 2 zippered chest pockets, provide ample storage
3 frontal horizontal webbings create connection points for hanging a timer, radio or other small gear
Rain hat folded into neck collar
Frontal chest transparent card/name holder, and Velcro patch attachment tabs
Rubberized SHOTAC and DAA logos on chest and back of neck.
Rubberized SHOTAC and DAA logos on chest and back of neck
Sizing Information:
This garment is designed to be a snug fit. It will fit shooters with average to slightly heavy builds, but may be too tight around the stomach for those with very large midsections. In an effort to provide you with helpful sizing information, we have had a dozen various people try them on, and recorded their chest circumference and their best fitting Shooting Vest size.
Our testing indicates that European customers should order their shooting vest in the same size they usually order their shirts/jackets in.
US customers though should order their shooting Vests one size larger than the size they usually buy their cloths in. (so if you usually buy size L clothing in the USA, order an XL vest).
Chest Circumference - Size to order
84-90cm (33 - 35") - SMALL
90-96cm (35 - 38") - MEDIUM
96-102cm (38 - 40") - LARGE
102-108cm (40 - 42") - X-LARGE
108-115cm (42 - 45") - XX-LARGE
115-123cm (45 - 48.5") - XXX-LARGE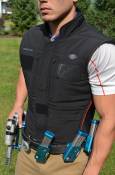 Scott Turcotte
Date Added: Thursday 31 January, 2019
Great vest. Lots of room for those bad belly days and additional straps to taper the vest after the holiday weight is off. Very warm and doesn't interfere in the least with my mag pouches or open holster. Lots of pockets. Looks great, too.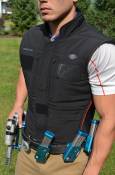 Tony
Date Added: Friday 28 December, 2018
Wow! Really great Vest. The fit and finish is spot on. So excited that I purchased this vest. My only problem is with Vest on with my USPSA Single Stack equipment on, it doesn't fit with the magpich side. I'm thinking I will have to have it altered shorter on mag pouch side. Other than that it's awesome. Also I didn't know it also has a hood on it as well. Thanks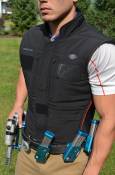 Ameet Das
Date Added: Wednesday 12 December, 2018
Superbly designed vest that has kept me quite cozy with a base layer cold gear as well as sweatshirt with the Shotac vest. I've used this in 30° weather with the other layer and had no issues staying warm during uspsa. I absolutely love the material and quality as well as thoughtfulness behind the design as it is a great addition to my competitive shooting great. Great job CED!!!!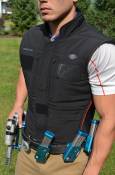 Johan Jipat
Date Added: Thursday 04 October, 2018
The vest has a perfect fit, is of good quality, is light and insulates well. The prize is excellent, a recommendation for the dynamic shooter.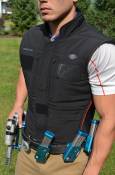 paradeen
Date Added: Monday 13 August, 2018
Veste de très bonne qualitée, mais attention elle taille vraiment très petite. Je fais du XL dans tous mes vêtements, et en lisant certains commentaires j'ai pris la précaution de prendre du XXL, et c'est presque trop juste. Jacket of very good quality, but be careful it really very small size. I do XL in all my clothes, and reading some comments I took the precaution of taking XXL, and it's almost too fair.
DAA SHOTAC Shooting Vest
Double-Alpha Academy BV
Elzenweg 33b, 5144MB, Waalwijk
The Netherlands
Phone: +31 (0)416 660 464
Fax: +31 (0)416 392 040
E-mail: daa(at)doublealpha.biz