DAA Essential Cleaning Kit
DAA Essential Cleaning Kit
Reviews:
(Current Reviews:

2

)
The DAA Essential Cleaning Kit is a great additional for any range bag. It includes several essential and extremely useful gun maintenance and cleaning items used by all.

In addition, the handy transparent polypropylene Utility Case (measuring 195 x 70 x 35 mm) is a useful accessory in its own right. The durable and sturdy case is the perfect size to be used for storing spare parts and small tools. It's easily long enough to hold items like replacement recoil-springs and rods, brushes, files and so on.

The DAA Essential Cleaning Kit offers great savings too! Buy these items individually (and without the handy utility case) and you would pay a total close to 35 euros. Offered here, with the case at €24.95!

The Kit includes:
1 Gun Bore Rope Cleaner, in caliber or choice (9/40/45/223/308/12GA)
1 DAA/CED Double-End Utility Brush - Nylon
1 DAA/CED Double-End Utility Brush – Phosphor
1 FP10 Lubricant Elite 0.5oz
1 Small flat-tip/Philipps screw driver for cleaning those hard to reach corners
1 DAA Silicone Rag
1 Transparent Polypropylene Utility Case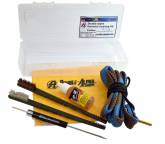 Сергей Петрович Костюрин
Date Added: Sunday 10 January, 2016
Описанный состав не соответствует действительности! Вместо Блю Стив 30мл положили Шутерчойс 19.5мл [DAA]: We are sorry but the blue slick is out of stock and we upgrade the oil to FP10 0.5oz which is performing better than the Blue Slick in cold conditions.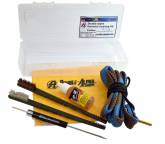 Gonzzo
Date Added: Tuesday 08 December, 2015
Prima Reinigungsset. Alles dabei was man so primär braucht. Das beiliegende Öl Blue Slick eignet sich auch Bestens für zB. STI 2011er Modelle.
DAA Essential Cleaning Kit
Double-Alpha Academy BV
Elzenweg 33b, 5144MB, Waalwijk
The Netherlands
Phone: +31 (0)416 660 464
Fax: +31 (0)416 392 040
E-mail: daa(at)doublealpha.biz