CR Speed Versa Pouch Black with C-Bax
CR Speed Versa Pouch Black with C-Bax
Reviews:
(Current Reviews:

11

)
Shipping now with C-Bax Hangers only! Note these hangers do not fit DAA Belts. Use only with CR Speed Belts!
Versatility & Value!, L/H & R/H.
Fits Most Popular Pistol Magazines.

This Pouch is fully Ambidextrous giving Left & Right handed shooters the same benefits.
Supplied with Inserts to fit.
Hi - Cap Mags "Para, STI, Bul, SV Kimber etc."
9mm Box Mags "Popular 9mm & 40 Double Stack
Mags incl. CZ, Browning, Beretta 92, Tanfoglio etc."
Glock "all Small Frame Glock Mags, Excluding
45 acp & 10mm auto.


Tension adjustment & slick insert material ensures.
Fastest mag changes Angle & Height adjustment.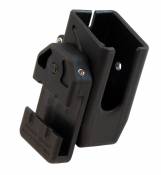 Mack Bolen
Date Added: Tuesday 10 July, 2018
I had to play around with it a bit to get my Sig P320-X 5 21rd magazines to fit, but once I got it adjusted they work great. I bought 4 of these, 3 I wear on my DAA belt for 3-Gun competition, one as a back-up. One thing I highly recommend if you are using these for competition, especially if you are shooting 5-6 stages; carry the hex key along because they will loosen up, but it's easy to tighten them. I would note that all my gear, belts, magazine pouches, holsters, and quad shell carriers for both my USPSA and 3-Gun rigs are DAA because I can trust the quality of what I am buying.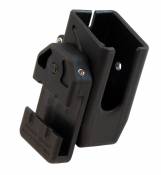 Jonas
Date Added: Thursday 05 June, 2014
They are simple and rugged. Not many moving parts that can come flying off. They are hard to beat.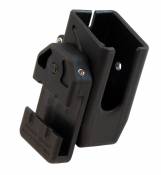 raffaele GUARINO
Date Added: Tuesday 10 January, 2012
Precisi e veloci nella spedizione, prodotto eccellente, consigliato. Grazie saluti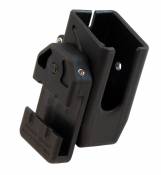 Bonz ,Australia
Date Added: Saturday 07 January, 2012
Great product,looking forward to use it this month..thanx DAA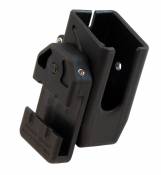 Otto Hold
Date Added: Friday 17 December, 2010
Well thought-out and well produced product. Good value for money.
CR Speed Versa Pouch Black with C-Bax
Double-Alpha Academy BV
Elzenweg 33b, 5144MB, Waalwijk
The Netherlands
Phone: +31 (0)416 660 464
Fax: +31 (0)416 392 040
E-mail: daa(at)doublealpha.biz