Combo: CED/DAA Range Ready Cleaning Kit and DAA Work Mat
Combo: CED/DAA Range Ready Cleaning Kit and DAA Work Mat
Reviews:
(Current Reviews:

25

)
CED/DAA Range Ready Cleaning Kit

The CED/DAA Range Ready Cleaning Kit includes everything needed for calibers ranging from .22, 9mm/38 Super, .40 / 10mm, and .44/.45 Cal.

Designed to fit comfortably into your range bag, the Range Ready Cleaning Kit opens to reveal a rubberized 36x43cm cleaning mat built right into the kit itself. The mat, made of durable PVC material, is the perfect workstation for your field repairs and pistol cleaning needs. The non-slip surface prevents parts from getting lost and is easy to wipe clean after use. When finished, simply fold and zipper close. The entire Cleaning Kit measures only 20x30x3.5cm and easily stores away inside your CED Professional Range Bag or Shooters Back Pack.

The Range Ready Cleaning Kit comes packed with custom features and tools. Included are all the brushes and swabs needed for proper gun care, two utility brushes with storage cases, a custom two-head brass / nylon hammer, a custom hex key set in both metric and standard sizes, a 4-bit custom screwdriver set, a plastic storage case for storing brushes & parts, a custom steel punch set, a stainless steel double-head cleaning tool for tough to reach areas, cleaning rod with patch loop tip, cotton cleaning patches, wired extractor/firing pin cleaning strips, & a 0.5 oz bottle of the famous Shooter's Choice FP-10 lubricant, all designed specifically to fit into our compact, convenient and very functional cleaning kit.

An extra clear plastic zippered storage pouch has been included for essential replacement parts you might want to keep close on hand.

Dimensions closed: 20Hx30Wx3.5D cm
Dimensions opened: 40Hx50 x1D cm
Weight: 600gr

Range Ready Cleaning Kit includes:
1. Phosphor Brushes (3 pcs.) (9mm/.38 Sup., .40 Cal./10mm, .44/.45Cal.)
2. Cleaning Swabs (4 pcs.) (.22 Cal., 9mm/.38 Sup., .40 Cal./10mm,.44/.45 Cal.)
3. Stainless Steel Tornado Brushes (3 pcs.) (9mm/.38 Sup., .40Cal./10mm, .44/.45 Cal.)
4. Nylon Brush (.22 Cal.)
5. Double-ended Utility Brushes (2 pcs.) (Nylon / Phosphor) includesbrush storage cases
6. Two-Head Hammer (Nylon / Brass)
7. Custom 12 pc. Hex Key Set (1.5mm, 2.0, 2.5, 3.0, 4.0, 5.0mm & 1/20",1/16, 5/64, 3/32, 1/8, 5/32")
8. 2 pc. Punch Set
9. Cleaning Rod with Patch Loop attachment
10. Stainless Steel Double-Head Cleaning Tool
11. 4-Bit Custom Screwdriver Set (3.3mm, 5.0mm, 6.0mm, #1 Phillips)
12. Shooter's Choice FP-10 Lubricant Elite or DAA BlueSlick oil
13. Wired Extractor / Firing Pin Cleaning Strips (20 pcs.)
14. Cleaning Patches
15. Rubberized cleaning mat
16. Extra pocket for storing small items

DAA Work Mat
A must have item on every workbench or reloading table.
This practical and attractive looking work mat measures 40x50cm (16"x20") and is made of durable Neoprene rubber. It provides a handy surface to work on when clearing or maintaining your firearms, preventing scratches from hard table surfaces.

The mat is artistically designed, proudly displaying two of our sports World Champions, Max Michel and Blake Miguez. We are proud to have these two great shooters representing DAA!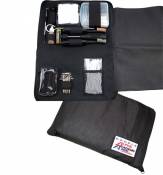 Range Ready Cleaning Kit
Cesare
Date Added: Wednesday 25 July, 2018
Perfect to maintain your guns. It can be used at home or at the range, the case is comfortable and can be put easily in your range bags.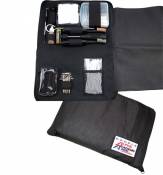 Range Ready Cleaning Kit
Paul
Date Added: Monday 22 January, 2018
Nice, handy, most things are in it. However some extra space (on top of the extra space already foreseen) to put in some lose items like spare springs could be helpful. Some elastics sewed on?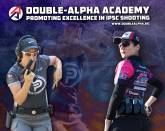 DAA Work Mat
Marcelo Falco
Date Added: Tuesday 05 December, 2017
The perfect buying experience. This is what I got since I decided to buy products from DAA Store. The products talks for itself. High end tech, top quality, excellent costumer service, kind and extremely helpful people. I am very happy to choose DAA Store to build up my IPSC/IDSC Rig.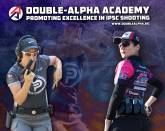 DAA Work Mat
BRAVO
Date Added: Sunday 10 September, 2017
PERFECTO PARA DESMONTAR Y LIMPIAR MIS ARMAS, TANTOS ARMAS CORTAS COMO LARGAS.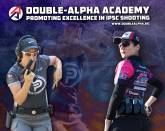 DAA Work Mat
Paul
Date Added: Sunday 23 July, 2017
Nice item to receive for free. It keeps my workbench clean and now I see not only men but also women while reloading....
Combo: CED/DAA Range Ready Cleaning Kit and DAA Work Mat
Double-Alpha Academy BV
Elzenweg 33b, 5144MB, Waalwijk
The Netherlands
Phone: +31 (0)416 660 464
Fax: +31 (0)416 392 040
E-mail: daa(at)doublealpha.biz