Combo: Eckla Multi Rolly and Holding Bar
Combo: Eckla Multi Rolly and Holding Bar
Reviews:
(Current Reviews:

3

)
Save with this Multi Rolly + Holding Bar Combo!

The new Eckla Multi Rolly is simply put - the perfect range cart for the serious shooter.

This sturdy, yet lightweight cart folds down flat and the wheels are easily removed for transport in the boot of any car. A carry bag is included to store the wheels, in case they are wet or muddy.

The cart has large inflatable outdoor wheels, which insure a safe and easy transport even across very rough ground. The handle is high and comfortable to reach making transporting even a heavy load easy work.

The Multi Rolly, unlike the Beach Rolly, has a transport platform in ADDITION to a folding seat. This means you can leave your range bag high and dry while you sit. The chair offered by the Multi Rolly is higher and therefore more comfortable to use, especially when wearing your rig.

The Eckla Multi Holding bar can be added as an accessory (purchased separately), perfect for supporting rifles or shotguns for 3-gun use.

The Multi Holding bar is a "must have" accessory for those shooting 3-gun, who need to transport their shotgun or rifle (or both) along with their range bag and ammo.

The Multi Holding bar can be attached to either the Multi Rolly or the Beach Rolly models, offering support for up to 3 long-guns. The aluminium assembly is adjustable, to accommodate various types of rifles or shotguns. It is covered with transparent rubber to protect your firearms and includes adjustable quick-release straps to hold the guns in place. It can be assembled or disassembled in seconds.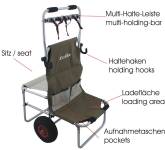 Combo: Eckla Multi Rolly and Holding Bar
Michael Coutts
Date Added: Friday 21 April, 2017
The trolley itself is well made although the hinged couplings could do with a bit of beefing up. A second clip-on or fold out load platform is an advantage (cooler bag or box on the lower and gun bag on the top) the "Holding Bar" on mine turned out to be too short and I need to find a way to extend it so it doesn't bend the top tubing it attaches to. the main reason I purchased the Trolley was for the included fold down seat, got tired of dragging a separate one around. what about adding an umbrella tube to the side of the frame? All in all a fine Trolley.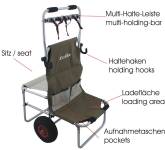 Combo: Eckla Multi Rolly and Holding Bar
Drew McClure
Date Added: Wednesday 24 August, 2016
No. 1; Double Alpha Academy is one of the VERY few companies that , by my 'figuring' (I could be wrong) doesn't 'discriminate' against Canadians by charging HUGE S&H fees to Canada. THANK YOU ! No. 2; I was waiting for YEARS for another companies cart, but I'm pretty happy with the ECKLA. What's the included black bag for ? No. 3; Haven't USED the extra 'Holding Bar' , but I have adjusted it to accommodate an umbrella. VERY handy in B.C. I can see it being great for '3-gun' shooting. No. 4; It's European made, i.e. NOT China etc. . No. 5; The 'Weight limit' on the chair part makes me a little nervous, I'd like it 50 lbs. higher, I'm a 'teence', a LOT, over. I just sit on it gently, WHEN I have time, which is rarely . So far so good, I'd recommend it as worth the money as we carry more and more 'stuff' in our shooting bags .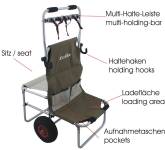 Combo: Eckla Multi Rolly and Holding Bar
Bob
Date Added: Wednesday 08 July, 2015
This is a great range tool, however, it would greatly benefit from some "accessorizing". I shoot in an outdoor summertime pistol league and it the perfect way to transport a heavy shooting bag, ammo, "brass magnet", water bottle, etc., and a place to sit while waiting my turn to shoot. Others in our league have purchased or are considering purchasing one. It takes all of the work out of lugging the shooting stuff from the vehicle to the staging area and all in one trip. As I said, I primarily shoot pistol and the holding bar is fine for long guns, but pretty much useless as supplied for pistol shooters, except for carrying a "brass magnet" or being an umbrella holder. I have modified my holding bar to become a collapsible shelf. My design still allows me to fold everything flat, carry my "brass magnet" and it provides a nice, sturdy shelf to hold ammo boxes, magazines, a snack, whatever. It also provides a compact workspace to use when reloading magazines. Removable supports needed to be added to keep the holding bar from rotating when the shelf was not in the folded position. There is a rim around the shelf and cutouts to allow for use of the rubber pulling grips. A factory shelf option with an aluminum shelf (with a lip to prevent spilling small contents would be a great option. Mounting it a little lower on the Rolly frame would make it easier to use the rubber grip handles. Some type of quick release lock mechanism would be necessary to support or fold the shelf when not in use would be needed. Some type of "flip-up" sun shade would also be a great accessory. Overall, this is a useful tool that would significantly benefit from some additional available accessories and is easily adaptable to a variety of outdoor uses with a little imagination. Carry a heavy cooler and have a chair to watch an event, Carry a picnic basket, etc. , are all possibilities.
Combo: Eckla Multi Rolly and Holding Bar
Double-Alpha Academy BV
Elzenweg 33b, 5144MB, Waalwijk
The Netherlands
Phone: +31 (0)416 660 464
Fax: +31 (0)416 392 040
E-mail: daa(at)doublealpha.biz